Shopping Cart
Your Cart is Empty
There was an error with PayPal
Click here to try again
Thank you for your business!
You should be receiving an order confirmation from Paypal shortly.
Exit Shopping Cart
Features, Reviews and a Blog by John Sciacca
| | |
| --- | --- |
| Posted on August 10, 2011 at 5:40 PM | |
Music. Seriously. Music. It is a hugely important, practically constant part of my daily, waking life. Usually from the moment I wake-up – which is almost as quickly followed by a, "Turn that down! That's too loud for starting off the morning!" from Dana -- to my car ride to work, to some system on all day at work, to my car ride back home, to walking back into the house and being told, "Turn that down! That's too loud when we're all trying to wind down and relax!" Throughout almost every waking/working period, there is typically some bit of music keeping me company. Inspiring, motivating, or just filling in the grey background spaces with syncopated rhythm, music is a near constant companion.
As I've written before, looking through someone's iPod or iTunes library is kind of like the 21st Century equivalent of sneaking a peak into their medicine cabinet. You can find out more about a person by what is in there recently played, most played, recently added and favorites playlist than by knowing what brand of anti-fungal ointment they prefer or the size of their stool softener suppository. You would *definitely* find more embarrassing stuff on my iPod – yes, I have a Debbie Gibson album; yes I have TWO MC Hammer albums – than you would in my medicine cabinet. (Well, drawer. It's pretty much confined to hair gel, toothpaste and deodorant. 3D Deodorant, of course, so I'm actually pretty proud of that.)
But since music is such a personal thing, where do we get our inspirations? What motivates us? What molds, shapes and forms out musical tastes? If I had been raised in Texas or Arkansas or Nashville or wherever it is that they love country music, would I too love country music? Is there some Bushman right now that is just waiting to discover the soul-churning despair of a terrifically depressing John Mayer number? Would the Taliban be less hostile towards women if they were given a good dose of Regina Spektor, Natalie Merchant and Meiko?
So, I thought I would lead you on a walk down my musical memory lane, sharing some of the bands I love, why I've come to love them, and who set me on that particular journey of discovery.
My parents were not much into music when I was growing up. While there is a picture of my sitting on the floor 2-3 years old surrounded by and playing with a pile of records, I can't remember my parents ever playing any music in our home, let alone actually owning a record player. (Sorry, I mean "turntable." That's what the cool kids are calling it these days.) What I can remember is taking a yearly car trip to Big Sur (my Brer Rabbit "happy place")  and in the hours long car drive we would listen to Van Morrisson's "Moondance." That album came to symbolize our family trips to Big Sur, and I grew to love it and sought out more Van music after I was older. While I like a lot of his other music, none of it has the magical quality of "Moondance."
In the 5th and 6th grade, growing up in Bakersfield, CA, my best friend was Scott Gaede. Scott was the kid whose parents pretty much let him do his thing, and that had a giant stereo in his room and had tons of records and a double-tape rig. He would also make lots of mix tapes. Compared to everyone else, Scott was musically advanced in years; being into groups like Pink Floyd, Styx, Genesis, Duran Duran, Thomas Dolby and Def Leppard. (I can remember going on a camping trip with Scott where we double-tapped his Walkman's headphone jack and listened to Dolby's "Golden Age of Wireless" through like 4 packs of AA batteries.) But the group that Scott loved most of all was Rush. And we listened to Moving Pictures and Signals and Permanent Waves and Hemispheres over and over. And, well, I guess it stuck. I will always think of Scott Gaede when I hear that opening guitar lick from "Limelight."
Two of my older cousins, Chris and Gabe, played an epic role in my musical development, introducing me to what would have mostly been called "New Wave" back in the 80s. Gabe introduced me to groups like Devo, Blondie, ELO, and The Cars while Chris turned me onto Talking Heads, B-52s, Elvis Costello, Bob Dylan, and The Pretenders. (I vividly recall him saying that "Chrissie Hynde is the last truly angry woman." I'm not sure that is still – or was ever -- true, but she was great to listen to.) I also took an amazing cross-country car trip with Chris; a 4-day blitzkrieg from LA to Boston in his mom's Dodge Aries K. I was 18 and Chris was probably 22/23 and I will DIE remembering much of that trip and chasing the freedom and exhilaration of being 18 and having a whole life and country laid out before you. We would drive literally as fast as that poor, pooh-brown Dodge Aries K could go, blasting that poor radio the entire way. (We got pulled over twice. Once the officer said, "Do you boys have ANY idea just how fast you were going?" And we said, "Well, sir, to be honest, no we don't. The speedometer stops at 85." He graciously allowed that if we paid him – in cash, right on the spot – that he wouldn't have to take us in. Awful kind of him, we thought. We also took great pride in NOT slowing down to change drivers. Passenger would mash down on the gas and grab the wheel while the driver climbed into the backseat and the passenger slid over into command. It was insane. And beautiful. Oh, and Chris bought me Bartles and James wine-coolers which I thought made me the height of cool.) Anyhow, we made it a hard fast rule to listen to Bob Marley's "Legend" and Grateful Dead "Skeletons in the Closet" AT LEAST once a day during our drive. Usually more. Oh, auto-reversing tape deck, you did not get the invention props you so rightly deserve!
This little icon here singularly introduced me to another great bunch of music: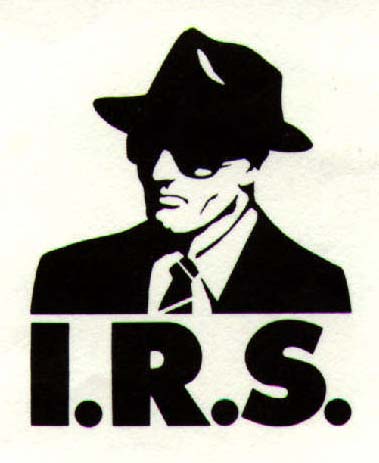 The I.R.S. records logo. I saw it on a cassette lying in a pile of other cassettes in a coffee shop called Gepetto's I worked at while in high school. The writing was mostly smeared off the tape, but I could see the logo and the band's name and the name of the tape: REM "Murmur." Intrigued by the logo, I popped it in and I was hooked. I played it over and over and over on my shifts and then took it home and copied it. (Totally legal, right?) It also didn't hurt that "Murmur" was an amazing debut record. I've bought every REM album since.
High school in the mid/late 80s was certainly a ripe scene for Sciacca and discovering great music. I can remember juggling and shuffling different BMG and Columbia CD club deals trying to get the most for my penny with the least back-end purchasing. My friend, Craig, and I spent a lot of time trading music back and forth. I introduced him to the Heads and he turned me on to Edie Brickell & New Bohemians and a bunch of other stuff. Craig kept the good tunes coming when he went off to college at UCSB and he'd send up frequent tapes filled with cool new bands he was discovering.
I can remember playing basketball when my friend Travis and a boombox introduced me to They Might Be Giants. It was "Flood." I couldn't believe that SO many songs could fit on a single tape. Of course, it helps when some songs are like 15 seconds long, but still. I realized immediately that I loved TMBG's quirky sound; didn't realize that they would go on to be one of my favorite-favorite bands. Also, I continue paying TMBG forward; they were the first rock concert that Lauryn went and saw. She loves their "Meet the..." series and we often sit and listen to their music together.

I think I have myself to thank – blame? – for three other bands that I love-love today. I'm sure I first heard John Mayer on the radio, but, honestly, I didn't ever really love "Body is a Wonderland," which would have been his big airplay hit. It would have been somewhere between Heavier Things and Continuum where my status changed from casual Mayer fan into the totally-hetero-Mayer-man-love that it has blossomed into today. I think it was "Wheel" and "Daughters" that started pushing my love into that which dare not speak its name.  Then when "Continuum" came out with "In Repair" and "Slow Dancing in a Burning Room" and "Dreaming With a Broken Heart" I gave in and fully embraced the love which is Mayer. Like most adult males, I first saw Fiona Apple on her "Criminal" video and, well, she ain't ugly to look at. While she might not be the same type of angry as Chrissie Hynde, she is still all other kinds of angry, and I like to hear her let it out; like fingernail scratches left down your back that tingle and itch and burn for hours after. But with a good beat. I found Regina Spektor on Sirius. I heard "Better" and "Fidelity" and "On the Radio" and thought, "Wow, that all sounds like that same person. I really dig her sound." And, then went out and bought all her albums.
Of course, discovering new music is much easier today. Pick your favorite music service – Rhapsody, Napster, Pandora, Spotify – and then let them auto-bot recommend similar music. But an auto-bot rec is soulless and lacks that passionate connection with sharing something you love with another flesh-and-bloodling. And when you stumble across a kindred musical spirit, it is a great thing to let them race you through their collection while you do share the same with yours. I had a wonderful time being musically educated by Control4's, Shanan Carney, after she happily volunteered to drive me to my brother's house in CA. (OK, there *might* have been several days worth of pre-hinting following by some actual begging and then one or two, "You're not REALLY going to make me take BART are you? Are you?!") It was an hour-long car ride filled with, "Have you heard this?" "Oh, you've GOT to hear this!" "Wait! If you like that, then you absolutely MUST hear this!" It was musically thrilling and while I didn't love EVERYTHING – while *mostly* musically Sciacca in her DNA, she has a developed couple of mutant trance-club-techno genes that have apparently mutated in the female version – I heard a lot that I did.
And if there is one certainty about music, there will always be something new to listen to. It's finding -- and then sharing -- the good stuff that keeps it interesting.

Categories: August 2011, Music
/