Shopping Cart
Your Cart is Empty
There was an error with PayPal
Click here to try again
Thank you for your business!
You should be receiving an order confirmation from Paypal shortly.
Exit Shopping Cart
Features, Reviews and a Blog by John Sciacca
| | |
| --- | --- |
| Posted on August 15, 2011 at 5:55 PM | |
Lauryn the Artist is always pushing and challenging herself to find new ways to express the pent-up, ready-to-boil-over-rage of artistic expression that always seems to be ever-lurking just below the surface of that giant mount of curls and tangles which is her hair. While she has given exclusive artist interviews in the past she is generally more aloof and hold in low-regard those that want to discuss her work. Generally she prefers to work in the mixed medium of pen, ink, marker and – occasionally – pencil, though she certainly doesn't shy away from seeking new outlets for her creativity.
We were out shopping the other day, looking for something for her to buy with her "found a money" and when we were hitting a dry well in the toy department I suggested that she buy a stack of paper so she could draw and color on.
This took an already emotionally apoplectic Lauryn over the brink as she burst into tears and shouted, "I want to buy A TOY, not a STACK OF PAPER!!!"  
Well, she has found a new muse for art and it is in the iPad. Specifically the front facing camera in the iPad. When she discovered that the PhotoBooth app would allow her to take distorted images of herself, well, she was hooked. Now the iPad has taken her creativity by storm, and she will often sit down in front of it, starring into the camera, making faces and then breaking into long, deep belly laughs as she presses the "Take photo" button over and over and over again as fast as her finger and the poor iPad's dual-core processor can keep up.
Then I will usually get mad and say, "Haven't I told you not to keep taking tons and tons of pictures and pushing that button as fast as you can?!"
Then she will say, "Sorry! I didn't mean to! I'll stop!"
Then I will calm down and we will look through the hundreds of photos and then she has me give names to the ones that she likes best and then I will delete and delete and delete.
But I thought I would share some of her more creative self portraits here, so you can experience another side of Lauryn the Artist. With few exceptions, Lauryn took all of these pictures on her own.

Even though Lauryn does not like this picture – and it is clearly the outlier of this collection – and she tries to delete it from the iPad at every turn, I felt it important to start with this so you would have a baseline of what the REAL Lauryn looks like. Wild-haired, angelic back-lit, mischievous smirking, Lauryn. To understand that she is, in fact, a beautiful, glowing little girl instead of the twisted, malformed monster that makes up the majority of the pictures that SHE actually likes.
This first picture I call "Big Face, Little Eye." Lauryn says that it looks like someone has poked out her eye. And then she laughs hysterically.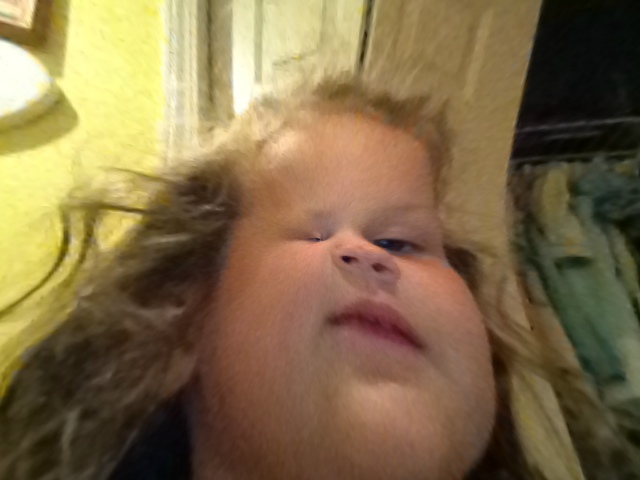 I tell Lauryn that this is what she will look like if she keeps eating cookies and cake and nothing but Ramen noodles; "500 Pound Lauryn Moon Face."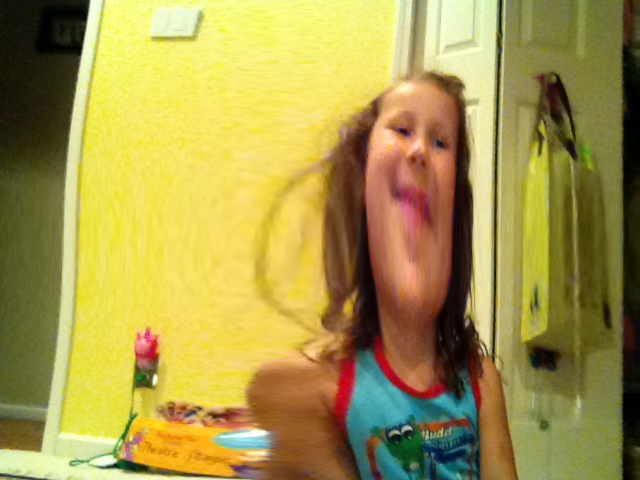 Even though we are severely curtailing any playing of the game I created, "Bite, with Teeth and Arm" where I – "Teeth" -- would basically chase her – "Arm" – until I caught her and then give her a bite ("No, no, no, no. Daddy. No I get to be Teeth!") there are still occasional biting episodes. Lauryn calls them "leaving a bite circle" as her jagged biters leave a perfect Lauryn-circle mark on the affected area.  This first picture is called "Piranha Biter"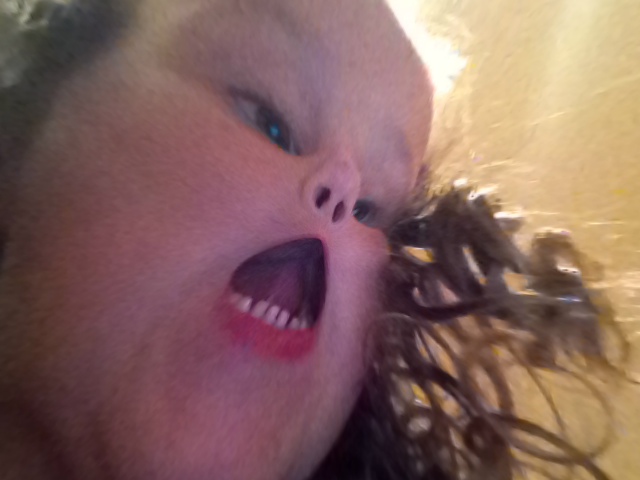 And this is "Lauryn Grillz" as she shows off her teef Flava-Flav style.
These next two look like Lauryn's head has been first shunken, then dipped in wax then kind of stretched and melted a bit and then stuck onto the elongated neck of a much larger person. I find them disturbing. She finds them hilarious. She especially likes how they make her look bald and with a tiny mouth. Go figure. I give you "Dolly Head" and "Wax Baby Doll"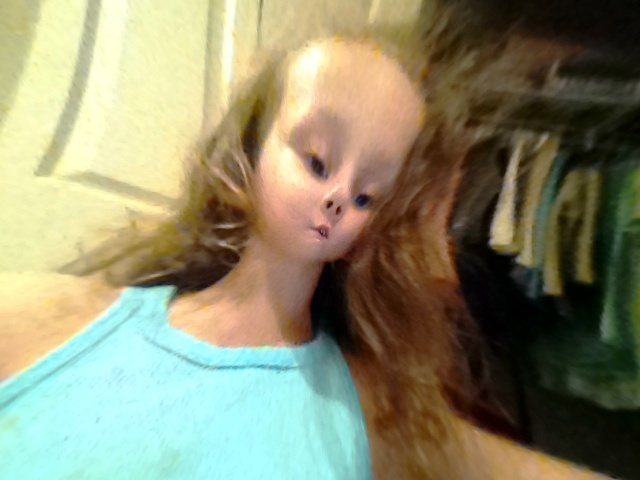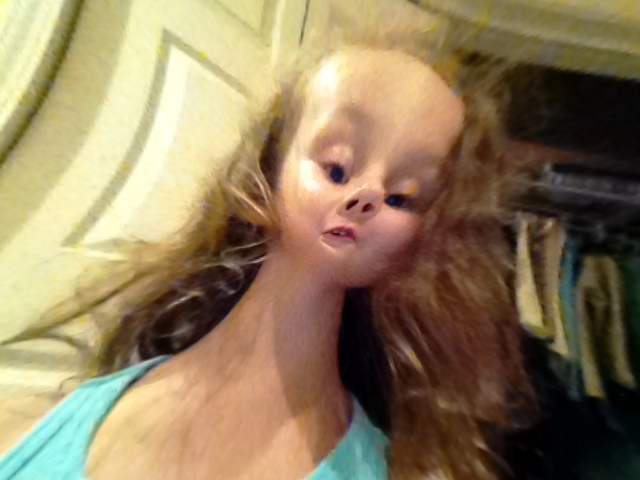 The next two appear like Lauryn has been struck with objects and her expression captured at the VERY MOMENT of impact. I call them "Foul Ball" and "Tyson Face Punch!"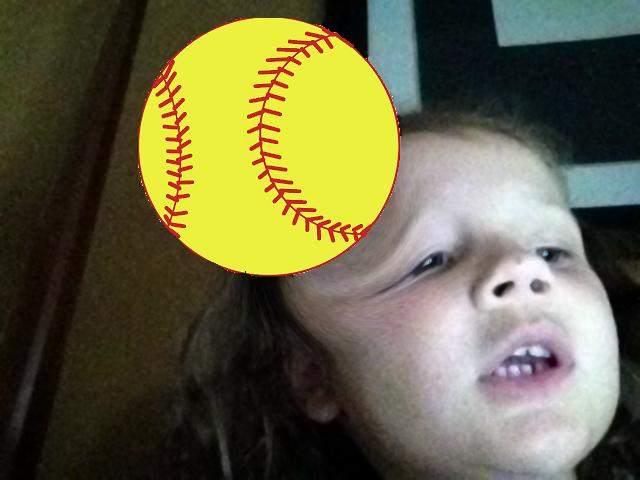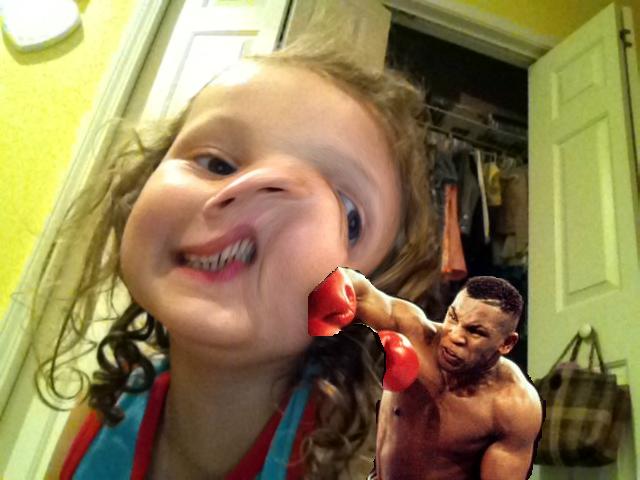 Unlike real life – where Lauryn seems unable to find or see ANYTHING (a skill she has fully inherited from me) – I call this one "Lauryn sees EVERYTHING"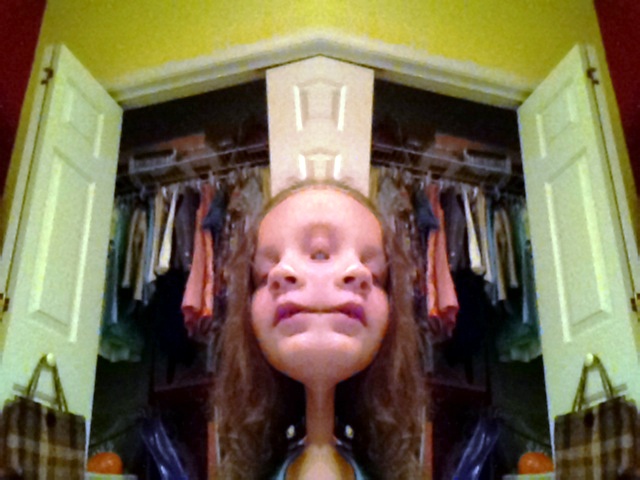 Last year Lauryn drew a picture that totally looked like that guy from the movie Mask. Now Lauryn has followed up that work with a self portrait that I call "Lauryn Mask." (I've included her original drawing and, uh, the Mask-dude as a point of reference.)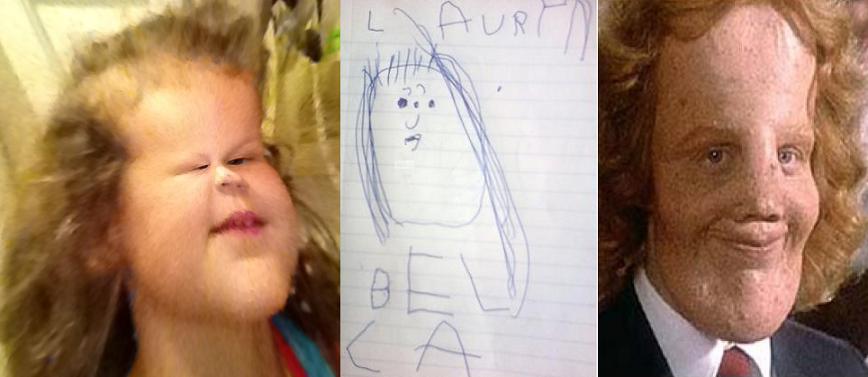 When I first saw this image, I knew it reminded me of something, but what? Then it hit me: the large forehead, the high eyebrows, the slitted eyes, the abbreviated chin, the wide, flaring nostrils...It is the MCP -- Master Control Program -- from the original Tron movie!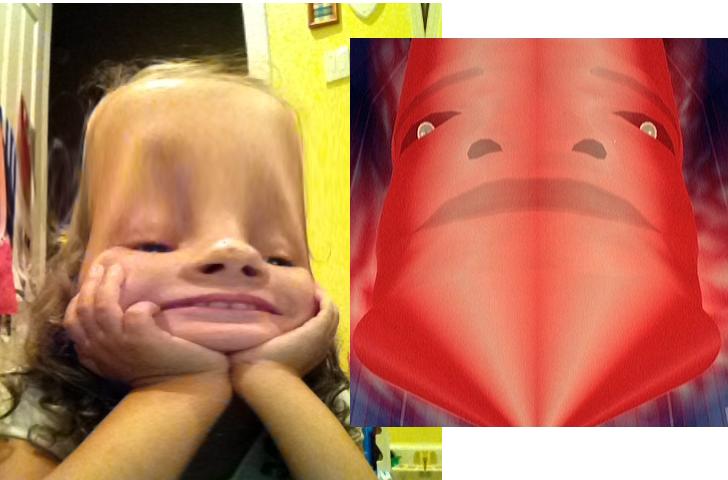 This is Lauryn "The Joker" from another movie...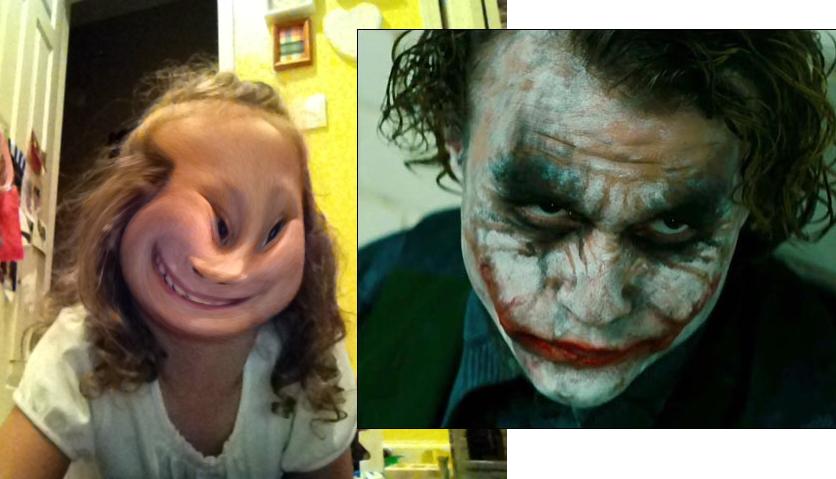 This looks like the unsavory love-spawn offspring of an unholy union between Zippy the Pinhead and Beetlejuice from Howard Stern's Wack-Pack. A face that even a father can't love. I saw this and just said, "No, oh no..."   Dana said, "Oh, Lauryn!" in equal measures disappointment, surprise, and alarm. Lauryn just laughed uncontrollably. (For anyone unfamiliar, that IS a real person; giant, scary, horse teeth and all. Here is his Wiki page.) I call this one, "Lauryn-Juice."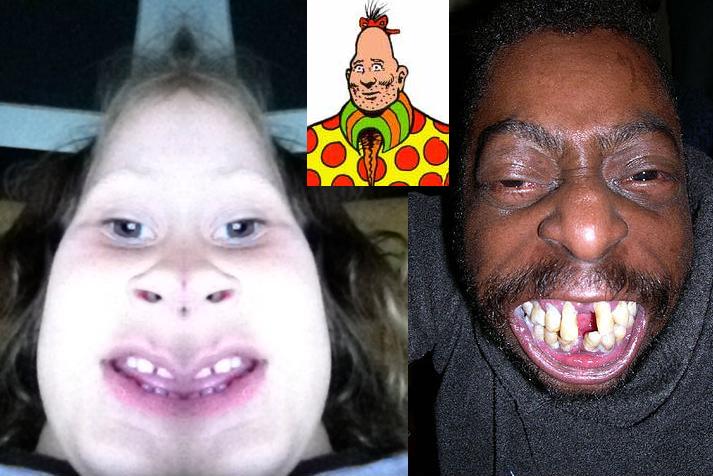 Finally, here is Lauryn coming in for "Giant Bedtime Smooch"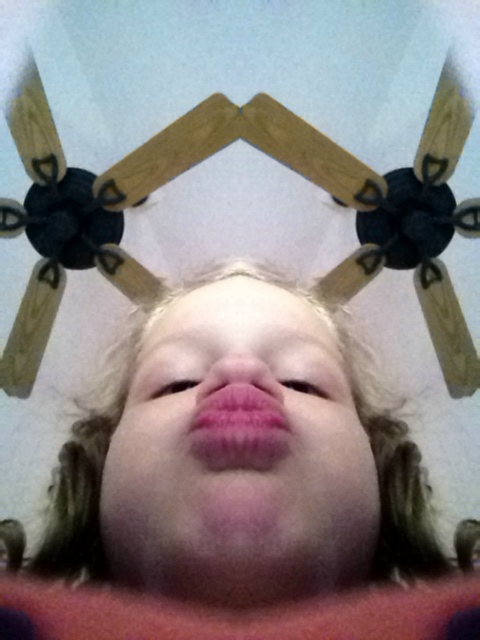 Categories: August 2011, Family, Computers
/