Shopping Cart
Your Cart is Empty
There was an error with PayPal
Click here to try again
Thank you for your business!
You should be receiving an order confirmation from Paypal shortly.
Exit Shopping Cart
Features, Reviews and a Blog by John Sciacca
| | |
| --- | --- |
| Posted on August 24, 2011 at 3:05 PM | |
Home theater is what got me into this business. From the moment that I experienced a home theater – the movie Speed on one friend's LaserDisc player and another friend's dad's JBL Movies and Music audio system – I was hooked. I'd always loved movies, and I had no idea that sound could actually get better than the HiFi VCR I had (so ingeniously I thought) connected to my Kenwood stereo and Cerwin Vega towers. But during those opening credits, when I watched the pristine – remember, we are back in the early 90s and LD WAS pristine – video, with its widescreen, cinematic presentation and heard the sounds of those elevator cables groaning and creaking and straining behind me and all around the room, I was hooked. I had finally found my heroin, and I was immediately off on trying to find the next, better, more intense rush.
Over the next few months I embarked on a mini-pilgrimage around the Bay Area, visiting any of the stores nearby that would have high-end home theaters. While the audio was always impressive – I remember hearing my first Meridian system and thinking, "Wow….how does it DO that?" Then hearing the price and then scurrying out of the store like a scolded, peed-on-the-rug, "BAD DOG!" puppy – at that early stage, it was always the video that captured my heart. And when I learned that you could have an actual projection system in your home, with 100-plus inch screen and picture quality that bitch-slapped anything I'd previously experienced, I had finally found the spoon in which to heat my home theater high.
During my journey I saw Runcos and Vidikrons and Sharps (oh my!) and quickly determined that I would one day – oh, yes! – that I would ONE DAY own a two-piece projection system. (I have since realized the dream, thank you very much Marantz, Panamorph and Draper!) When I flew back to Myrtle Beach to interview with Allen at Custom Theater and Audio he was in the middle of a Home Show at the convention center. I walked over to the Custom Theater and Audio booth and the first thing I saw was this erected tent and inside was a Sharp projector. This was a company that sold projectors. This was a company that got home theater. And this was the place for me.
As Allen and I grew the store over the years, one of our goals and dreams was always to build the most kick-ass home theater in the Grand Strand. At our first location, we had a small room with Def Tech towers and that very same Sharp LCD projector and a big, white leather couch. (There is many a tale about that couch. None of which would make you ever want to actually sit on it I assure you. Fortunately, it has long since been retired.) When we built the store at our new location, we designed a room using some Golden Ratio dimensions for the best audio. We carefully plotted the seating positions. We pulled all the wiring to identical THX recommended lengths.

As we got a little more money, we started investing in equipment for the room. A Lexicon processor and 7-channel amplifier. A Runco CRT projector. Then, finally, 700-series speakers by They Who Shall Not Be Named. The system was good, but the room was basically just any other room. Blah. It exuded plain and oozed blah-ness. It was a room, not a MEDIA room.

Then a couple of years ago we decided we had finally reached the point financially where the store could fulfill the dream; it was time to finish the theater. So we splurged again and did a total redo on the room. First was an update on the tech; we swapped out the Lexi pre-pro for a Rotel model that would handle high-res audio. We replaced the Runco CRT with the new LED Q750 model. Replaced the 700 series speakers with a full line of new, larger Diamond 800 models. Out with the girly-man sub and in with the gigantisaurous Def Tech Trinity sub. Then it was a total cosmetic overhaul. New black leather theater seating. Awesome new black carpeting. A dark themed paint to help the image to pop. We insulated and painted the ceiling black and then installed fiber optic lighting. Installed a full series of acoustic treatment panels. Installed columns and soffits around the room. Put in multiple zones of sconce and down lighting. And we added a Control4 system and had an iPad controlling it all.
It was awesome.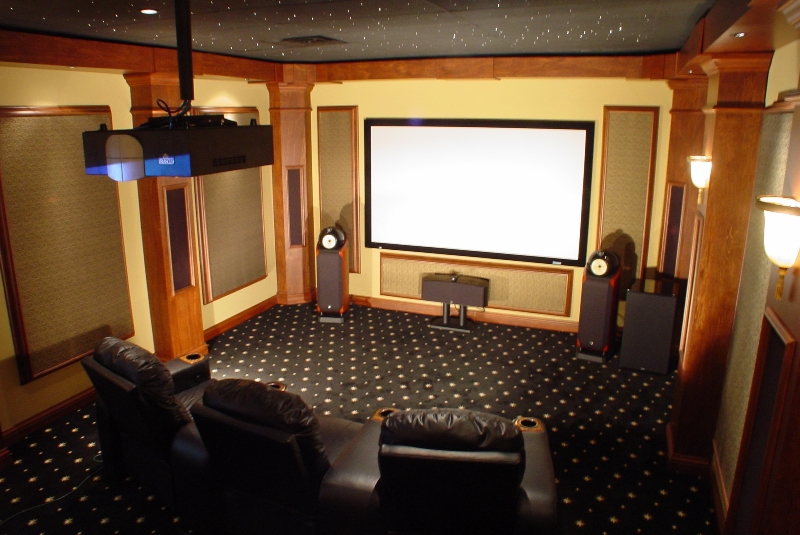 And it totally reinvigorated the sales staff. We were now *excited* to show off our room again. Not only excited, but proud of what we had put together. It was – once again – delivering an emotional and sensory experience that few people had previously had. "Have you seen our new theater? Yes, yes, I know that you have no intention of spending 6-figures on a media room, and that you just came in to inquire about the batteries in your Harmony, but, seriously; this new room just looks and sounds SO awesome that I just must insist on demo-ing it for you!"
I watched a lot of video and listened to a lot of music in that room. And it was always terrific. It always made whatever I was watching or listening to better. It was the crucible where I would break and shatter the will of people who said, "I can't hear the difference in good speakers!" After a few moments they left admitting that they COULD hear the difference. Then walked out to their cars and wept bitterly for several long and awkward minutes.
Then the economic downturn came. People stopped building homes, and when they did, the idea of the dedicated room was quickly shelved. People traded performance for price and $100,000 projects became $40,000 projects and $40,000 projects became $10-15,000 ones. Then as the total kick-us-when-we're-down, They Who Shall Not Be Named cut us off. We were no longer dealers for the flagship speakers that we had once been so proud to demo. And if you can't technically "sell" them, there is no reason to have them on the floor and demo them.
If you recall, a couple of weeks ago I wrote about "twisting the knife" on this one client that has been circling those 800-series speakers for a LONG time. He hemmed-and-hawed and struggled with the concept of ponying up 20-big for speakers. Well, last Saturday he finally decided; he was pulling the trigger. He came in and bought our Diamonds.
And yesterday, we boxed them up and delivered them.
And while one part of me is glad to move these speakers out of our showroom and bring in a decent amount of cash and help to bring some additional closure to the whole They Who Shall Not Be Named saga, another part of me feels  deeply saddened by seeing those speakers go.  It felt very much like the end of the dream. Seriously. With people still spending less on audio, and with big, tower speakers not being in-vogue in our area, it is quite likely that our room will never again see speakers as high performing as these.
In essence, we had spent years thinking about, planning, designing and then working and saving until we were finally able to achieve our shared dream of having an ultimate media room. We installed it and hit the pinnacle and fulfilled the dream. And now, with the removal of the Diamonds, we were likely to find our room going back down the other side. Which, in a weird way, feels a bit like giving up on the dream. Which is a sad thing.
I suppose that means it's time to start working on the next dream...
Categories: August 2011, CTA, Electronics
/