Shopping Cart
Your Cart is Empty
There was an error with PayPal
Click here to try again
Thank you for your business!
You should be receiving an order confirmation from Paypal shortly.
Exit Shopping Cart
Features, Reviews and a Blog by John Sciacca
| | |
| --- | --- |
| Posted on August 30, 2011 at 8:30 PM | |
Facebook, LinkedIn, Google+, Twitter, FourSquare, Blogging, kvetching, whatever you want to call it and whatever particular brand or flavor you buy into and support, all of this newfangled stuff falls under the big, new and juicy umbrella of "Social Media." And you might would think that it would be enough to just reach as many people as possible, to cast your seed to the wind, and have your ideas germinate where they may, and in turn to harvest the occasional nugget or morsel of wit and wisdom from someone in your E-circle. But, no. Apparently that is not enough.
This is America and we like to keep score. Because, when there is a score, there is a winner. And, more importantly, there are also many – MANY – more losers. And those losers can then feel bad about themselves and likely – because, again, it IS America – look for ways to spend some money to raise their score and transform themselves if, not fully into a winner, at least into LESS of a loser.
A company called Klout has managed to create a series of metrics and algorithms and scattered chicken bones that can actually determine the overall reach and strong-like-bull power of your on-line influence and the influence of those YOU influence. Kind of like a bully pyramid scheme or something. Not only does Klout determine your reach, but they assign it a numerical value to be weighed and measured and then bandied about. This value is called your Klout score.
Now, I'll be honest. Up until about two weeks ago I had no idea that such a thing as Klout or a Klout score existed. I measured my online "success" based on the number of times Dana said how lewd I was or "Do you really think that is funny OR appropriate?"  or the number of people that visited my blog, those occasional Tweets that I would receive from others about something that I'd written and then the rarer -- and even more coveted -- comment from an actual flesh-and-bloodling. (For the record, my Klout score appears to be 50 as I write this. So I'm assuming that Klout is based on a point scale of 0 to 50 and I have already reached the max. Honestly, I have no idea if 50 is good, bad or what. But it seems like a nice middle-of-the-road figure, so I'm going to assume that it is safely tucked in somewhere between Lady Gaga -- 92 -- and @MattScottsHair -- 35. To be fair, @MattScottsHair has only been around for a few weeks and is forced to spend much of its time grooming, primping, and judiciously applying product.)
Apparently though Klout has gained enough, uh, clout to where it is becoming a number that people are starting to really pay attention to. My PR buddy -- and the sole Y-chromosome carrying member of the Caster Comm staff -- Nick wrote a blog post called "My mom doesn't care what my clout score is." (Which is actually kind of too bad, because PR Nick's Klout score is also currently 50, which we have already determined to be filled with awesome.) Well, Nick, your mom – and boss -- might not care, but there are (apparently) lots of other people that do.
And one of those people is Stephen King. (Klout score unknown, but probably 666 or something else scary.)
Stephen King is preparing to release two works; the first an e-book (though, at only 80 pages, really more somewhere between a short story and e-novella in King-speak) titled "Mile81" (or #Mile81 in Tweet-speak) and a full length work called "11/22/63" coming in November.  Mile81 is due to be available on line only starting September 1, but if you are one of the really cool and influential and especially Klout-ey people, you can read it a whole week early. And then post the ending in tweets and blogs, thus spoiling  the read for everyone else and truly displaying the full mighty plumage of your Klout powers.
According to a press release on August 25, "In order to create a unique social media conversation about both of Stephen King's forthcoming works, Scribner has teamed with Klout—the emerging standard for measuring online influence—who will offer a select number of Klout influencers the chance to download a free eBook of Mile 81 starting today, one week before it goes on sale nationwide. Through Klout's Perks program, which offers exclusive products and experiences that are geared toward users' preferences, the select influencers will be encouraged to discuss Mile 81 with their social media contacts and will also have the opportunity to share the eBook with one other person. The free eBook can be read on desktops and most eReaders."
Well, as a giant Stephen King fan -- and not a Johnny-come-lately fan either, but an honest-to-goodness, read everything he's written including the short stories, the collected works and the non-fiction stuff, kind of fan -- I was hoping to get on this Klout fan-wagon and have a chance to give the Mile a read. But, apparently my Klout was not strong-like-bull enough to snag an invite. (Not to mention the minor technicality of the fact that I'm not even actually registered with Klout. Unrelated I'm sure.)
But it turns out that I happened to "know" someone Klout-worthy enough to pull down the invite: Johnny Mota (@JMOTA3. Current Klout score…65. Wait... Damn! It *does* go higher than 50. Crap! And I'm losing! How do buy some +K?). Johnny is also one of the panelists on the upcoming CEDIA Social Networking class – his name misspelled to the more awesome sounding Johnny Moto ("Flawless victory!") -- so we'd had a chance to trade some e-mails as well as a variety of Tweets. J-Mo not only got an invite to get the book but he totally paid it forward by giving me his "opportunity to share the eBook." I asked if he was serious or just taunting me with his overwhelmingly superior Klout, but he was on the up-and-ups plan.
In J-Mo speak, this was totally #DoubleAwesome. Especially since I was trapped inside from the affects of Hurricane Irene – death by rain, lightning or scary/angry/insatiable car capable of striking at any moment! – virtually tailor-made Stephen King reading weather!


So, in classic @JMOTA3 style, he Twitter Direct Messaged -- a private message that isn't viewable to the whole world. You know, the sort of thing that maybe Anthony Weiner should have *maybe* considered when he wanted to share pics of his ween. -- me the link to go and download the eBook. So I clicked on the link and am taken to a special Simon & Schuster Klout perks download page. It looks pretty much exactly like this: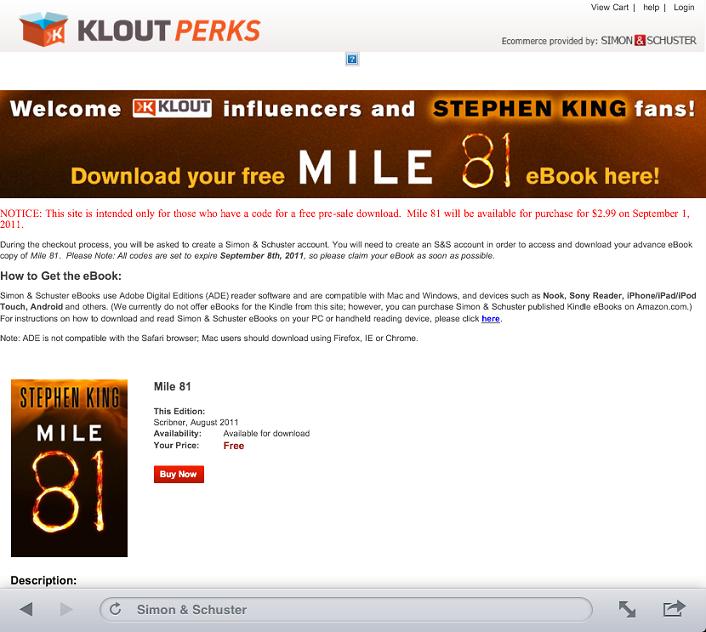 Now, since this is an eBook meant to be read on an eReader -- with the iPad specifically mentioned as a compatible eReading device -- I assumed that I could complete this entire transaction with the iPad. Much like if I select anything from the iBook store and it just immediately downloads and then appears all nice and easy in my library collection. The page shows I'm clearly in the right place and the price says "Free" and so I click "Buy Now." And it takes me to a page to download and...nothing. I try creating an account and then clicking back but then it keeps saying that my shopping cart is empty. I add, I try to checkout, I try to create an account, all to no avail.
I started to wonder if maybe THIS is the book. The not being able to get the book becomes a psychological thriller where you try over and over to download, checking and rechecking your cart, only to have your frustration rises until the true maniacal killer is revealed. And that killer is….YOU! It could be King's ultimate mind freak, with the book being NO book, just tormenting his fans with the promise of something that is always just merely one click out of reach.
Then I decide that is probably a little too fringe even for Uncle Stevie so I e-mailed Johnny to see if he was having any luck. It turned out that you have to first install some Adobe program (Adobe Digital Editions) on a separate computer, then create an account THEN you can download the book. But to that computer, not your e-reader.
So I e-mailed the program to myself and tried to open it on my iPad but it said it wasn't a supported file and wouldn't open. So I e-mailed a different version of the file to myself and this version downloaded and loaded into my iBook collection before saying it was incompatible. Confounded! I And angry!!! I felt SO close but yet couldn't close the deal!
So I went back and carefully read all the little instructions. And it turns out that in order to read the version of the book that I downloaded onto my laptop I had to install some app on my iPad called "Bluefire Reader." I installed the app, suddenly the attachment from the first e-mail was recognized, I reopened the e-mail and...success! An 80 page copy of Mile 81 sitting there all ready for my ocular consumption! (At this point, I want to point out the absurdity of the entire download process. This whole thing took like an hour of trial and error and If I hadn't been TOTALLY motivated to keep at it, I would have bailed. Getting eBooks should not require multiple computers and software installs and e-mails to one self etc. Maybe I should get some + Klout in "figuring stuff out." #Justsayin)

From the press release, "Stephen King's new short story Mile 81 (Scribner, $2.99/eBook; 80 pages). Available at all eBook retailers, Mile 81 is the chilling story of an insatiable car and a heroic kid whose worlds collide at an abandoned rest stop on the Maine Turnpike. Mile 81 also features a free excerpt from Stephen King's next highly anticipated novel 11/22/63 (Scribner, on-sale: November 8, 2011)."
I'm saving the read for my travels to CEDIA next week. Surely there are no abandoned US Air rest stops at 30,000 feet. And I'm going to just assume that I have more Klout than the guy sitting next to me.

Categories: August 2011, Books, Computers
/