Shopping Cart
Your Cart is Empty
There was an error with PayPal
Click here to try again
Thank you for your business!
You should be receiving an order confirmation from Paypal shortly.
Exit Shopping Cart
Features, Reviews and a Blog by John Sciacca
| | |
| --- | --- |
| Posted on September 13, 2011 at 10:15 PM | |
I'm sad to report that this CEDIA was one of the worst for gifts and handouts ever. In the past I've managed  to score suitcases full of various swaggery. So many T-shirts in fact that Dana implemented a one-for-one policy; for each new shirt added, one old one had to be discarded. Lots of toys and tchotchkes and DVDs and CDs and journalistic-ey things like notebooks or fancy pens or random things like blankets and alarm clocks and binoculars. For the record, best CEDIA gift to date remains the 30-Gig video iPod engraved with my name from SpeakerCraft. It even came with a personalized video message from Jeremy Burkhardt thanking me for coming to the press event and then another message saying how much more he liked me and my writing style than Darryl Wilkinson's.
This CEDIA was downright depressing in the handouts department. I even Tweeted that I would totally whore out a good review of something if any manufacturers wanted to hook this brother up with a set of the new Star Wars Blu-ray discs at their booth. But besides an obscene amount of USB drives of the 500 meg to 1 Gig variety, and the latest version of Monster Cable's cleaning solution – which I now have about enough of to use to start a neighborhood Monster Car Clean business – the CEDIA gift-horse had his mouth closed and wired shut and was apparently fighting clinical halitosis. (A brief word on the USB drives; on the one hand I really appreciate them. They make it much more convenient than having to carry reams of paper around. On the other hand, I come back with PILES of them and then have to manually load and sift through them all. In the interest of green, what if EVERY EXHIBITOR donated a certain amount of money into PR materials pool. Then CEDIA takes ALL that money and buys a ton of 64 Gig memory cards that have ALL the information on them.  Then every attendee would basically have every bit of info from every manufacturer. Plus this would cut down on a phenomenal amount of waste after the show with the 20-30 USB drives that everyone ends up with. Just a suggest.)
So, I basically scored three items at this show that are even worth mentioning at all which is a far cry from my swag-bag of goodness from last year's show. (Note: Lauryn is actually still rockin' the SpeakerCraft steel worker's lunch pail. She crams some of her stuffed toy animals into it when we go on trips.)
SpeakerCraft once again came through with Best of Show in the press swag category.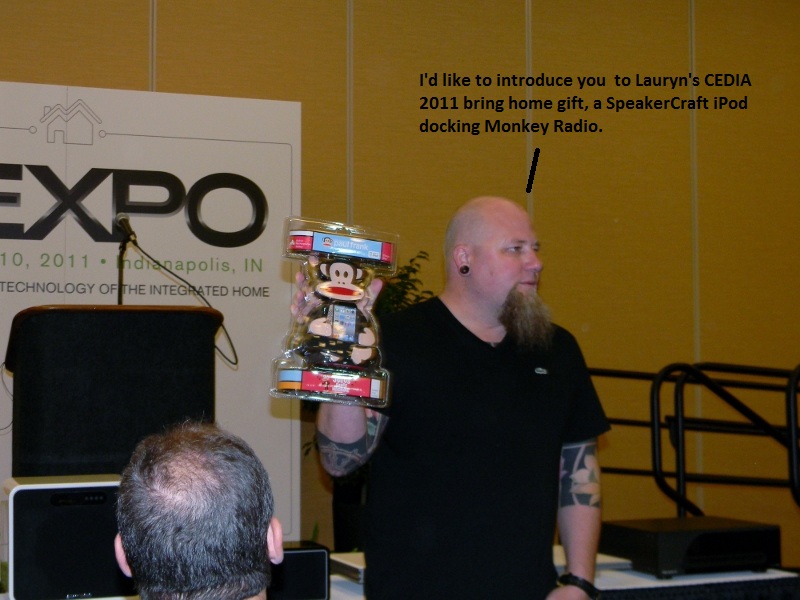 Jeremy B says that this is going to be distributed through a major retailer this year, and that this is expected to be one of the hottest day after Thanksgiving shopping items. I had no idea who this guy was, but when I showed it to Dana she said, "Oh! A Paul Frank design! I've seen his things at Target. They're more expensive than the regular Target items." Apparently someone Googled the Paul Frank monkey and he Amazon.coms for around $99, so pretty sweet.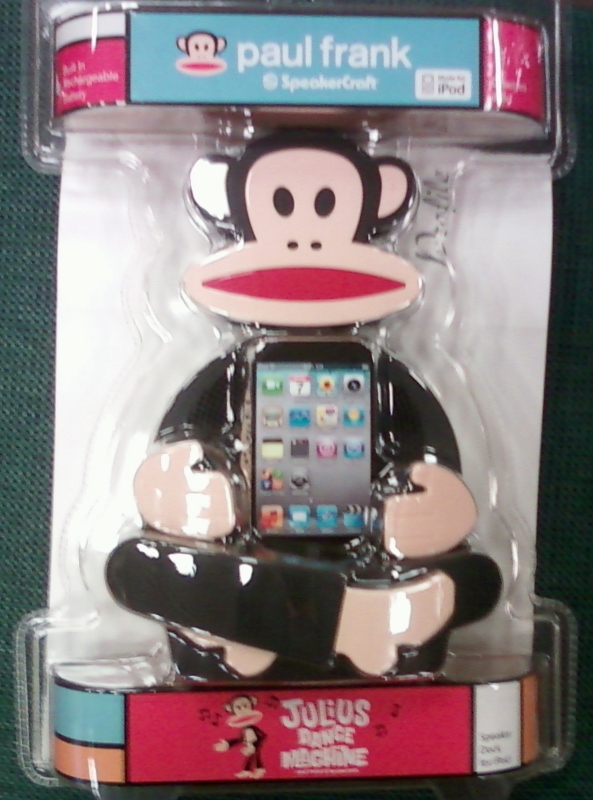 Touch my Paul Frank monkey! Touch him! Liebe mein affe-monkey! Your story grows tiresome. Now is the time on Sciacca when we dance!
Lauryn cradled it in her lap our whole ride home from the airport, but unfortunately the volume down (the left ear) on our monkey doesn't work. Even more unfortunately is that we jacked the volume all the way up BEFORE we discovered this little anamoly. So now our monkey has two volume settings; off and max payne. I've reached out to SpeakerCraft's PR and I hope I can get a new monkey. (I actually grabbed TWO monkeys at the press event and brought one back to the Daily room and gave it to poor, can't leave her chair, why won't anyone ever bring me any Starbucks or cocoa, Glasses. So I say, "Here, Glasses. I brought you this back from the press conference. Oh, sorry all you other people in the room. I just brought one back. For Glasses.")
I agreed to attend the Women in CE breakfast primarily because I was invited by Lutron's wonderful PR gal, Melissa Andresko. Here's Melissa the day before the show starts as we sip martinis in the most non-martini bar ever. (My drink was called "The Happy Ending" which I mainly got because, even though it had orange and pink/red liquor it was still one of the most manly things on the menu AND because I could text Darryl and tell him I was enjoying a happy ending.)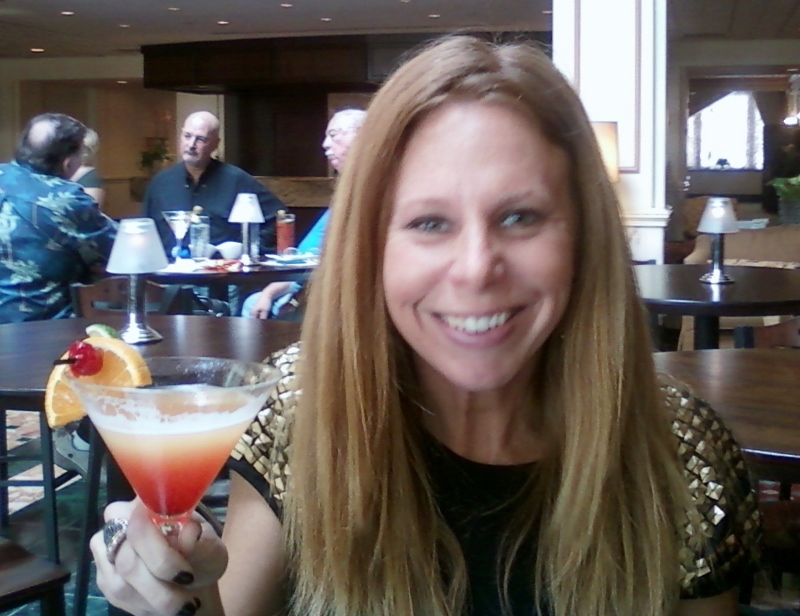 She asked me and then upped the ante by saying that Darryl Wilkinson would also be there, and I knew that if there were two things in the whole world with the greatest potential for comic mayhem or awkward trainwreck of awesome, it would be Darryl in a room full of women having a potentially uplifting, team-building breakfast. (Darryl actually attended the breakfast last year and then wrote a blog on it titled "Babes in Toyland" that included such non-PC brilliance as "a broad assortment" and "kept them abreast." We did lament the fact that he was unable to work in any "rack" allusions. )
So, sometimes you agree to things that sound great at the time, like attending a 7:30 breakfast on Saturday at CEDIA several weeks before the show when it is the afternoon and you are wide awake sitting at your office desk. But then when push-comes-to-shove, you wish that maybe you had remembered that you were probably going to have something else going on that morning. Like sleeping in after a long night of Friday at CEDIA. But, agree to attend the breakfast I did, so come 7:30 I was there with not so much bells on, but with, well I at least had all my clothes on. So we sit through the breakfast and some motivational, "You can do it, gals!" and "Women, stop being such women!" speech and at the end they say that they are giving all the attendees a gift bag filled with goodies.
So I head over to the bag line and they've got a few bags there and I think that pink will be something that Dana or Lauryn will like. And that is when the Women in CE showed me that a Lady Phone has to accessorize! There is this one color looks awfully like Lady Phone's mangenta so I grab it.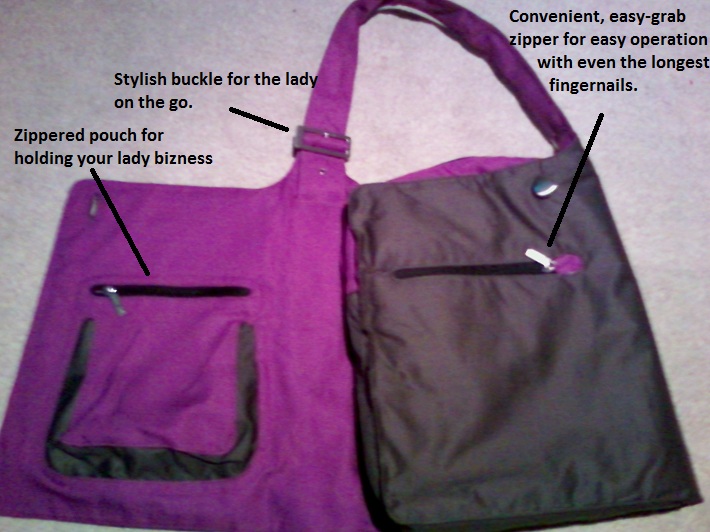 And, to be honest, it is actually a great tote for a laptop, iPad, notebook, maybe some lip balm, gum, hand lotion, sanitizer. Then I realize, Dude! I am totally carrying a purse!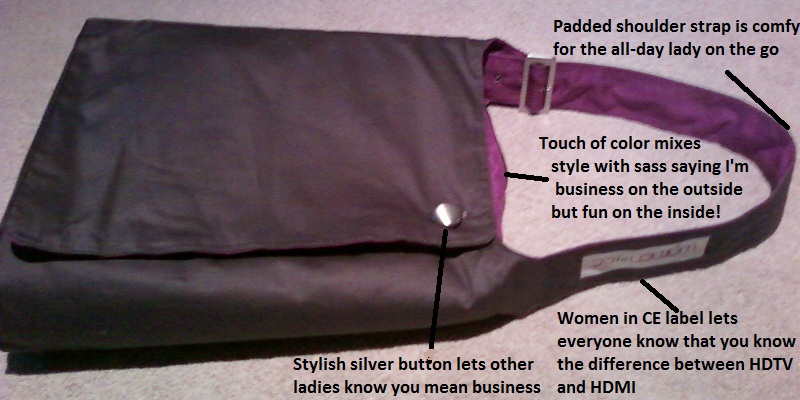 But at that point I'm too hooked on my Lady Bag to give it up. Seriously, the computer pouch is so padded and nice and that big silver button is nice and shiny and… OK. It's totally gay to carry this thing around. And even though I *could* remove the "Women in CE" logo and then just tell people, "Please, you're being so immature. This is clearly a stylish European man satchel. These are all the rage on the continent."
Then I opened it up and what do I see inside? A free iPad2? A case of NutriSlim bars? A Lady Schick personal groomer? No. Something way better. A totally groovy black with gold disco lettered Monster Cable T-shirt! Sure its a ladies large and sure it's tight all over and sure it makes me look like the kind of guy you'd see dancing in a cage with other dudes at Studio 54, but it was in Man Bag and so, I had to put it on.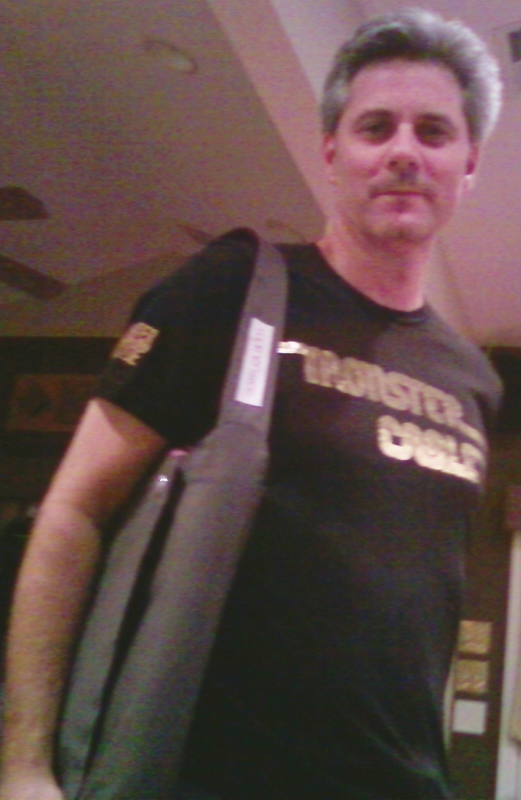 The final take home was a really nice 5% silver, Carbon Series HDMI cable from Shane Buettner at AudioQuest. Now, I'm not gonna say that this cable is going to instantly catapult me into the Mr. Cooper category of cable fanaticism, but I will say that Shane's demo made me a believer in the differences of HDMI cables and audio quality. I'd talk more about it here, but, well, I want to talk more about it later. So, there you go. I will say that it has really cool Carbon Fibre looking jacket, which is probably the closest that I will get to reliving my time with the Aston Martin DBS and I'm going to immediately replace the no-name cable connected to my Kaleidescape with this and fully expect better audio in the process.
Categories: September 2011, CES/CEDIA
/