Shopping Cart
Your Cart is Empty
There was an error with PayPal
Click here to try again
Thank you for your business!
You should be receiving an order confirmation from Paypal shortly.
Exit Shopping Cart
Features, Reviews and a Blog by John Sciacca
| | |
| --- | --- |
| Posted on September 15, 2011 at 5:40 PM | |
Perhaps you'll recall that prior to CEDIA, I mentioned that this year I was going to do something that would be new for me in the history of CEDIAs I have attended so far. (Twelve I think.) While I have taken my share of classes over the years, this would be the first time I would be pulling up a chair on the other side of the table and actually helping to GIVE a class. Granted, as merely one of four members of a panel, but helping to give nonetheless.
The class was known as ESCR099-546 in CEDIA Edu speak, or "Social Networking Forum: How to Leverage Popular Social Media Platforms to Grow Your Business."
Before I share my thoughts, I thought I would invite anyone that actually attended the class to share what they got out of it. Was it what you were expecting? Did you get any positive takeaways? What did the class leave out that you were hoping for? Did the real-life panel-people live up to your virtual on-line avatar expectations? (Thanks to Richard Fregosa for attending and for being inspired enough to write a 3-part blog on the class! Here's a link to his first post. He's just starting his blog, so help out his analytics and throw him a click. Plus, he mentions me, so...)

Besides myself, the panel included Johnny Mota, who seems like he tweets about EVERY company in the A/V space, but primarily works for Vsys Automation and does some writing at rAVePub, (I have to say, I found Johnny to be surprisingly quiet and well-spoken in person, compared to his voluminous and unique Twitter vocabulary), Bradford Benn who works for Harman Professional but goes to great lengths to distance his on-line self from them, and Matt Scott from OMEGA AudioVideo out of Canada. Kim Fabiano from Social 4 Media PR and David Kirn from k2 Dealer Services moderated the event.
This is what it looked like from my Panel-eye view: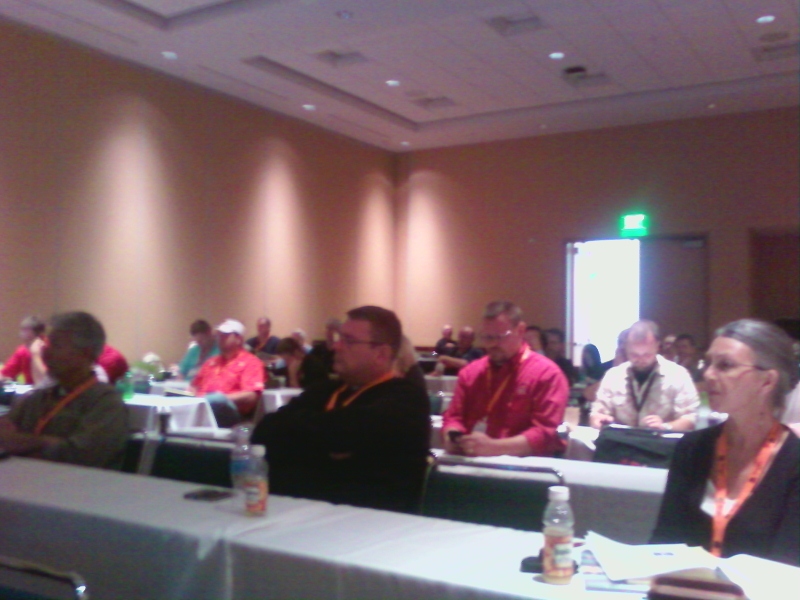 I think one of the biggest takeaways from the class was to definitely be CAREFUL about what you (or your employees) do or say on line. Even if you press "Delete" in a mad and pleading "Why won't you just go away!" keyboard mash, stuff on the Internet spreads fast and can quickly get beyond your control and live forever. Ask any female celeb that's "accidentally" posted up a cell phone nudie. Tweeting, "Trying to work at this customer's house but still SO drunk from last night!" might not be the best idea. Especially if said customer follows you on the Twitter. Posting photos of one's junk is always frowned on in a business sense, unless, of course, you are running a junk shop. If employees are going to have access to the company's social presence, there needs to be well established guidelines. Bombarding your followers with news and updates and other bits of constant self-aggrandizement is in poor form, though not keeping up with your presence on a regular basis is also considered a road to failure.
I felt that the panel did a good job of sharing how they (we) use social networking, but more so how they use it to be social or just things they are using social media for. From the show of hands in the room, it appeared that everyone was familiar with using Facebook, Twitter, LinkedIn, whatever, but as someone who doesn't really use social networking to promote my own day-job business (Custom Theater, I'm not totally sure that the class gave me the title goal of learning how to leverage these platforms to help "grow your business."
I would have liked to hear the panelists discuss ways to GAIN followers on line. How do you get your customers to follow you on Twitter or friend you on Facebook? Johnny Mota has almost 1500 followers. How'd you get them all, Johnny? And do any of them equate into actual cash dollars in your pocket? If so, how? What strategies work and what don't? Matt Scott told me that he occasionally tweets about service calls or promotions and that he has gotten real paying work from these; what groundwork and how much time did it take to get to that point, Matt?
I think for the "big guys," it can be fairly easy and obvious to find ways to use your social presence for promotion. If you're McDonald's, for instance, you could have a free large fry giveaway for friending them on FB or a free diabetes-sized Big Mac meal if you tweet "Super Size Me was a lie! Eating Big Macs promotes healthy well-being!" ten times or something. But what does a small shop do when our goods and services costs hundreds of dollars? Tougher to give them away so quickly and easily.
Non-sequitor here, but Twitter seems a bit incestuous to me; where everyone just kind of recycles the same information between one another. My experience is limited of course, but if someone is following like 1000+ people, how can your single, non-person specific message ever cut through all that other chaff? A tweet unread is as much as a tweet unsent. (There's probably a haiku or something in there.)
For my part, while I'm not trying to use social media to grow my CI business, I am trying to use my blog (and now @SciaccaTweets) to grow my writing brand, and I feel that I've been moderately successful in that endeavor. In a little over a year-and-a-half I've gone from no blog, to one that routinely gets about 3000 hits a month and I just crested 70,000 page views today. Not bad for something that didn't exist that long ago. I did my best to share some personal stories with things that I've found helpful. I tried to express that you don't have to know a lot about the Web or HTML or coding to create a decent Website. It seemed like people were looking at me when I talked, and I noticed some people taking notes, so maybe I said a thing or two that was helpful to someone. Hope so. Some people in the class mentioned reading this blog and one guy said, "Oh, so THAT'S how you say your name!" (It's see-ah-ka for the record. There are no T or D sounds. Silent or otherwise.)

I think the biggest thing that people need to focus on before even STARTING to try and build an on-line brand or presence is to clearly define their end-goal: What's the objective? What do you want this social presence to do for you? What do you hope to accomplish out there in the wide open Interwebs? As I said in class, I'm not interested in merely getting 1000 Facebook 'friends.' What good are they? All this "I'll follow you if you follow me" thing doesn't make sense to me. I'll follow you because you have something interesting and important to say, and you follow me if you feel the same. Having someone follow me so I can add another notch to my list does nothing for me. Nothing for my ego and nothing for my wallet. If you want to merely collect numbers for numbers sake, then you are probably wasting your time. Numbers don't always translate into money. Business translates into money. And in the world of social media, quality is – in my opinion – WAY more important than quantity. Far better to have 100 REAL followers that read, respond and react to your message and then hope that you can build more real followers as they organically spread your word onto THEIR followers.
Love to hear your thoughts, especially if you happened to attend the class. Or if you've figured out to make this whole social thing work for something more than just being social.
Categories: September 2011, CES/CEDIA
/