Shopping Cart
Your Cart is Empty
There was an error with PayPal
Click here to try again
Thank you for your business!
You should be receiving an order confirmation from Paypal shortly.
Exit Shopping Cart
Features, Reviews and a Blog by John Sciacca
| | |
| --- | --- |
| Posted on September 21, 2011 at 11:35 AM | |
When you hear things like, "The front projection market is dwindling" and each year less and less manufacturers actually show up to demonstrate front projection models to the very group of people that are capable of going forth and installing them, it kind of makes you wonder how much some of these manufacturers care about still supporting this segment of the market...
While I own a projector and LOVE it and still consider projection to be the pinnacle of home video presentation, projectors have become an increasingly difficult sale lately. As I see it, the space faces four separate but very real sales challenges. First, flat panel sets have eroded a large amount of the old projector market share. Flat panel sets are simultaneously getting bigger screen sizes, thinner cosmetics and cheaper pricing. Further, they don't require the light control installation issues of front projection, meaning they can fully compete with that giant orange ball of light in the sky some of you prefer to enjoy instead of the cool, quiet, and soothing black cave of a well designed dedicated media room. Second, few people *really* love the look of a projector hanging off their ceiling or the giant screen on the wall. I mean, that's definitely a man thing, and even many men are like, "Hmmm. That. That right there. THAT will be hanging. On the ceiling. Right over my head. Hmmm." And the response, "I KNOW, AWESOME, RIGHT?!" doesn't usually win them over. Flat panel sets on the wall, on the other hand, are the new design sexy. Even interior designers are embracing them. Third, many homeowners are moving away from the dedicated room concept to living room and multi-purpose installs, meaning the light control issue is becoming more of a factor.  Finally, the high-end of the projector space, $10,000 and above, has seen a lot of competition from fully-featured, 1080p, 3D models at much lower pricing.
So, what's an installer to do to convince a high-roller to pony-up and step-up from an entry level, $2000 model to something $10,000 and more? 3D is now in everything – and just as irrelevant and inconsequential to most consumers as ever -- even in the sub $3000 price point, so you can't turn there. What the market needs is a new buzzword feature.
And that new buzzword is 4K.
By far the biggest non-Lutron cellular shading, video news at the show was the introduction of 4K to the home market from Sony and then an, "Oh, what's that Sony? You're talking about 4K? You've got one new projector. Hmmm. That's nice. Well, WE'VE GOT FOUR!!!" from JVC. Let's recap, shall we?
Sony – Digital Cinema 4K Comes Home!
I was actually fortunate enough to sit in on an embargoed pre-press briefing with Jeremy G on Tuesday before CEDIA even began. (At the time, I was leaning towards blowing the meeting off. Maybe it was the fact that I was in the midst of drinking with Darryl, Glasses and Melissa Andresko and the idea of choosing a boring sit-down meeting instead of more drinking seemed like the more soul-killing decision to make. But then Jeremy walked into the lobby all dresses up and businessey and said, "OK, you're ready to go, right?" And since I was staying in his room – literally – I figured that this wouldn't be the best way to get our show working relationship off on the right foot. So, go to the meeting I did.) And even though it was just Jeremy G and I in a room with some Sony techs and PR and an unmistakable lack of booze, they dropped some major news on us, and what turned out to have probably the biggest video buzz at the show. In the past, the home market has followed what happens in the commercial cinema: widescreen, surround sound, anamorphic widescreen, 3D, etc.
Sony is continuing this by bringing the latest commercial cinema trend home: 4K resolution projection. Accordingly Sony introduced the VPL-VW1000ES, its first consumer 4k digital projector. Visually the projector looks really cool; with a giant-lens design and a golden area surrounding the lens that looks like looking down a rifle barrel or something out of Goldeneye or Stargate. (Sorry for the pic quality; I was sitting like 100-feet away using 15-times zoom and building a camera-sniper "bone bridge" with my elbow and knee.)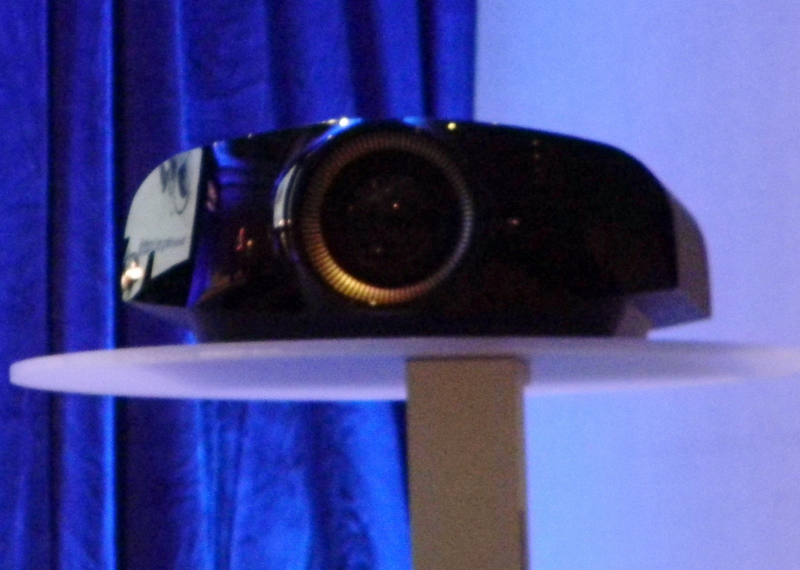 During our little "meeting" the execs had hinted that pricing would be around $15,000 but somewhere between that meeting and the press event the price nudged up to "somewhere around $25,000." Still, when you figure that the only other TRUE 4K resolution projectors are up in the 6-figure range – and look totally ungainly and not really meant for the home space – this is breakthrough pricing.
Sony realizes that the fastest way to get Americans to upgrade is to start playing to their fears of inadequacy and by releasing a projector that has FOUR TIMES the pixel resolution of existing 1080p sets that is going to just be too much pixel envy for many high-enders to handle. Beyond the obvious desire for someone to be able to gloat, "Hmm, you're system only has 2 million pixels, huh? Well, maybe one day your family will move out of the projects and step up to real 8 MILLION PIXEL city living," Sony recognizes that installers are looking for ways to revitalize their business and stressed that this is not a reworked model from its commercial division, but a dedicated model utilizing a brand new SXRD panel that has been specifically built from the ground up for the consumer market.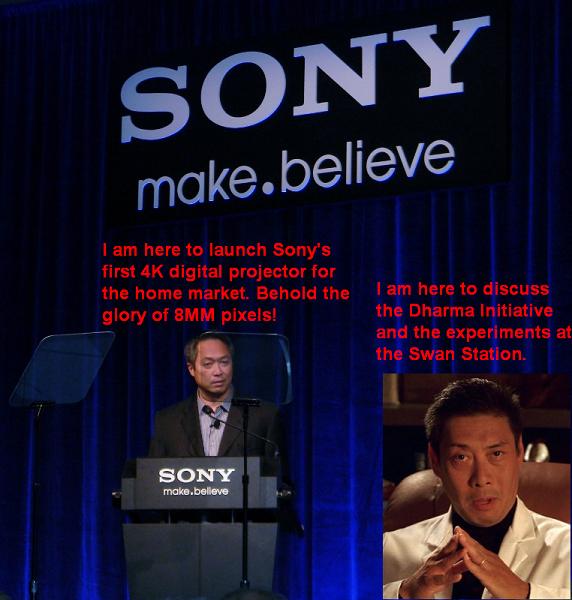 Apparently when sitting at or near 3-times the picture height (or about 12-feet or closer from a 100-inch 16x9 screen), 4K's significantly higher resolution and pixel density is demonstrably better.  Sony's senior vice president, Mike Abary, said, "It will allow [viewers] to become totally involved in the viewing experience and much closer to the action on the biggest home theater screens, with images that deliver considerably more detail and fewer artifacts."
I also dug that a flash of my press badge allowed me to cut to the front of the 45-minute demo line. (Look, it's good to be with the press. And see, for any of you that missed it, me getting in allowed you to share in the experience vicariously!) Sony demo'd a Resident Evil clip on Blu-ray upsampled to 4K by the projector and it did look great. I don't remember how big the screen was, but I was in the very front row and there was no evident pixel structure. They also displayed some 4K images taken from one of Sony's digital SLRs and showed them side-by-side with 1080p resolution. There was definitely a resolution difference, but, to be honest, I wouldn't say that I noticed 4-times the resolution. I mean, seriously, 1080p looks pretty dang awesome. But, yes, better edge and fine focus detail; no distortion in small crossed-lines, etc. They also showed an extended trailer from the upcoming Spiderman reboot, The Amazing Spiderman. The video from the projector looked great, but the movie looked really CGI and video-gamey. I'm not sure if it was just an early cut or perhaps the higher resolution revealing more than it should, but the effects – specifically the rendered buildings and girders – looked way more virtual than reality. Also, is it seriously already time to reboot Spiderman? All the way back to the beginning? Again?
Sony also demo'd some personal 3D glasses/goggles things. At first I was thinking, "Cool! This is portable theater. That would actually be pretty sweet for a plane or subway or long car ride or times when I need some giant visible thing to tell everyone around me that I am not at all interested in pursuing any form of relationship or interaction with them at all. Or something." But then I saw that it had this separate processing box that needed power and that this isn't really meant to be a portable viewing solution. Then I thought, "Really?! Someone is going to sit at their home and wear these glasses? Really?! Could there be anything more anti-social than that?" But then I tried them on and my opinion…totally didn't change. Not only were they big and heavy and didn't fit me well, the whole time I felt like I had to hold them in place like I was looking through giant WWII field binoculars. Granted, sleek and white and much cooler looking, but, you know. Also for me the 3D effect was virtually nil. I asked Sound + Vision video guru, Al Griffin, to take them for a spin to see if I was just off the mark, and he agreed. Here is Al channeling Jordy from Star Trek.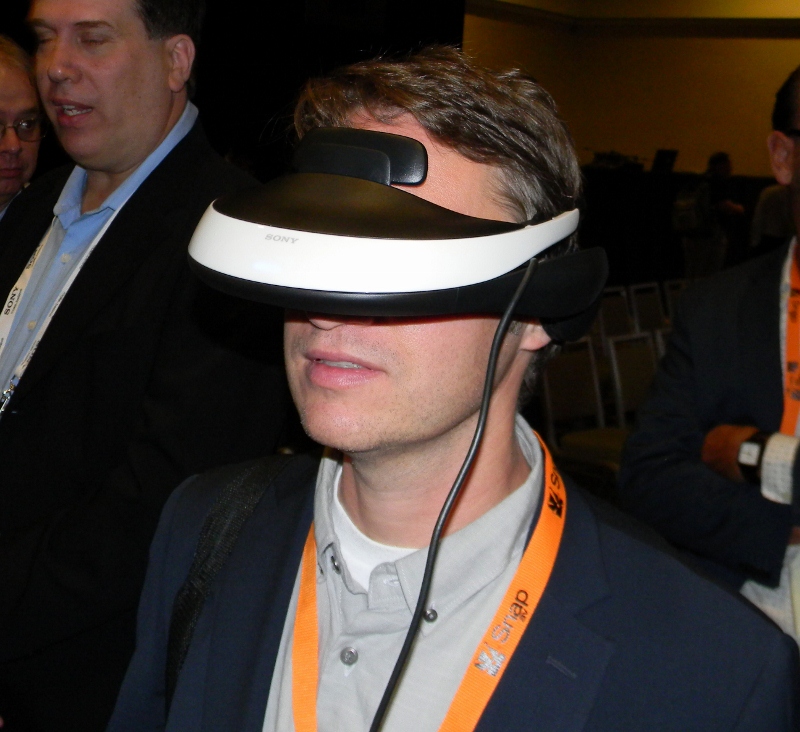 JVC – Sure, 1 4K Projector is Good, but 4 4K projectors is Better!
Year after year, JVC shows some of the most compelling and exciting and best looking projectors in the CI space for incredibly real-world pricing. Sure, you can do some awesome things for $20-50-100 thousand. But what can you do for ten? JVC revamps and improves their line-up each year, and this CEDIA was no exception.
Barely 12 hours before Sony was wowing the press corps with the unveiling of the 4K projector. Then following its traditional breakfast press event, JVC upped the 4K ante by unveiling not one but FOUR 4K models.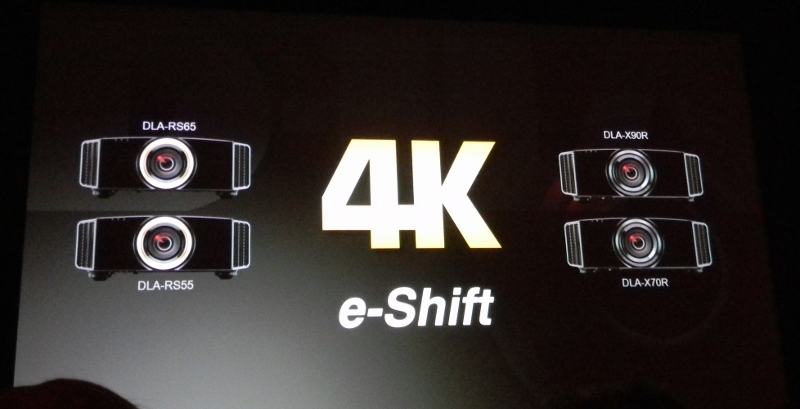 Kinda. Sorta. Virtually.
While the Sony projector is a TRUE 4K panel, the JVC models are using something called "e-Shift" that creates 3840 x 2160 resolution from a 2K chip. It sounds like e-Shift moves the pixels around really REALLY fast to create virtual sub-pixels or something, to give the perception of 4K resolution. Here's a slide explaining e-Shift. Now you know as much about it as I do.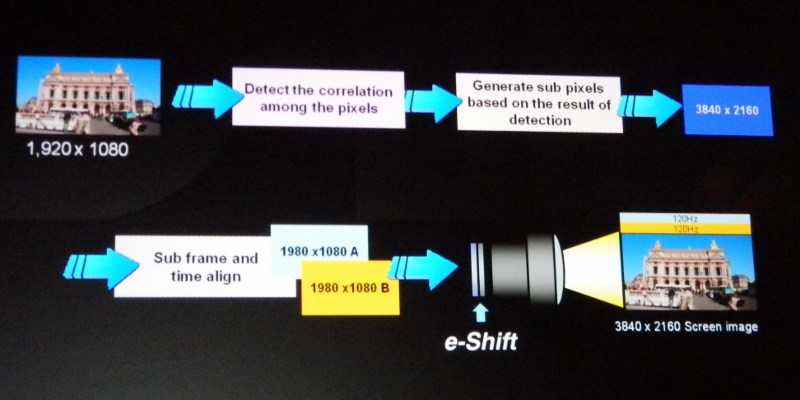 More impressive is this graphic of 2K resolution vs. 2K with e-Shift pseudo-4K res: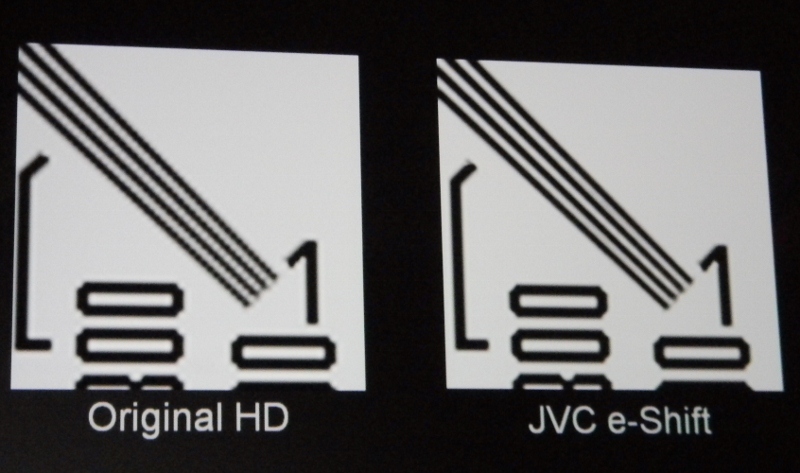 You can clearly see the sharpness difference, and projected images did look completely pixel-structure free. (Though, to be honest, I have never once said of my 1080p projector, "Oh, sure, it's nice but if ONLY I couldn't see that less-than-millimeter sized pixel from my seating distance!") Biggest of all is that while the Sony model is expected to be around $25,000, the JVC models start under $8k. So, will people pony up an additional 13-17 thou to go from virtual 4K to ACTUAL 4K? Hmmm… If JVC's sales figures – number one in the projector space in the sub $10k market – are any indicator of past results, I'm gonna say that they have another major winner on their hands.

The top two models in both series will sell for just under $12k and will feature upgrades such as THX 3D certification, an advanced calibration allowing 1/16th pixel shift to precisely adjust convergence via 121 adjustment points, an upgraded optical engine for improved black levels and native contrast, a 7-axis color management system, and three Xenon lamp color modes to "emulate the characteristics of high-end movie projectors."

Categories: September 2011, Electronics, CES/CEDIA
/