Shopping Cart
Your Cart is Empty
There was an error with PayPal
Click here to try again
Thank you for your business!
You should be receiving an order confirmation from Paypal shortly.
Exit Shopping Cart
Features, Reviews and a Blog by John Sciacca
| | |
| --- | --- |
| Posted on January 18, 2012 at 12:20 AM | |
Before I start talking about Day 2, a quick recap of my previous evening is in order… (This would be Tuesday night for those keeping score at home.) I ran into Kaleidescape's product manager, Tom Barnett, and he accompanied me to what is one of my most MUST NOT MISS events of the show, the DEG party. DEG (Digital Entertainment Group) has something-something to do with Blu-ray disc sales and promotion, but the fantastic thing about their event – besides a well-stocked open bar – is… Wait. Tangent. So, we're at the event and they have this decked-out bar. I'm looking behind the counter and I see Macallan 18 and GlenFiddich 18 and Johnnie Blue and some other good friends. So I ask the bartendress, "What scotch do you have?" So with a sweep of her hand, she motions to all of them. And I say, "I can have ANY of those?" And she replies. "No. You tell me what you want and I'll tell you if you can have it." So I say, "I'd love two glasses of the Macallan 18." "You can't have an 18!" she replies with a skoff, as if I'd just asked her to hand over the deed to all of her unfertilized eggs. "You can only have a 12." So, the moral of the story is, when I ask you what scotch you have available, I'm not asking, LITERALLY which scotch you have available, I'm asking which ones are available TO ME. Anywho...
So the highlight of the DEG event is the finale when they hand out the swag bag of ALL swag bags; a duffle bag literally STUFFED with Blu-ray discs! I think there were like 30 titles in there. So, so, so VERY awesome! (There was also some kind of wine aerator, a feather duster, a pad and paper, blah-blah.) Some of the titles I can recall from memory were: Hangover Pt 2, Harry Potter Deathly Hallows, Super 8, Cowboys and Aliens, Dolphin Tale, Lion King, Lady Gaga, Smurfs, Friends with Benefits, an Xbox 360 dance game, Art of Flight, DTS demo disc, Dexter Season 5, X-Men First Class, Water For Elephants, Pirates of Caribbean: Stranger Tides, and The Way Back. There's more, but that's all I can recall. Super cool. Then I headed back to Palazzo for dinner with the good folks at Meridian and got to catch up with one of my favorite PR pals, Sue Toscano. Awesome steak, great red wine, and some lively discussions of high-end audio.
So, my night ended at about 3:00 AM east coast time, meaning that I wasn't super jazz-hands about my scheduled breakfast press-briefing that started at 7:45. But, like the pro that I am – and not to be shown-up by Wilkinson, who managed to drag himself there as well – I sacked-up and made breakfast meeting with a company that was new to me, HiFiMan. Founded by Dr. Fang Bian, his company's goal seems all about bringing high-resolution audio listening to the portable world. From what I recall of his presentation, Dr. Bian got his start recovering old Sony Walkman units out of the trash in China; repairing them and then re-selling them. A pretty industrious guy to be sure!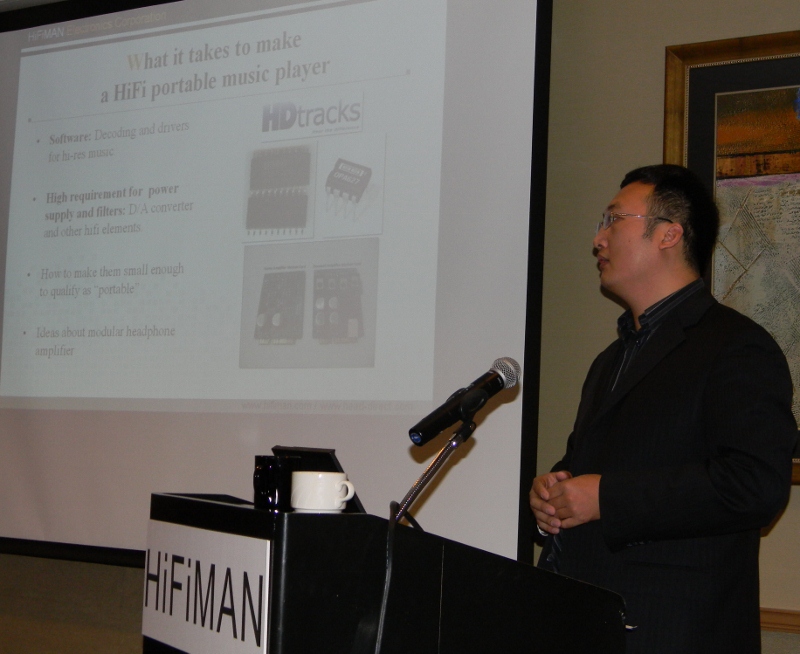 And for people for whom "MP3" is a four-letter word – yeah, I know it's only three, just go with it – the new HM-601 Slim player will be a breath of fresh and open, high-resolution air. The player uses a Burr Brown PCM1704u decoding chip which allows it to handle decoding for not only high-res FLAC files (at least up to 96/24), as well as Ogg, WAV, AAC, WMV and MP3. This player allows audiophiles to enjoy their high-res music in the highest quality while still being on the go. On top of the Slim's superb DAC, it also features an improved headphone amp section. The unit will be available in 4 GB ($199) and 8GB ($249) models and can be expanded up to 32 GB by using an SD card. It also has an adjustable gain output for use with in-ear headphones and a separate high-gain output for full-sized headphones. It's a totally ballsy move to introduce a new portable to a market where Apple has like a six-sigma 99.9999% market share (probably not an accurate figure) and the interface seems a little clunky (though I hear they are working on improvements) and battery life is a little lean (4 to 8 hours), but it hopefully points towards the trend of people being interested in better quality audio which is certainly a great thing. Sticking with the theme of no-compromise mobile listening, HiFiMan also debuted its HE-400 planar, magnetic design over-ear phones. These feature 92.5 dB of sensitivity meaning they can be driven by typical iPod/Phone devices. The phones had the wonderful, open, airy mid-range sound characteristic of planar drivers as well as deep bass extension. I look forward to giving these a more thorough listen now that I'm back home.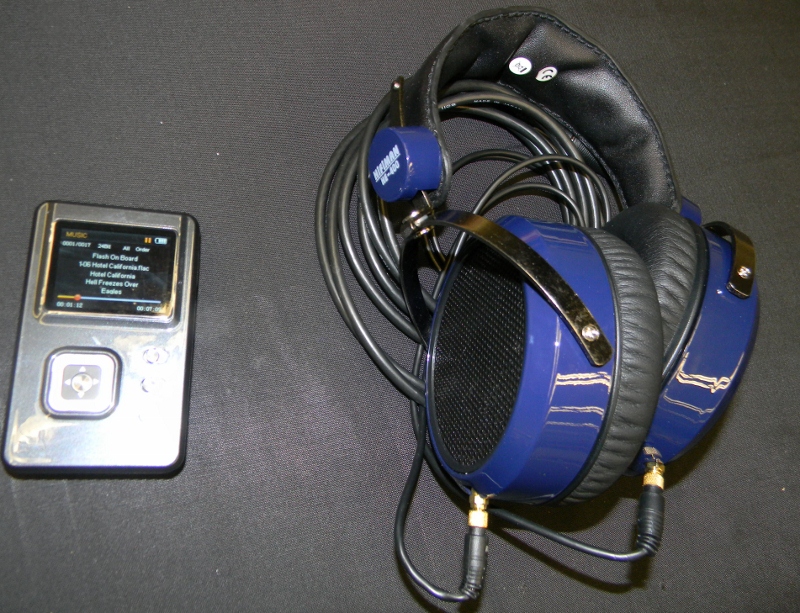 A stop by IOGEAR's booth – and a critically low iPad battery – led to a serendipitous discovery. IOGEAR allowed me to "floor-test" (a new review concept I came up with on the spot) its mobile power charger for iPad ($59). This device slipped easily into my pocket and took my Pad from 20% to 70% while still being used to film videos, check e-mail and tweet madly throughout the day. In this day of constantly needing power, I can't recommend this little lifesaver enough. It can also simultaneously charge an iPad and iPhone and holds its power for several weeks. Not a bad device to chuck in your portable go kit!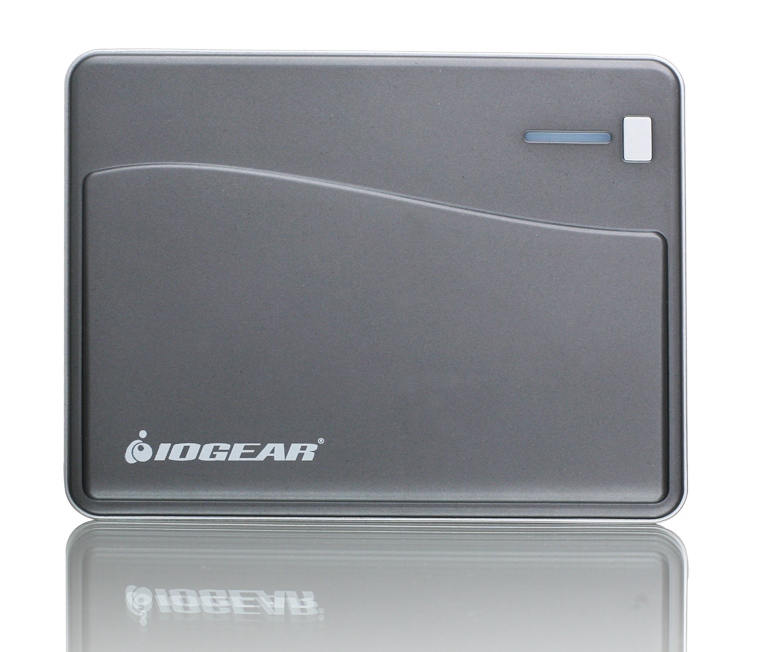 Following IOGEAR, I decided to brave the video giants of the Las Vegas Convention Center's Central Hall. To understand just how large these booths are, imagine a time in the medieval ages when feudal lords built huge, fortress walls around their cities. Inside all of their inhabitants lived happy lives, completely oblivious to the goings-on outside the city walls. Wars were fought, alliances were made, dragons stole gold. CES booths are kind of like that. Except way less happy, and way more crowded and way, way hotter. Moving two feet in any direction has you encountering people in a manner that would possibly be considered misdemeanor assault and various other privacy violations in normal, non-war time situations. Also, there are virtually no landmarks to go by, and if you make the horrible mistake of leaving a booth from an exit different from that which you entered, you can often find yourself wandering around for hours looking for some way to find your bearings. (Star charts and GPS are woefully ineffective in the LVCC.) A little known fact is that thousands actually die each year, wandering the showfloor until they eventually collapse from dehydration and exhaustion. Nothing can give you an accurate scope of "the floor" like video, so I took some images from each of the biggies.  
LG had an amazing number of panels linked together in some incredible video-wall fashion beckoning – or frightening – viewers into their booth. The effect was actually incredibly immersive and cool, and I'd love to take a look at the electronics and set-up involved to pull this off.
Panasonic's booth usually has an impressive spectacle, but since they didn't have a giant 200-inch Plasma to show off this year – and that JT wasn't hanging out at their booth doling out some manner of hilarity – they instead touted their partnership with the 2012 London Olympic Games, which will be broadcast in 3D.
Toshiba was touting its glasses-less 3D which I had to check out. Critics say that the glasses are one of the biggest obstacles to adoption of 3D viewing, and, obviously, if you could successfully eliminate the glasses, you would likely attract more converts. (I say "likely" because I'm still not convinced that people actually really care about 3D that much. It's content, content, content!) These sets have a variety of "sweet spots" that viewers can be in and still experience the 3D effect. When in an optimum, 3D approved position, a small green circle appears within another green circle at the top of the screen. I didn't find the effect that impressive, and it really reminded me of looking at those lenticular 3D postcards. It was mostly blurry, came in and out of focus, had some depth, but there is just NO WAY that I could see locking my head into geosynchronous space to watch TV for more than like 45 seconds with this. Apparently when only one viewer is watching, an eye-tracking sensor optimizes the 3D experience, but I remain unconvinced.  
Sharp showed its AQUOS Board at the press event, a 60-inch panel designed for the business market. This allows users to easily draw and make notes on the screen, perfect for presentations and making your next Power Point less soul-crushingly boring. Here's the AQUOS Board in action.
As mentioned in my Press Day recap, Sharp was also unveiling its next technology statement where they leapfrogged the next generation, chump sets only showing 4K sets by going straight to 7680 x 4320, 32 million pixels of 8K resolution! For those of you who like to view TV through a telescope from 8-feet away looking for even the SMALLEST of pixel imperfections, this set offers 16-times the resolution of so-last-year 1080p sets and has pixels SO tiny you can smash your nose up against the 85-inch screen and still not see a single, individual dot! Also, the irony of filming an 8K set with my low-pixel iPad2 camera was not lost on the people around me. To that I say, shut up and enjoy!
Samsung always has an impressive city and they didn't disappoint this year. Their new 8-series line-up continues with the micro-bezel design that has been so popular with consumers and this year they've added a host of new Smart TV features, including cameras for Skype video chat and motion control. The booth had TVs everywhere, including suspended from the ceiling. Also on display were the new 55-inch OLED displays that are incredibly bright, super contrasty and micro-thin. I loved the brushed metal back panel which added to the sleekness of the design. Please to enjoy this video.
After a near heat-induced anxiety attack brought on hints of a fainting spell, I headed up to the press room for a quick lunch (OK, it wasn't that quick) and then met with Control4. Control4 is introducing two new processors that offer WAY more power for system control. The benefit of the power is a much – MUCH – speedier user interface experience, especially when changing to control different rooms or browsing through a media library. The new HC800 ($999, February) has performance approximately 10% greater than the more expensive HC1000 and 10-times that of the HC300. It also has HDMI output, much faster Zigbee traffic processing, an external 20 dB gain Zigbee radio antenna and 4 audio outputs.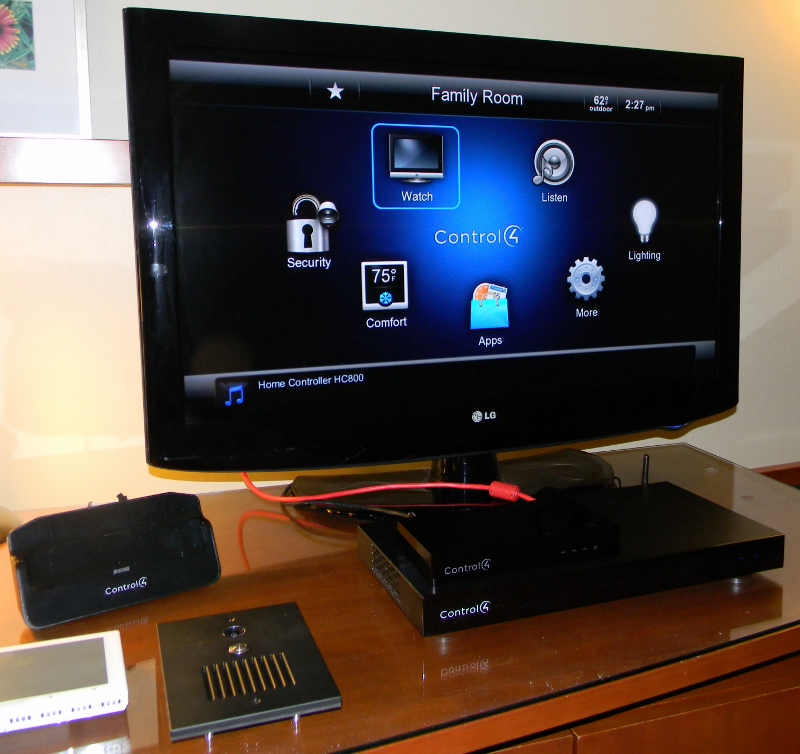 The new HC250 ($599, Q2) is approximately 4.5-times faster than the HC300 and with its ability to be powered-over-Ethernet, only requires a single Cat5 cable for both power and control.  Also coming in the second quarter is a new full motion, H.264 door video intercom station. This thing is built like a tank – do NOT drop it on your foot! – and comes in a several attractive metal finishes. Complementing the video intercom station are the new 7-inch portable and in-wall touchscreens with camera. Now you can live the dream of video-chatting with the UPS man standing on your porch. I know, you can barely call what we've been doing so far "living." Both will be available next month for $999. Control4 is also compiling a list of preferred network vendors, with set-up and configuration files that are proven to offer the most reliable performance for both consumer and commercial systems in small, medium and large systems.
The final bit of news out of the Control4 camp that *really* excited me was that starting with all products shipped February 1, Control4 is changing its warranty policy. Control4 will now offer immediate replacement for products within the two-year warranty period, including free next-day, overnight shipping. (They also pick up the return shipping of the defective component. You hear that other manufacturers? That's how you handle warranty issues and addresses one of my previous gripes about "warranty" coverage.) Now with remote diagnostics, a dealer could eliminate a truck roll along with several painful days of downtime for a client, ensuring that systems have maximum uptime. This is a great service and will help dealers look like heroes in their ability to quickly address and resolve any issues. Two-claps, Control4. Two BIG claps!
My final stop was THX's suite where I checked in on the latest developments of its Media Director technology. I've been following this for several years – back when it was codenamed "Project Blackbird" – and with the passing of each year, the system gets more and more developed with additional partners and encoded content. In a nutshell, metadata is embedded into content – TV shows, films, video games – that then instructs the system for optimum settings of things like color gamut, gamma, aspect ratio, surround mode etc. In this video, THX Technology Development Direct, Geoffrey Tully, explains and demonstrates Media Director in action.
Categories: January 2012, CES/CEDIA, Electronics
/