Shopping Cart
Your Cart is Empty
There was an error with PayPal
Click here to try again
Thank you for your business!
You should be receiving an order confirmation from Paypal shortly.
Exit Shopping Cart
Features, Reviews and a Blog by John Sciacca
| | |
| --- | --- |
| Posted on April 10, 2012 at 6:00 PM | |
With the recent news that Bond will be drinking a (ugh!) Heineken in the upcoming film,  and since I've been on a beer terror lately, I've come up with a list of 10 beers that I could imagine Bond actually drinking.
Not always ordering, mind you, because I can't really picture too many moments where Bond orders himself a beer over another option. But beers that are sent to him, sending a subtle – or not so subtle – message.
So, here's the beers I've selected for Bond and the scenarios I see them being used.
#10 Assassin Imperial Stout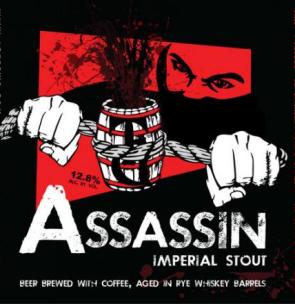 The bartender delivered a clear glass filled with a thick, almost oily-black liquid. He waited till Bond looked up.
"From the gentleman," he said, motioning to the man sitting in a corner booth concealed in shadows.
Bond lifted the drink and approached the table, comforted by the familiar heft of the Walther concealed in his modified shoulder holster. Years of experience kept Bond from wondering or worrying if the clip was loaded or if a round was chambered.
The Walther was ready.
He pictured the movements in his head. Reach into the jacket with a smooth and unhurried motion. The pistol grip seats comfortably and knowingly into his hand while his finger settles onto the rounded comma of the trigger. One flick of his thumb and the safety snicks off as his hand clears his jacket. Quickly acquire a site picture and two smooth unhurried strokes of the trigger into the target's chest. Pistol returns to jacket, and Bond leaves the bar without looking back.

He strode over to the man, calm but brisk and assured. He hadn't expected the meeting to take place in such a public place or now, but fate rarely chose the most opportune moments for where or when.
"I hear you're to thank for the drink," Bond said, shifting the glass easily to his left hand, keeping his right free and close to the Walther.
"The beer is called Assassin Imperial Stout. It has a thick almost slick texture which makes it pour silently into the glass. Virtually no head at all, a pitch black oil spill in a glass. But it's the high alcohol that sneaks up on you."
The man paused to take a long drag on his cigarette, blowing smoke up into the fans that spun lazily overhead.
"I know who you are, Mr. James Bond of the British Secret Service. An assassin for her Majesty. Agent number double-oh seven of the Special Branch. Licensed to kill when required."
He paused long enough for the words to hang in the air, stale and flat.
"So, tell me, Mr. Bond. Have you come here to kill me?"
Bond took a sip of the powerful ale, and slid into a chair across from the man. "That depends."
Categories: April 2012, Books, Beer/Liquor/Wine
/