Shopping Cart
Your Cart is Empty
There was an error with PayPal
Click here to try again
Thank you for your business!
You should be receiving an order confirmation from Paypal shortly.
Exit Shopping Cart
Features, Reviews and a Blog by John Sciacca
| | |
| --- | --- |
| Posted on June 15, 2012 at 7:15 PM | |
(The part where I bring you up to speed and recap Part 1...)
So, last year on our family's Disney Cruise aboard the Disney Magic, one of the activities was a top ten countdown of Walt Disney's greatest achievements in the entertainment industry.
With Brave about to push the current state-of-the-art computer animation techniques to the next level, I thought now would be a good time to dust off my notes from the class and turn it into a blog and share some of the things that Disney did to improve entertainment.
(Once again, much thanks to Wikipedia as the resource for much of my detailed info!)
To recap the list so far (aka - Part 1):
Honorable Mention: First Animated 3D Title – Melody - 1953
#10 First Animated Title With Synchronized Sound – Steamboat Willie -1928
#9 First Animated Title to Employ Technicolor – Flowers and Trees – 1932
#8 Depth; Multi-plane camera – Snow White – 1937; "Deep Canvas" tool - Tarzan – 1999
#7 First Feature Length Animated Feature – Snow White and the Seven Dwarfs - 1937
#6 First Film Featuring Stereophonic Sound – Fantasia - 1942
And the countdown continues… (Again, the order of significance as given by the crew aboard the Disney Magic...)
#5 First Widescreen Animated Feature – Lady and the Tramp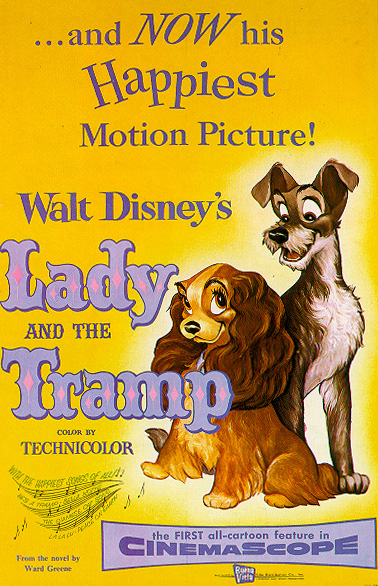 Today we take Scope films – typically 2.35 or 2.40:1 aspect ratio – for granted. And many major Pixar titles – A Bug's Life, Cars, The Incredibles, Ratatouille, Wall-E, Cars 2 – were released in this wider-than-wide format. But that wasn't always the case.
With television gaining in popularity, commercial cinema looked for a way to differentiate itself and give people a reason to return back to the movie houses. In 1953, the president of 20th Century-Fox created CinemaScope to produce films with an aspect ratio up to 2.66:1, or almost twice as wide as the previously common Academy Standard 1.37:1 (very close to televisions 1.33:1 or 4:3 ratio). This created an experience that was unobtainable at home (well, unobtainable at least for many years, but that's a different story...)
For traditional films, this meant the use of anamorphic lenses. For hand-drawn animation, however, it meant *significantly* more work.
Undeterred, Walt Disney Company was one of the first companies to license the CinemaScope process from Fox, and released 20,000 Leagues Under the Sea in 1954, which is one of the highest-regarded examples of early CinemaScope productions. . Originally, Lady and the Tramp was planned to be filmed in traditional, full-frame aspect ratio, however the interest in widescreen caused Disney to rethink the decision, and the following year -1955 – Disney released Tramp in CinemaScope, making it the first animated feature to use the process.
Like any new tool, this presented new challenges for the animators to solve. According to Wiki: "The expansion of space created more realism, but gave fewer closeups. It also made it difficult for a single character to dominate the screen, so that groups had to be spread out to keep the screen from appearing sparse. Longer takes become necessary since constant jump-cutting would seem too busy or annoying. Layout artists essentially had to reinvent their technique. Animators had to remember that they had to move their characters across a background instead of the background passing behind them."
Further, upon learning that not all theaters had the capability to show CinemaScope at the time, Walt gathered the layout artists to restructure key scenes and actually released two versions of the film: one in widescreen, and another in the Academy ratio.
#4 Xerography – One Hundred and One Dalmatians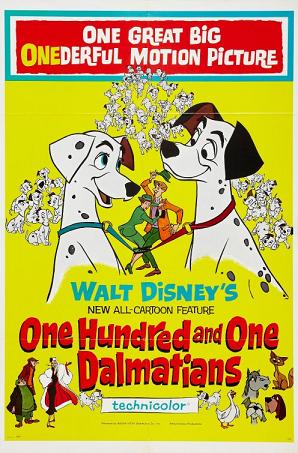 Making animated films was a painstaking, labor intensive process that involved the transfer of pencil drawings on paper to film. This work was performed by girls with pen and ink in hand. And although the girls were artists in their own right, the copying had a tendency to lose a little of the feeling originally imparted by the creators.
After Sleeping Beauty failed at the box-office, Disney was in debt, and there was some talk of closing down the animation department. Since animation was the foundation of Disney, Walt wanted to continue producing animation at the studio, but he needed to cut the cost. Ub Iwerks, who was in charge of special processes at the studio, experimented with different techniques to aid the animation process and by 1959 "he had modified a Xerox camera to transfer drawings by animators directly to animation cels, eliminating the inking process and preserving the spontaneity of the penciled elements. The introduction of xerography eased graphic reproduction requirements. One problem with the Xerox however, was that the animators were used to producing sketchy drawings, and the clean-up stage in animation prior to One Hundred and One Dalmatians was done in the process of transferring the drawings to the cels. With the hand inkers gone, the animation remained as the animators drew it. It later became common to do clean-up on paper before the animation was copied, and with time and experience, the process improved." The new process reduced the need for inking, and resulted in Disney trimming the animation staff from over 500 to less than 100.
Wiki further states: "The xerox was a great help towards animating the spotted dogs. According to Chuck Jones, Disney was able to bring the movie in for about half of what it would have cost if they'd had to animate all the dogs and spots. To achieve the spotted Dalmatians, the animators used to think of the spot pattern as a constellation. Once they had one 'anchor spot,' the next was placed in relation to that one spot, and so on and so on until the full pattern was achieved. All total, 101 Dalmatians featured 6,469,952 spots, with Pongo sporting 72 spots, Perdita 68, and each puppy having 32."
#3 - CAPS (Computer Animation Production System) - The Little Mermaid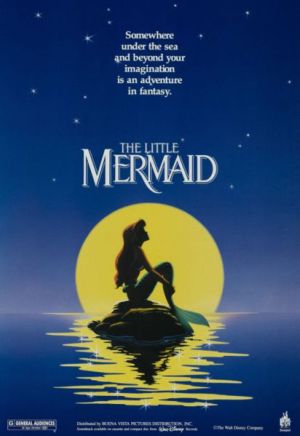 CAPS (Computer Animation Production System) is a collection of programs, scanning camera systems, servers, networked computer workstations, and custom desks developed by Disney and Pixar in the late-1980s. CAPS used a digital method of coloring and combining scanned drawings called which would eliminate the need for cels, the multiplane camera, and many of the optical effects used traditionally, instead computerize the ink and paint and post-production processes of animated feature films produced by Disney. CAPS was the first digital ink and paint system used in animated feature films, and replaced the expensive process of transferring animated drawings to cels using ink or xerographic technology, and painting the reverse sides of the cel. Transparent shading, blended colors and other sophisticated techniques could be extensively used that were not previously available. The first usage of the CAPS process was Mickey standing on Epcot's Spaceship Earth for "The Magical World of Disney" titles.
While CAPS ushered in a brand new era – and heralded the future – of animated film-making, it also meant the end of an old; while The Little Mermaid (1989) was the first Disney film to feature this new technology – though the system was limited to the penultimate shot in the film, of Ariel and Eric's wedding ship sailing away under a rainbow – it was also the last traditional cell animation feature Disney made.
The technology was given an Academy Award in 1992 for Scientific Innovation, Disney management decided that audiences wanted only 3D computer animated features and closed down their traditional 2D animation department in 2004. The CAPS desks were removed and the custom automated scanning cameras were dismantled and scrapped. As of 2005, only one desk system remained (and that was only for the purpose of reading the data for the films that were made with this system).
#2 Academy Award Nominee for Best Picture – Beauty and the Beast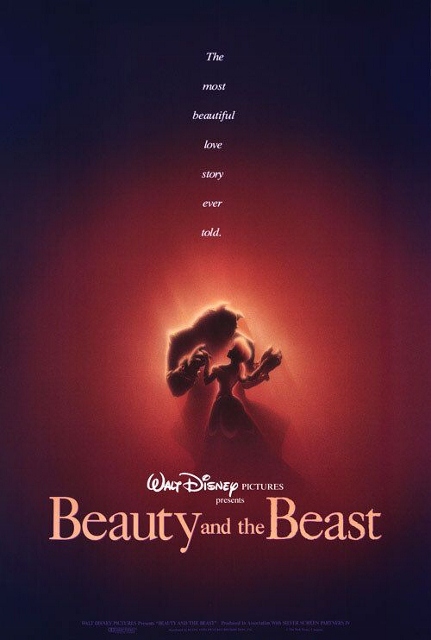 While animated titles had been nominated for their share of Academy Awards, usually these nominations were reserved for lesser categories like Best Original Score and Best Original Song. Beauty and the Beast changed that in 1991, becoming the first animated film to be nominated for the Academy Award for Best Picture. (It remained the only animated film to hold this honor until 2009 and 2010, when Pixar's Up and Toy Story 3 were nominated when the field of Best Picture nominees was increased to ten titles.) The fact that Beauty lost the award to The Silence of the Lambs didn't matter; this was a case where being nominated was enough to be considered a major breakthrough.
Beauty and the Beast received a total of six nominations (currently sharing the record for the most nominations for an animated film along with WALL-E) including Best Picture, Best Original Score, Best Sound, and three nominations for its song. It ended up winning two, for Best Original Score and Best Original Song for the song "Beauty and the Beast"
Roger Ebert praised the film, giving it four stars out of four and saying, "Beauty and the Beast reaches back to an older and healthier Hollywood tradition in which the best writers, musicians and filmmakers are gathered for a project on the assumption that a family audience deserves great entertainment, too." He ranked the film as the third best film of 1991. At the time Beauty and the Beast was the most successful animated Disney film release, and the first animated film to reach $100 million in North America.
#1 Computer Animation – Tron and John Lasseter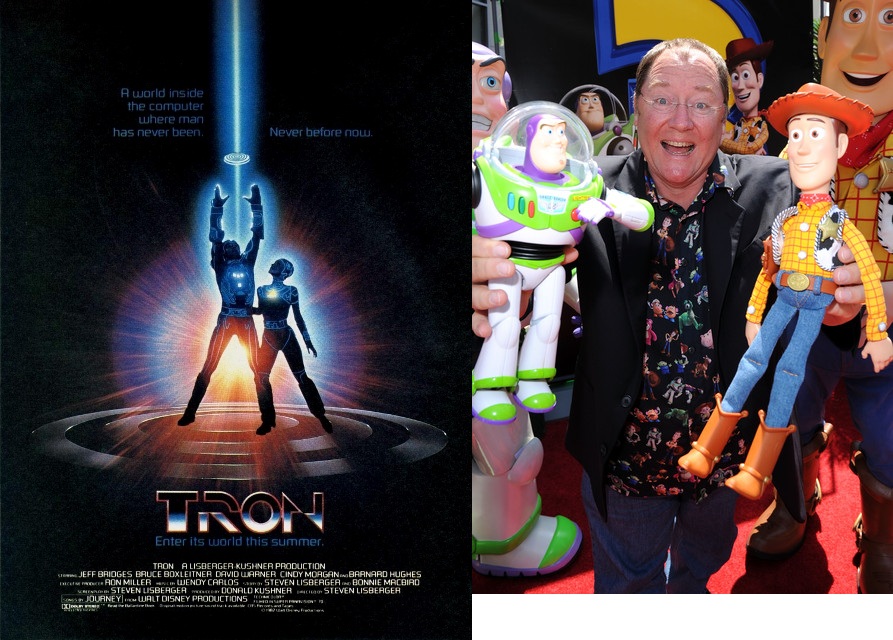 Tron is a milestone moment for two reasons: First it was one of the first movies to make extensive use of any form of computer animation. And second the film inspired John Lasseter to see the potential of computer-generated imagery in the production of animated films. Lasseter has commented, "Without Tron there would be no Toy Story".
While Tron (1982) is celebrated as an industry milestone for computer animation, there is actually only fifteen to twenty minutes of such animation used in the film, mostly scenes that show digital "terrain" or patterns or include vehicles such as light-cycles, tanks and ships. Wiki states: "Because the technology to combine computer animation and live action did not exist at the time, these sequences were interspersed with the filmed characters. The computer used had only 2MB of memory, with a disc that had no more than 330MB of storage. This put a limit on detail of background; and at a certain distance, they had a procedure of mixing in black to fade things out, a process called 'depth cueing.'"
For comparison consider that In 1982 a CRAY mainframe computer had 8MB of memory and cost $7,000,000. Each rendering for Tron required 18MB of memory, so even on a CRAY -- the Super Computer of the day -- the animators could not have viewed a single frame. So animators had to render one scan line at a time, and could not see the results of their efforts until the scan lines were combined onto film.

While working on Mickey's Christmas Carol, Lasseter was invited to see the first lightcycle sequences for Tron, featuring the state-of-the-art computer generated imagery. Lasseter saw the huge potential of this new technology in animation and realized that computers could be used to make films with three dimensional backgrounds where traditionally animated characters could interact to add a new, visually stunning depth that had not been conceived before. Later, Lasseter and another animator talked about how great it would be to make an animated feature where the background was computer animated, and decided to do a short test film to see how it worked out. Unfortunately, Lasseter and his colleagues unknowingly stepped on some toes by circumventing their superiors in their enthusiasm to get the project into motion, and a few minutes after a pitch meeting, Lasseter was told that his employment in the Walt Disney Studios had been terminated.
After being fired, Lasseter visited a computer graphics conference where he made a deal to work on a project that resulted in their first computer animated short: The Adventures of André and Wally B. The short turned out to be more revolutionary than Lasseter first had visualized before he joined Lucasfilm. His original idea had been to create only the backgrounds on computers, but in the final short everything was computer animated, including the characters. After this short CGI film, things would continue to grow until it became Toy Story, the first ever computer-animated feature film.
Wiki adds: "Due to George Lucas's financially crippling divorce, he was forced to sell off Lucasfilm Computer Graphics. It was acquired by Steve Jobs in 1986, and became Pixar. Lasseter oversaw all of Pixar's films and associated projects as executive producer and he personally directed Toy Story, A Bug's Life, Toy Story 2, Cars, and Cars 2. Disney purchased Pixar in April 2006, and Lasseter was named chief creative officer of both Pixar and Walt Disney Animation Studios. He was also named principal creative advisor at Walt Disney Imagineering, where he helps design attractions for Disney's theme parks."
/