Shopping Cart
Your Cart is Empty
There was an error with PayPal
Click here to try again
Thank you for your business!
You should be receiving an order confirmation from Paypal shortly.
Exit Shopping Cart
Features, Reviews and a Blog by John Sciacca
| | |
| --- | --- |
| Posted on June 25, 2012 at 2:00 PM | |
It's been a while since I've purchased any new music. (I believe the last disc I bought was They Might Be Giant's "Join Us.") I have nothing against iTunes, but I just don't like buying music as digital files. Maybe it's because of my age – as I grew up first buying cassettes and then switching to CDs – but I like to have the physical media. I like to hold the sleeve, see the artwork on the disc and look through the liner notes. And I don't care if I can get it as a PDF, I'm tellin' you it ain't the same. And you darned kids stay off'n my lawn! (Also, if I'm going to buy something for approximately the same price, I want the superior quality that the CD offers to the MP3 version.)
But three of my favorite artists had all released new albums lately, so I declared this weekend "New Music Saturday" and decided to go and buy new albums from John Mayer, Fiona Apple and Regina Spektor. After a few spins of each disc, here are my thoughts...

Fiona Apple – The Idler Wheel…
(Here is a post on my thoughts on Ms. Apple prior to purchase. Consider it required reading prior to continuing...) This is Fiona's 4th studio album and was about 7 years in the making. The album contains 10 tracks and runs 42:39.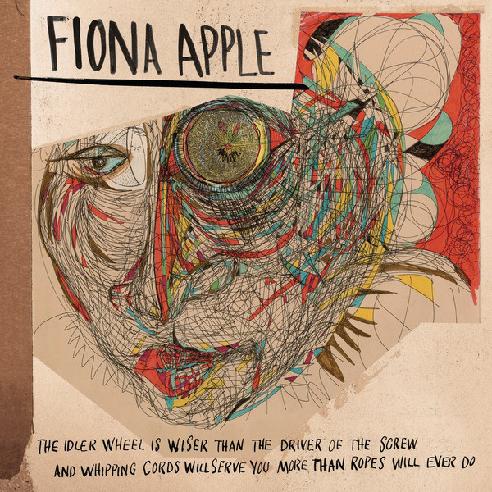 From the CD cover, it is clear that this isn't going to be an album filled with love songs and party anthems. In fact, you can infer that with face stripped of skin and peering into the open eye socket, that this is going to be a very personal, revealing album. I don't picture Apple so much as writing music as I do her struggling with it; agonizing in hours of painful labor to finally birth something that is deeply personal and -- hopefully -- good.
"Idler Wheel..." starts out in classic, unmistakable Fiona style with the somber and heavy "Every Single Night" – my favorite track so far. It's stripped down, with Fiona pouring her heart out accompanied primarily by a melancholy autoharp (or at least that's what I think it is). "Every single night is a fight with my brain…"
Life does not seem to come easily to Fiona, and she isn't afraid to share her struggles and pain and her willingness to share her dark truths is why we (her fans) love her. After about 3 listens, I would say that this is the least approachable of Fiona's albums to date. There are no "warm and cuddly" songs, and almost every song is filled with some bit of pain, anguish, regret, mention of self-cutting, etc. I loved her last album, "Extraordinary Machine," and there were instantly several songs that I connected with ("Parting Gift," "Better Version of Me," "Extraordinary Machine," "Please Please Please," "Red Red Red," etc. ).This is an album to listen to with the lights low and a glass of red wine as you contemplate your own life and choices.

"Idler" is Fiona grown up, remembering, regretting and lamenting loves lost and unfound as evidenced by these lyrics: 
"You didn't see my valentine, I sent it via pantomime. While you were watchin' someone else, I stared at you and cut myself. It's all I'll do 'cause I'm not free, A fugitive too dull too flee. I'm amorous but out of reach, A still life drawing of a peach. I'm a tulip in a cup, I stand no chance of growing up. I've made my peace I'm dead I'm done, I watched you live to have my fun." - Valentine
"And now I'm hard, too hard to know . I don't cry when I'm sad anymore, no, no. Tears calcify in my tummy. Fears go inside of my toe. How can I ask anyone to love me, When all I do is beg to be left alone?" – Left Alone
While it may be technically terrific (it has received great praise), it is not an "easy" album to listen to, and is one that will require time to grow on me.
John Mayer - Born and Raised
This is Mayer's  5th studio album, contains 13 tracks and runs 46:25.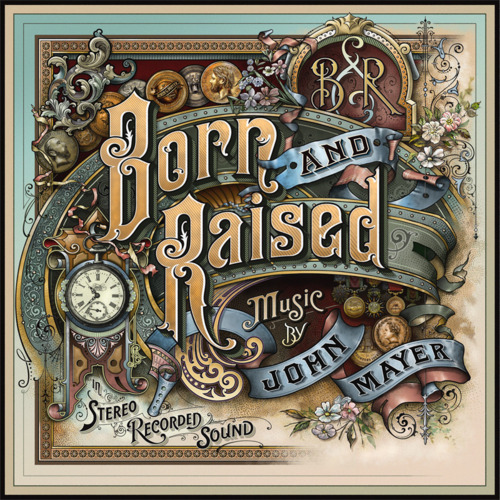 The album cover reminds me (a bit) of Michael Jackson's "Dangerous" what with the tons of little symbols and imagery and likely inside/secret jokes and meanings. I'm sure there is a wonderful story behind the cover and I hope we get to hear it one day. Also, I know that Mayer is a real watch aficionado -- he has an amazing Rolex collection in addition to others -- and I'd love to know why the watch hands stand at 10:38...
I'm a huge John Mayer fan. I mean, I love him. (No homo.) And his is the music that I most often turn to when I'm traveling and want to just close my eyes and mellow. He is an artist that seems to continue to mature, evolve and grow not only musically but also personally and emotionally with each new release. (Admittedly, it is hard for me to reconcile the total douche which Mayer appears to be whenever he opens his mouth to do anything BUT sing his songs. But when he gets down to the business of singing, business is very good.)
While "Room For Squares" was much "candy lips and bubblegum tongue" pop silliness, "Heavier Things" explored much heartier fare with "Wheel" and "New Deep." He followed this with "Continuum" – one of my top 10 albums of all-time – which is filled with relationship heartache and thoughts of a man realizing that he is growing up.
"Don't know how else to say it, don't want to see my parents go. One generation's length away. From fighting life out on my own… So scared of getting older, I'm only good at being young." – Stop This Train
"And now I'm walking in a park, All of the birds they dance below me. Maybe when things turn green again, It will be good to say you know me." – In Repair
He followed this up with "Battle Studies" which is like an audio owner's manual on how to survive a breakup with titles like "Heartbreak Warfare," "All We Ever Do is Say Goodbye," "Perfectly Lonely," and "Friends, Lovers or Nothing."
And while a dusty, bearded Mayer wearing worn cowboy hats and wrapped in sarape have been the images that have preceeded this album, I must say, I am *loving* this music.
Putting on "Born and Raised" is like slipping on a pair of comfortable, well-worn and loved shoes. Well, probably more like boots in this case. Boots that are perfectly cracked and worn, formed wonderfully to your feet and filled with miles of pleasant memories. These boots fit well and comfort your travelin' soul. It's clear we're getting a far more bluesy/country outpouring from Mayer here, with all songs having a bit of twang vibe to liven their soul. The opening track "Queen of California" is just upbeat enough to get you excited for more to come. I seriously think this may be his best album to date; each track imminently listenable and repeatable. But it's his best in a completely new way that is totally different sounding from much of Mayer's previous music while still being completely identifiable.
"I'm a good man, with a good heart, Had a tough time, got a rough start, But I finally learned to let it go. Now I'm right here, and I'm right now, And I'm open, knowing somehow, That my shadow days are over." – Shadow Days
This album is from an older, wiser Mayer. He is looking back on the road he's come, recognizing some mistakes, but looking to learn from them, improve, and move on.
"Maybe it's all a dream I'm having at seventeen. I don't have tattoos, And very soon, mother will be calling me, Saying, 'Come upstairs, you've got some work to do.' When you gonna wise up, boy? You are hiding in your mind, Working all the time. Trying to make it better than you got it. And you've been spending all your time searching for a sign. That's never gonna look the way you want it. I think you better wise up, boy." – If I Ever Get Around to Living
It's hard to pick a "favorite" track on this disc; while Apple's album was difficult and unapproachable, nearly every track on "Born" is a winner. The ones that have captured my attention and heart the most so far are "Speak For Me," "Love Is a Verb" and "Walt Grace's Submarine Test, January 1967."

"Born" is a cohesive, consistent sounding album that will be both welcomed by fans old and new. This is not an album made for teenage girls, but for music lovers, and I see myself listening to this many-a times.
Regina Spektor – What We Saw from the Cheap Seats
This is Spektor's  6th studio album, contains 11 tracks and runs a scant (some might say "chintzy") 37:18.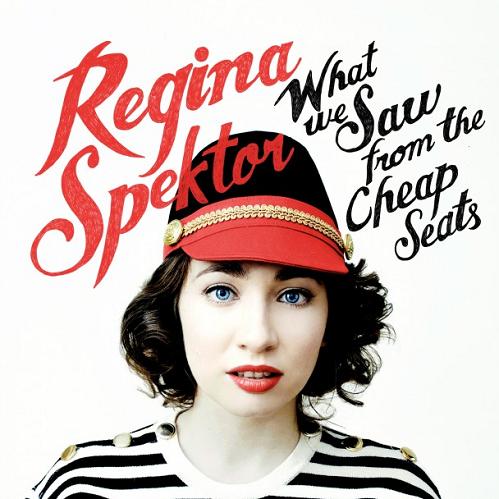 Not much to say here; Regina is a beautiful woman with amazing eyes. And I like her shirt. So there you go.
I love Spektor for her upbeat hooks and quirky lyrics, and her previous albums – "Soviet Kitsch," "Begin to Hope" and "Far" – have all had tons of great tracks on them. However, she is not without a bit of her dark side, signing about suicide via carbon monoxide, overdoses, what a bitch Mary Anne is and other bits of unpleasantness. But with an upbeat jingle so it's fun and happy, ya know?
From the very first note of track one, "Small Town Moon," it's clear that this is Regina Spektor; she has such a unique style and you can literally tell by the keys she chooses and the way she plays the piano that it's her before her voice even begins. Apparently several of these songs are re-dos of things she has performed live over the years or previous material that has been reworked. Whatever. Like they used to say on NBC, "If you haven't heard it, it's new to you." Though she has abandoned a lot of the "Eet, eet, eet, eet"-ing that (plagued) many of her previous songs.
"Don't Leave Me (Ne Me Quitte Pas)" is upbeat and probably my favorite track on the disc. I especially like the horn section which is a new touch for Spektor and reminds me a bit of They Might Be Giants. "Patron Saint" is another track that is classic Regina; able to sing about weighty, hurty things with a smile on her face and a lilting hook.
"She's the kind of girl, Who'll smash herself down, In the night. She the kind of girl, Who'll fracture her mind, Till it's light. She'll break her own heart, And you, Know, That she'll break your heart too. So darling, let go of her hand." – Patron Saint
The album ends with a simple number, "Jessica," with just Regina accompanied by a guitar. It's a  nice song, but, like typical Regina, has lyrics that could mean many things. Is Jessica dead? Is she in a coma? Or is she just a lazy, sleepyhead? Part of the allure of Regina is the way you choose to interpret the lyrics yourself.
"Jessica, wake up, It's February again, we must get older, so wake up. I can't write a song for you, I'm out of melodies. I can't write a song for you, But I am asking please, Jessica, wake up." - Jessica

There are none of the giant hits on here like "Fidelity" or "Better" from Begin to Hope or "The Calculation" and "Laughing With" from Far. However fans will still enjoy the album because it sounds like classic Regina. Mainly because much of it being older material IS classic Regina. So while Mayer has moved on and explored new territory, Regina is staying in a familiar sand box, Fortunately, she is still fun to play with and this album is light and easy to listen to. However, it also means like a lot of times you are left feeling like you've heard this before or having songs that remind you of previous songs.  
Categories: June 2012, Music, Reviews
/