Shopping Cart
Your Cart is Empty
There was an error with PayPal
Click here to try again
Thank you for your business!
You should be receiving an order confirmation from Paypal shortly.
Exit Shopping Cart
Features, Reviews and a Blog by John Sciacca
| | |
| --- | --- |
| Posted on June 29, 2012 at 3:10 PM | |
It's time for a beer review! And, by Gar…it's been a while!
So Dana's parents were visiting not too long ago and when I Johnny-stepped out to the store to buy myself some proper comfort and succor in the form of a 12-pack of oh-so-delicious Pyramid Outburst IPA, I thought I'd do the son-in-law-ey thing and pick up some beer for Dana's dad to enjoy. ('Cause that Pyramid; she ain't for a-sharin'. She's for a-drinkin'. My drinkin'.)
So I was perusing the beer aisle and I stumbled across a brewery that I'd never tried before, Dundee. And they happened to have a Spring/Summer Variety pack that included three bottles of four different styles.
I figured this could kill two birds with one stone; I could bring home some decent beer for Dana's dad AND have something new to try for myself. Then we took a vacation where I stumbled across some Bell's that I've been wanting to try. So I bought it. Then I drank it. Then I wrote about it.
Let's away, shall we?
Dundee Ales & Lagers - IPA
Hop Variety: Columbus, Chinook, Golding, Willamette
ABV 6.3%, IBU 60
$11.99 Spring/Summer Variety Craft 12 pack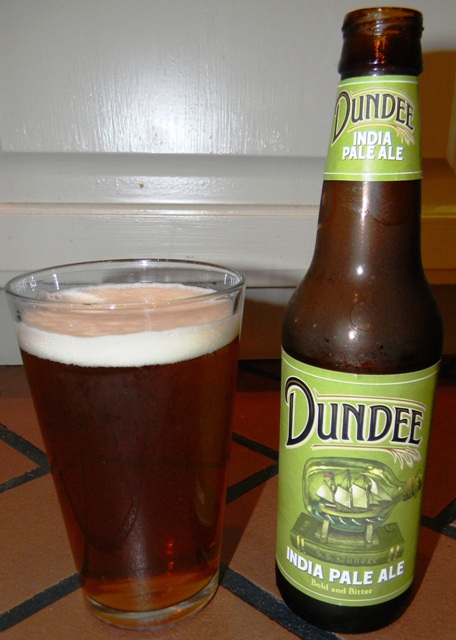 Description: Discover a boldly hopped IPA. Pale, Crystal, and Caramel malts give this beer a delicious flavor profile while a perfect mixture of four hops create a distinctive, spicy aroma and long hoppy finish. This beer finishes as smoothly as it begins. "Hear! Hear! A toast! To everyone who helped bring us the ales we all love today.  Starting with the sailors of the East India Company way back in the 1790s. Why? Without them, brewers might never have developed he more strongly hopped Pale Ales we all enjoy so much nowadays. Ours is balanced and bright, with a soft, freshly baked aroma and subtle hints of spice. So enjoy one today. And while you're at it, try learning the "Anchor Bend" knot. It was another favorite of the "East Indiamen," and a fitting tribute indeed."
Pours a nice, rich, gold-amber color with a finger of head. The head slowly dissolved to a nice thick frothy topping; like a thin layer of vanilla frosting. Leaves thin rings and trails of lacing along the sides of the glass. I'm encouraged by the nice hoppy smell, with floral and pine notes. Actually has a smell reminiscent of the Pyramid Outburst IPA which I've been loving – I've been busy killing that 12-er, so it is fresh on my mind, and oh-so-sweet on my palate – and that is a good thing. First sip, and Dundee delivers some decent carbonation. Definitely getting more wheat notes, and the bitterness and hops are far more subtle than with the Pyramid. First impression: this is a pretty shy IPA. Flavors are too subtle, and the beer has more wheat than hops. It's not *bad*, it's just not great s IPAs go. Starting to get the slightest hints of bitter-metallic on the finish, which is certainly an IPA signature move. But, unfortunately for Dundee, not my favorite one. Still, after so many recent Pyramid's, this is clearly not in that league. The more I drink, the more it reminds me of a Hefeweizen, just a little bolder, but with a little *sparkle* of IPA. I think I'm feeling more disappointment than normal, because the aroma held such promise and made me hope for so much more.
Dundee Ales & Lagers - Pale Bock Lager
Hop Variety: Magnum and Czech Saaz
ABV 6.25%, IBU 25
Only sold in Sampler Pack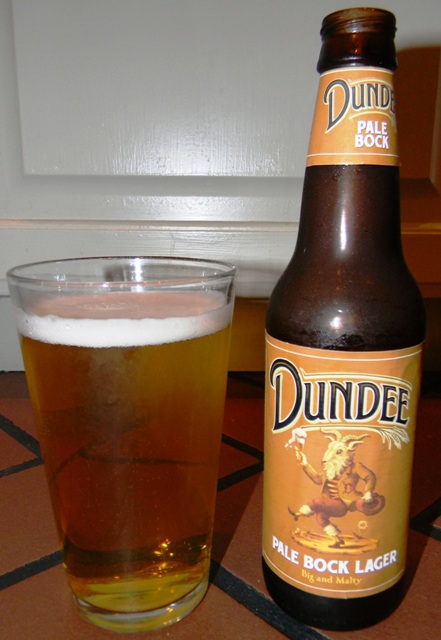 Description: A traditional German Maibock. The finest malted barley and Czech hops produce this award-winning brew known for its crisp taste, malty-sweet aroma, clean finish and deep golden hue. "Monks brewed bock for times of fasting during the darkest depths of winter. Then the arrival of bock was seen as a sign if better times to come. Today, when self-denial means stopping at one plate of cheese fries, bocks are less for the body and more for the soul, with the power to banish winter -- even if it's only the winter of your discontent. Enjoy a Pale Bock and rest assured that better times are coming."
With a phrase like "Big and Malty" on the bottle, I was expecting a dark or at least bold amber looking pour. But, surprise! It's not! In fact the clear, pale yellow color was far more reminiscent of a Bud or other macro-brew. It produced a half finger of foam that quickly dissipated to a scrim of bubbles. Again the smell makes me think of a Bud, but with a subtle background hint of honey. (I'm not sure it is necessary, but I feel like I should clarify that when I say "reminds me of Bud" that is not written as a compliment or form of praise. Clear?) The beer feels thick in the mouth, but in a good, substantial way. It's like it coats your mouth in beery goodness, and is definitely (yay!) distinguishing itself from the Buds of the world. There is a whisper of honey, or maybe I subliminal'ed myself into be tasting it. But the finish has a nice bit of malt and has a nice lingering follow that I'm really enjoying. I think that Maibock is my second favorite style of beer, and this is a nice take on it. This beer tastes much richer than the light color alludes and I'm wishing that I hadn't let my father-in-law drink the other two.  
Dundee Ales & Lagers - Pilsner
Hop Variety: Hallertau and Saaz
ABV 4.85%, IBU 25
Only sold in Sampler Pack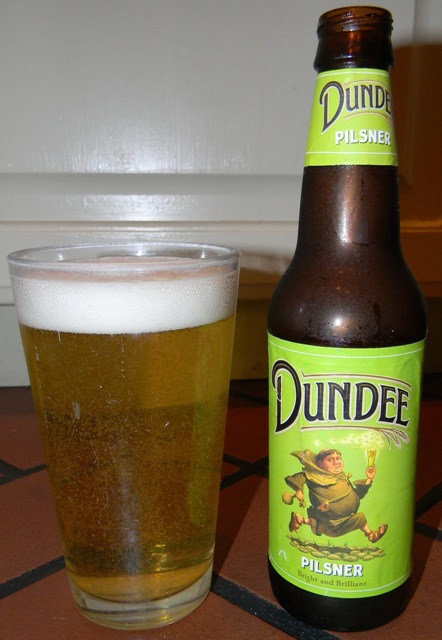 Description: A traditional German Pilsner. Brewed with noble saaz hops, Moravian malt and premium Pilsner malt for a rich, crisp taste and a smooth finish."Legend has it, in 1840 a monk smuggled precious lager yeast into Bohemia, setting the stage for the first Pilsner. Today, the smuggling may be over, but the Pilsner tradition continues. Dundee Pilsner is breweries with the noblest of saaz hops and premium German malt -- for a rich, crisp taste and a finish so smooth that it deserves an encore."
Produces about two fingers worth of a thick, creamy, cappuccino frothed topping of foam. Very light color and clear body with tons of little mini geysers of bubbles rising from the bottom of the glass. Aromas of light wheat and grain. First sip is dominated by a metallic, beer-from-a-can taste. There's hints of wheaty flavors, but they are masked behind the metallic bitterness. This beer has a thin, water and barley flavor with a Terminator 2 metal finish that is not really pleasant. If you like Bud or Coors but want to look like you are trying to be cool by drinking something that isn't Bud or Coors then this beer might be right for you. Or if you are looking for a beer that you can chug multiple bottles of without having to be burdened by thinking about complicated things like taste and flavor then this might be right for you. But it's not right for me. #PilsnerFail
Dundee Ales & Lagers - Stout
Hop Variety: Galaena; Malts: 2 Row, Munich, Chocolate, Coffee, Caramel 60 and Roast Barley
ABV 5.8%, IBU 15
Only sold in Sampler Pack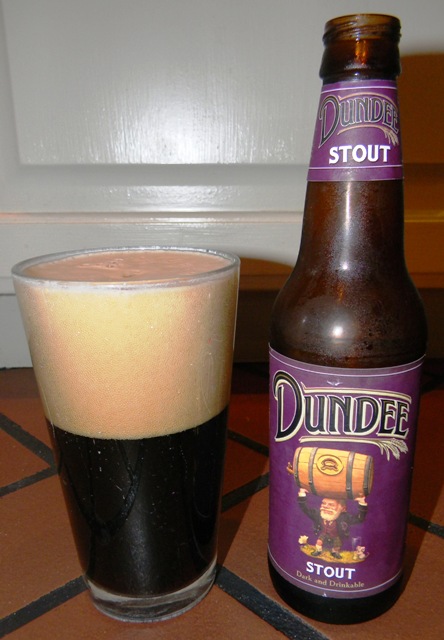 Description: A smooth and classic sweet stout. This dark rich brew is a combination of roasted malts and hops that bring the chocolate and coffee flavors to life. "Let's say you up and decide to throw a wooden barrel of ale in a public display of manliness. (I know, just go with it.) How then to celebrate? Hint: You're holding the answer. That's right, a Dundee Stout. 'Stout' is, after all, what brewers have been calling the darkest, heaviest and 'burliest' of their ales since 18th century England. That said, our is sweet, creamy and ironically, pretty light in texture. So maybe the tough part's not lifting it after all. The tough part's putting it down once you have. Go figure."
After a bit of an overly aggressive pour on my part, the glass literally exploded with a thick and hearty volcanic cascade of thick, tan colored foam. After a few moments, the majority of it settled to a nice, thick, two fingers worth of topping. Say what you may about the Dundee beers, but they typically produce a nice, creamy topping. Like the name would imply, this Stout is the color of dark cola syrup in the glass, with no visible anything. Wonderful smells of deep, dark baker's chocolate. Flavors are a little subdued and underwhelming. The hints of chocolate are there, but not nearly as pronounced and wonderful as I was hoping from the nose. There are also whispers of coffee. This beer is dark in color but light in taste and flavor. Letting it sit in the glass for a bit, produces a nice coffee-with-cream finish, but ultimately, the only thing real "stout" about this beer is its color and aroma. If you want a beer that tastes every bit as good as this one smells, then I'd recommend Foothills Brewery, Sexual Chocolate. Otherwise, the Dundee Stout is pretty un-noteworthy.
Bell's - Two Hearted Ale
Hop Variety: Centennial
ABV 7.0%, IBU Unlisted
$10.99 6 pack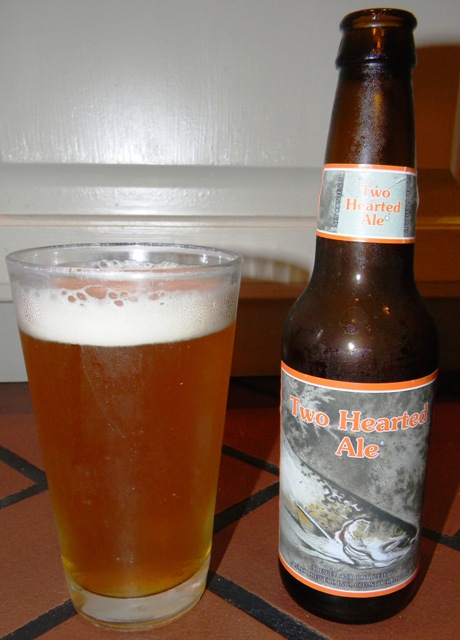 Description: Bell's Two Hearted Ale is defined by its intense hop aroma and malt balance. Hopped exclusively with the Centennial hop varietal from the Pacific Northwest, massive additions in the kettle and again in the fermenter lend their characteristic grapefruit and pine resin aromas. A significant malt body balances this hop presence; together with the signature fruity aromas of Bell's house yeast, this leads to a remarkably drinkable American-style India Pale Ale.
We were vacationing in Florida and Dana's dad produced a case of Natural Light. So I produced my car keys and headed down to the liquor store. The beer selection was not too impressive – and I've tried SO much – but I did see this Bell's ale that I've heard good things about. And, after a day of hot sun and full family activity, I was ready for some two-fisted drinking, so Two Hearted seemed the way to roll. It pours a thick, creamy meringue of two fingers worth of head that is very fluffy, like a nice topping of fresh whipping cream. Kind of yellow-orange color with a bit of cloud and tons of rising bubbles. The beer really hits the afterburners with an aroma that is wonderfully hop-filled and floral. It has that nice hoppy spice and it is rich and fragrant. There's a bit of pine there, but it definitely more of a flowery pine. First sip is nice carbonation and engaging mouthfeel. Leaves thick, frothy lacing coating the sides of the glass. The finish is a little thin; there's a nice touch of lingering bitterness, but I was hoping for more of the big, rich hop notes that dominated the nose. The highpoint here is definitely the smell, and that first drink where you seem to get the best the aroma has to give. It's an enjoyable brew, and has good and balanced flavors, but is just lacking a bit of complexity and depth that would take it to the next level. Definitely one that I would recommend putting on your "to try" list.
Categories: June 2012, Beer/Liquor/Wine, Reviews
/