Shopping Cart
Your Cart is Empty
There was an error with PayPal
Click here to try again
Thank you for your business!
You should be receiving an order confirmation from Paypal shortly.
Exit Shopping Cart
Features, Reviews and a Blog by John Sciacca
| | |
| --- | --- |
| Posted on August 1, 2012 at 5:30 PM | |
This is a story of social media marketing done to The Awesome. Taking a TV ad campaign and breathing life in it in the social world to create a skillet filled with forged liquid brilliance!
It's been exactly a year and 13,700-ish posts since I joined Twitter as @SciaccaTweets. And, I must say, as giveaways go, Twitter has been berry-berry-good to me so far.
First, I got this ½-gallon jug of experimental vanilla flavored iced coffee from International Delight from being so Klout-ey in coffee. (It arrived in a totally plain, white carton. And kind of tasted like sweet, burnt chemicals. No me gusta.)
Then I got in on some free honey-mango iced tea mixers. (Also tasted like sweet chemicals. Soaked in sweet-cancerey lab-created honey/mango crystals.)
Then I got a free Stephen King e-book shared to me by the all-social Johnny Mota (@jmota3). The book – Mile 81 – was just OK, but it was cool to get it for free and read it before everyone else and was also the first book I read on my iPad. (The process of getting said book onto said iPad was a nightmare worthy of King himself. And, now that I think of it, is quite possible that was the horror story-outside-the-story King was really trying to inflict on his virtual readers.)  
Then I got the coolest gift from Twitter; a personalized care pack from Survivor Monica Culpepper including an autographed T-shirt and photograph.
So, a few days ago, I had this little Tweet exchange with Mystery Science 3000 star, Michael J Nelson.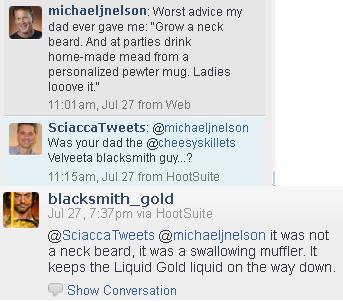 I thought it was pretty cool that The Blacksmith took it upon himself to step away from his fiery forges and cauldrons that runneth over with molten liquid goodness to respond to my conversation. Surely he had wenches to bed, horses to shoe, foes to smite, and meals to forge. And with a response that was CLEARLY not autobot generated. (Though, who on Twitter doesn't love to get the occasional "I'd buy that for a dollar!" Robocop-bot tweet or similar?)
Now, I think the Velveeta Liquid Gold Cheesy Skillets ads are pretty brilliant. For a product that is clearly not-from-nature, they have come up with a great ad campaign that is not only memorable and unique but that plays with a winking humor towards the product. (My previous experiences with Velveeta mainly revolve around in in the non-liquid, malleable bar state. My dad would buy it to use as bait when we would go fishing.) And who wouldn't want to smite their noodles? Smite them with the liquid gold until there can be no more smiting of them!
So, I followed The Blacksmith and later I got this tweet:

I clicked the link where it took me to a form where the Blacksmith promised to giveth me a gift most special; one forged by his very hands and worthy of one who also loves the liquid gold and smiting above all other pursuits.
So, this morning I opened my front door and found a box. At first I was thinking it was the Pliny the Elder my brother sent me in exchange for some Stone 10th Anniversary Ruination but opening it revealed a parchment most fair, sealed by a stamp of liquid cheesy goodness by the very hand of the Blacksmith himself.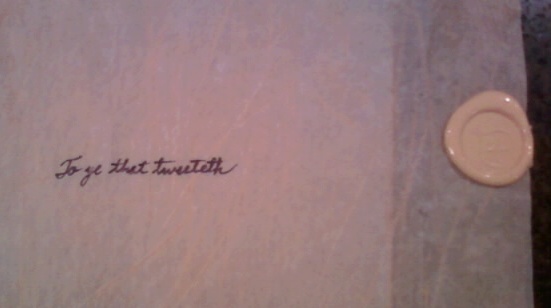 Inside was this letter: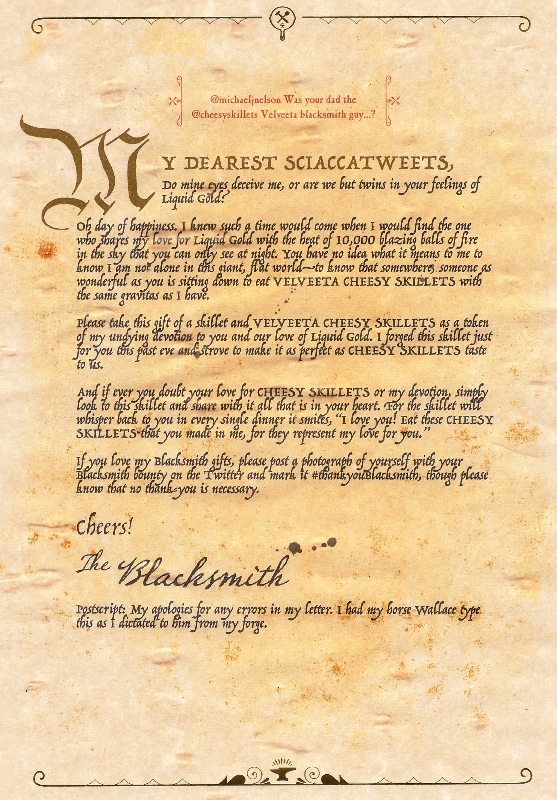 And in the box, was this: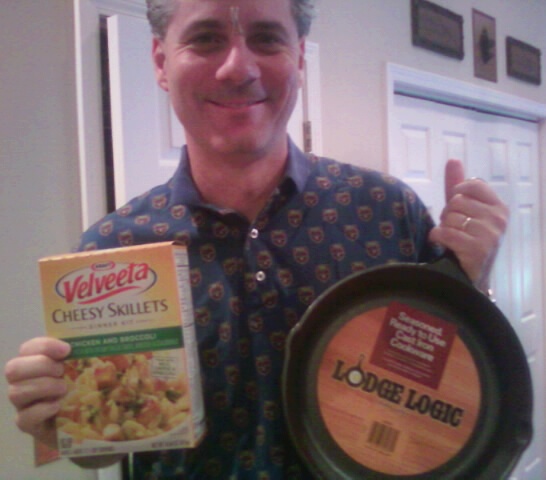 LIQUID GOOOOOOOOOOOOOOLD!
Fair Blacksmith! Ye are a main of your word most honest and true. And ye have cast me a skillet made from metals most proud and pure. I shall think of ye when I forge my meals upon this skillet; carefully pouring in every drop of liquid gold to smite the very flames of my hunger most foul. I shall smite them! I shall smite them with the fury of 1000 TV mounts scorned and continue smiting them until I can smite no more! (Probably from previously smiting too many flaggens of ale. I need not tell ye that smiting is exhausting, thirsty work!)
I dare yet say that our two hearts beat as one in their requited love for liquid gold, but know this: As you stare into the roaring fires of your forge, the bellows breathing hot Devil's breath at every turn, raising your hammer to deliver blows worthy of hammering out a king's ransom of skillets, and wiping the drizzled remnants of your lunchtime liquid gold from the furry clutches of your swallowing muffler, I shall remember that once I was found worthy of receiving such a gift. And to that I say -- in the high speech, may it please ye -- Thankee, Sai.

Categories: August 2012, Bizarre
/