Shopping Cart
Your Cart is Empty
There was an error with PayPal
Click here to try again
Thank you for your business!
You should be receiving an order confirmation from Paypal shortly.
Exit Shopping Cart
Features, Reviews and a Blog by John Sciacca
| | |
| --- | --- |
| Posted on February 19, 2013 at 10:45 AM | |
The idea of hunting through stacks of discs until you find the one CD you're looking for, popping the disc into a player, and then sitting down to listen and hoping the disc isn't scratched beyond playability is preposterous in this digital, rip/click/play era. Now even my tech-challenged mom expects everything to be automatically sorted by album, artist, song, and genre, and to be presented with cover art that can be streamed to any location for instant enjoyment.
Yet when it comes to movie collections, most people are stuck living in the wretched past; with stacks of discs trapped in a cabinet -- or haphazardly balanced under a pool table -- somewhere that are never enjoyed because A) the discs are either too hard to get to or B) they've been totally forgotten about. If the effort is made to watch a movie—and you manage to find the right disc case—you're left hoping you haven't loaned the disc out or left it in a laptop or a Yukon somewhere, or it hasn't been scratched to death by an infant that's developed a fascination with playing with their reflection on the shiny side.
The problem is certainly compounded as movie collections grow, where people might find themselves owning 50, 100, 500, or 1,000 movies. Management becomes an even bigger concern with remembering what titles you have, deciding what to watch, and controlling who in the family has access to what.
The answer has been—and still is—Kaleidescape. To the uninitiated, Kaleidescape does for movies what the iPod does for music. Place a disc—CD, DVD, or Blu-ray—into the drive tray, press an import button, and it automatically transfers all the data from the disc onto a hard drive in the server in bit-for-bit (i.e., identical to the physical disc) quality. In the process, the system polls Kaleidescape's Movie Guide over the Internet and automatically retrieves a wealth of information about the title: running time, rating, director, actors, cover art, aspect ratio, description, release year, etc. This information is then presented in an amazingly simple user interface that makes it easy to always find any film in your collection, or discover rare gems you might have forgotten about.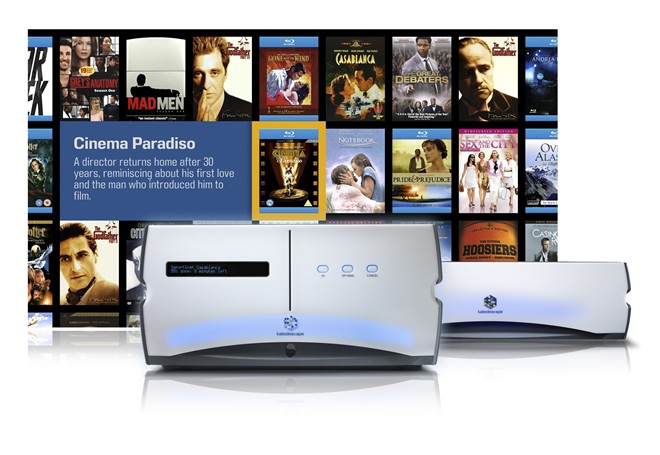 It's hard to believe that the Kaleidescape system is 10 years old—hard to believe because the company has managed to stay not only on top but cutting-edge in a product category they not only invented but continue to define. Here are 10 key features that make the Kaleidescape so amazing and still relevant and industry leading in the world of high-end home theater today.
Interface
Kaleidescape presents your movies in a three different manners. First is the list view, which presents movies in columns sortable by title, actor, director, genre, running time, release year, or rating. Have less than 90 minutes to kill before bed? Let Kaleidescape show you all of your movies that fit the bill. Next is the Collections view, which can show things like Blu-ray titles, concert movies, Academy Award winners, or family-friendly fare. The system can also keep track of any movies you started but didn't finish, letting you instantly pick up right where you left off. Finally is the cover-art view, which is like browsing through the shelves at your own personal Blockbuster. A way-cool touch is whenever you pause on a title, the system automatically brings together movies that are similar. For instance, stop on a James Bond movie and it will bring all of your Bond films together, along with other spy and espionage titles.
Click here to read nine more reasons why Kaleidescape still reigns supreme atop the movie server category.

Categories: February 2013, Movies, Electronics
/