Shopping Cart
Your Cart is Empty
There was an error with PayPal
Click here to try again
Thank you for your business!
You should be receiving an order confirmation from Paypal shortly.
Exit Shopping Cart
Features, Reviews and a Blog by John Sciacca
| | |
| --- | --- |
| Posted on February 28, 2013 at 11:35 AM | |
Bespoke (biˈspoʊk) is an English word that means a clothing item made to a buyer's specification (personalised or tailored). While it can be applied to other items, including computer software and luxury cars, the term historically was applied only to men's tailored clothing, footwear and other apparel, implying measurement and fitting. For most non-clothing items, the term build to order is usually used instead. The distinguishing points of bespoke tailoring are the buyer's total control over the fabric used, the features and fit, and the way the garment should be made. More generally, "bespoke" describes a high degree of "customisation", and involvement of the end-user, in the production of the goods." – Wikipedia
Ever since I discovered the word bespoke – in an Ian Fleming, James Bond novel probably, in association with the phrase "Savile Row" even more likely – I have been fascinated with the idea of having a suit custom made for me.
I picture myself standing in front of a multi-sided mirror in a quiet shop, surrounded by bolts of fabric, barking out million dollar sell orders on a cell phone in one hand and gesticulating wildly with a 25 year old single malt with single, large cube holding court in the center of a Waterford tumbler in the other, while a stately older gentlemen busies himself quietly around my body diligently making chalk marks here and there and discreetly jotting down measurement notes in a well-worn, leather covered notebook.
The reality is, custom made clothing is expensive. Like Rolex watch expensive. I first looked into having a suit made at an Alfred Dunhill shop in downtown San Francisco where the starting price for bespoke was around $3000. (I believe "off the peg" started at $1500.) Ralph Lauren offers custom clothing in its Purple Label line, but, the prices are very similar.
Then I discovered Indochino.
Indochino is a relatively new company out of Canada that specializes in affordable, custom made men's wear. The company was born out of one of the co-founders dissatisfaction with being unable to find an affordable suit that fit him, and figuring there had to be a better way. By partnering with manufacturing in Shanghai, they are able to keep costs down.
Regardless of anything else that Indochino does or doesn't do, one thing that they have done spectacularly well is marketing. I went from never hearing of the company to seeing them on virtually every Website I visit in a matter of weeks. Whether this is Google tracking or cookies or whatever, I don't know, but Indochino has positioned themselves very visibly on my radar and peaked my interest. (I wrote a blog on it: Are you advertising to the right people?)
Prior to purchasing, I did some research on the company and found them to be incredibly responsive. Whether it was questions submitted via their website or on Twitter, the company was always quick to respond and to offer help and suggestions. They also seemed to have an incredibly passionate and happy customer base. People that had purchased from Indochino were pleased and actually eager to share and talk about their experiences. (One person that was especially helpful – and who has written several reviews on his experiences with Indochino (and other custom made clothiers) is George Hahn (Twitter @GeorgeHahn). If you are in need of any fashion advice, I suggest perusing George's website.)
Indochino offers "traveling tailor" events where they will come to certain cities, set up shop and let you come in and browse, feel the different fabrics, get measured and then place an order. Unfortunately, there was never an even near me (note to Indochino: Charleston, SC is a pretty fashionable area; I'm sure you could have a successful event there!) so I had to go the more traditional, on-line ordering/measuring approach.
I procrastinated for a bit – not really *needing* a new suit, but just *wanting* one – but when Indochino had a 30% off sale, I could wait no longer.
The ordering process starts by selecting the garment you are looking for: suit, pants, shirt, etc. There are a variety of materials, but this is one area where the Indochino "custom" experience definitely lacks compared to a more traditional bespoke house. Where Ralph Lauren had books with hundreds of fabric swatch samples to choose from, Indochino offers less than 20. For the man starting out selecting his wardrobe – or doing a complete redo – it is perfect; for the man that has dozens of suits already, the basic navy, grey, Prince of Wales, and pinstripe options might be limiting.
While I didn't order a shirt – this time! – the fabric options there are a little more broad, but still limited in terms of the truly custom shirt market. There are no Pima or Sea Island cottons; no poplin; no horizontal "Gekko stripe" patterns, etc.
Once you select the suit, then you go on to the customization process. First up is selecting the Jacket Lapel from these choices:

Hovering over a choice gives you a description and a recommendation if you are unsure which to choose such as: "Notch lapels are the most widely used and most versatile. Peak lapels are for a touch of flair. Slim lapels are more fashion forward, noticeably slimmer than the average suit. Indochino recommends the modern gentleman wear a notch or peak lapel."
Next up is the jacket vent selection: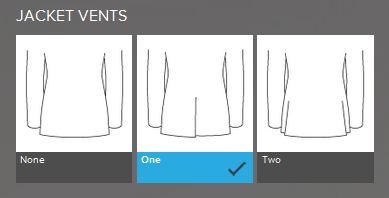 Then the number of buttons:

Then the jacket lining: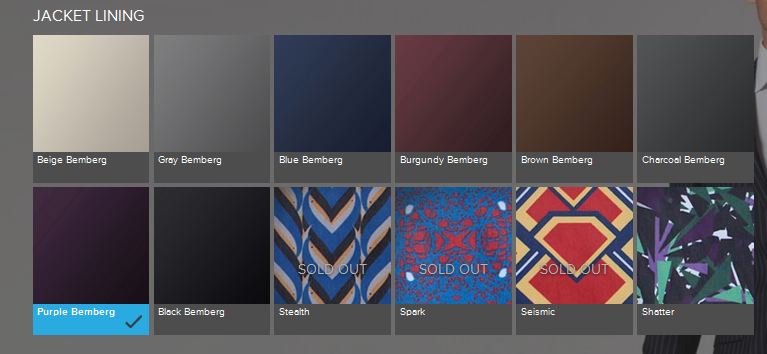 The lining is a great way to add a little flair and dash of color and personality to the suit. I went with the Purple for one and the Blue for another and actually prefer the Purple. It is a dark, rich purple and really looks pretty striking.
Next is a monogram selection: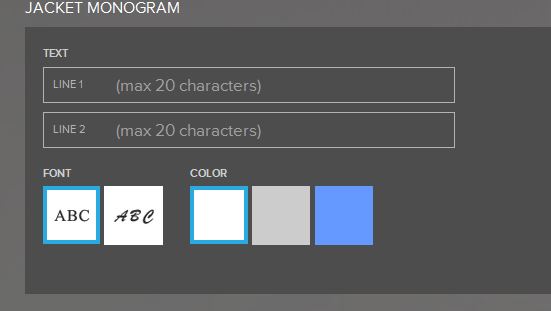 I thought about going with something clever like, "Hard work pays off" or my favorite Stephen King quote, "A writer writes" or maybe something in Latin like "Victori spolia" (to the victor, the spoils), but in the end I went with something very basic: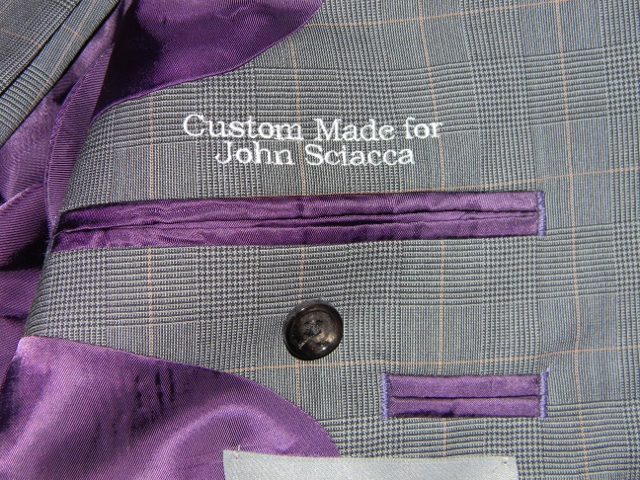 Finally you pick the pants pleats: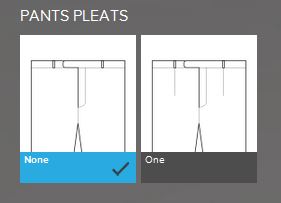 I am tall – 6-foot-3 – and I happen to like pleats. However, I've been told that they are "so eighties" and out of style and even Indochino said, "Indochino always endorses pants without pleats (flat front). For the man preferring pleats, please choose so accordingly." So, in the face of all that, I decided to not buck the trend and to go plain front on this order.
After those selections you then choose other customizations to dial-in the suit to your liking: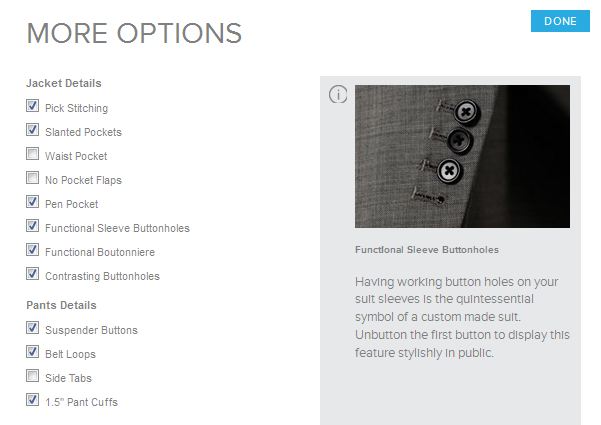 I have check-marked the boxes that I went with on my order.
Once you've finished designing your suit, it is time to go through the measurement process. You start by entering your height and weight and then selecting your "body shape" from these choices:

This information is used to help guide you in your measurements and select the most likely "correct" result. Usually my measurements were within an inch of Indochino's recommendations.
The site walks you through taking a total of 14 measurements, with a helpful guide explaining each measurement and then a video demonstrating how to take the measurement making sure that you fully understand what is expected and how to make each one:

Dana measured me three times – twice at night and then once the next morning – to ensure that we were getting the same results each time. When you are finished you have a chart that looks like this: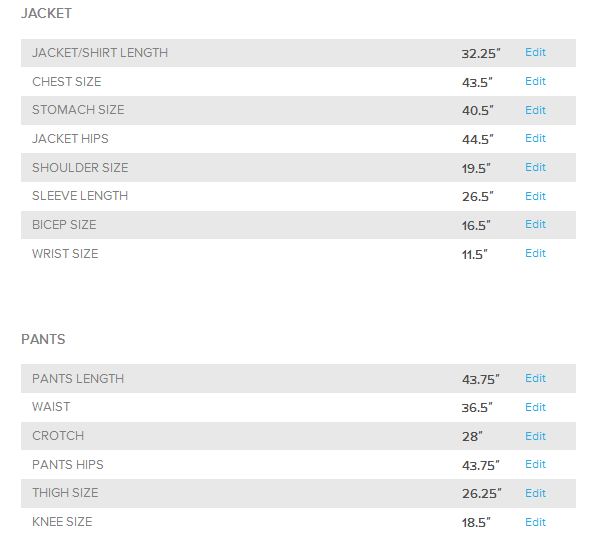 From there you click order and then wait…
It takes about 6 weeks for the suit to arrive and includes free shipping. If it is your first order – and you ordered multiple items (I ordered two suits) – then they will ship one item to allow you to check for fit, and then when you have signed off on the perfect fit, they will make and ship your second item. This turned out to be really smart on their part…
After 5-6 weeks, one day you'll get a knock on the door and this will be waiting for you: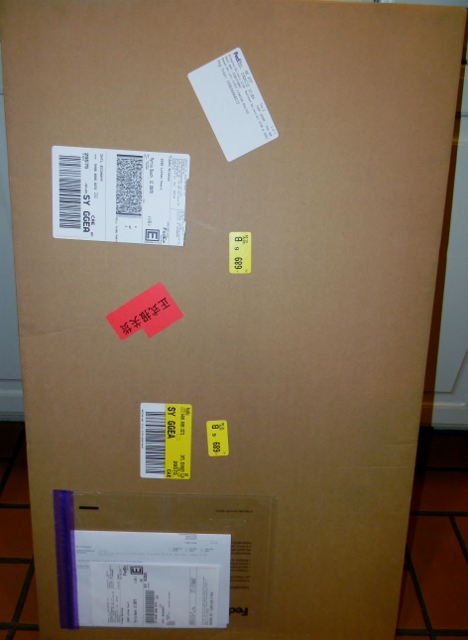 And inside you'll find this: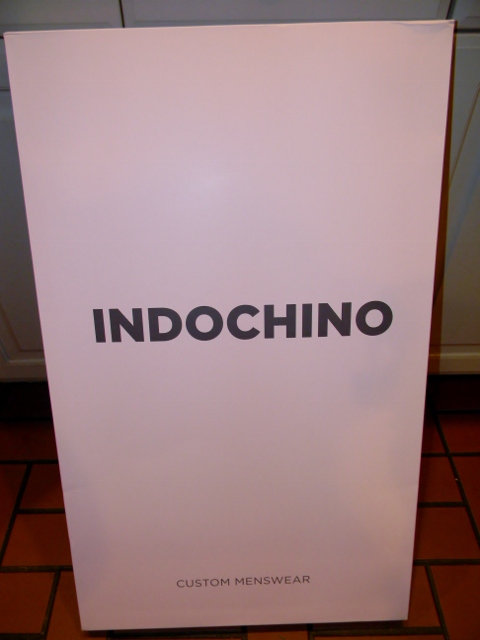 Inside the box lid is this: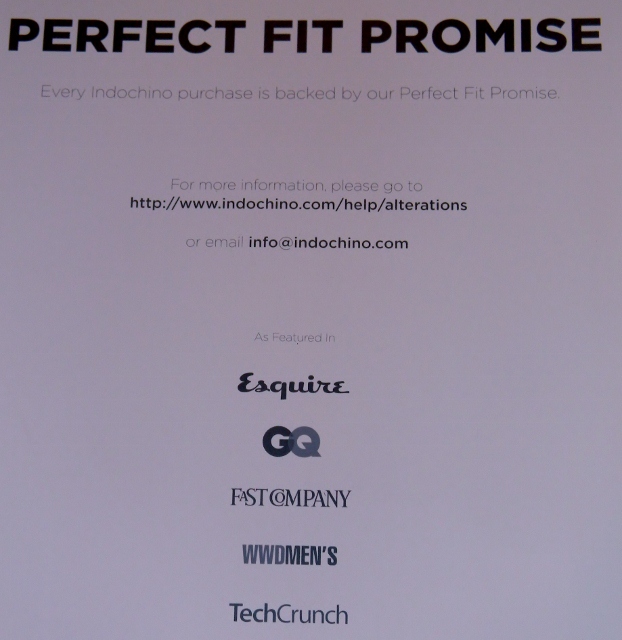 It's important to talk about this for a moment. There is certainly some risk/concern about ordering "custom made" clothing over the Internet. Typically the process involves multiple measurements and fittings and remaking of the garment until it is perfect. So, what if your suit (shirt, pants) arrives and it doesn't fit you perfectly? Here is Indochino's policy:
"Indochino's Perfect Fit Promise makes ordering a custom suit risk-free. If your order is anything less than perfect, we will do everything in our power to make it right. Indochino offers an alteration credit of up to $75 to put towards local tailoring. On the rare occasion your suit cannot be altered, Indochino will remake it for you. If you are not 100% satisfied with your order, you can return it for a full refund."
Inside the box you find your new suit: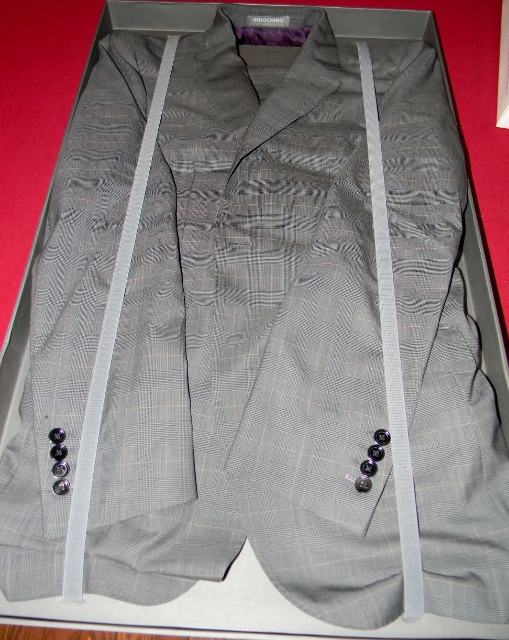 This is the Grey Prince of Wales. (The horrible moire is a result of rescaling the 12 meg picture down to 640 x 480 size.) The packing does a really nice job of keeping the suit together and presentable on arrival, though I was a little disappointed that it didn't include a hanger. The jacket "hand" feels really nice. It isn't a thick wool, but it feel good. Doesn't feel "slick" or cheap at all. The pants, on the other hand, feel a little thin. I'm not sure if that is because they aren't lined or what, but the material feels thinner than I'm used to.
Of course, I immediately "suited up" to see how it fit. The jacket feels great on; really feeling fitted in the waist, and under the arms and is comfortable in the shoulders. I can turn and reach and stretch without feeling like "fat guy in a little coat" or that I will burst the back out of it. The sleeve length hits exactly where I want, with just a bit of cuff showing. I really like the way the jack fits and – more importantly – how it looks on.
Next up was the pants. What I noticed first – and every time since – is how perfectly the pants fit in the waist. Usually pants are just a *bit* snug or just a *bit* loose, but these are perfect. Every time I put them on I can tell they were made for me. The thin feeling was even more noticeable once the pants were on, but in subsequent wearings I've gotten used to it and I will say they are comfortable to wear and offer plenty of room when seated.
Unfortunately, the pants length was way off; they were short by like an inch in each leg. But, I took them to a local tailor – basically saying, "Look, I've got $75 to spend on altering this suit and I want to give it all to you. You make this suit as perfect as you can make it." He said the fit was really perfect and made just a couple of changes (pants length and a modification to the jacket collar area). Indochino supplies a form that the tailor fills out which they use to modify your measurement profile and then they credited my card for the tailor fees ($25) within a couple of days.
After getting the suit back…it fit. Perfectly. So, here are some pics of me in the suit.
Here's a pic of me modeling the Grey Prince of Wales:
Here's me looking off to the side trying not to feel too self-conscious standing out in our front yard wearing a suit while Dana takes pictures of me. It's like, "Yeah. Whatever. I'm a suit model now. Deal with it."

Inside the jacket :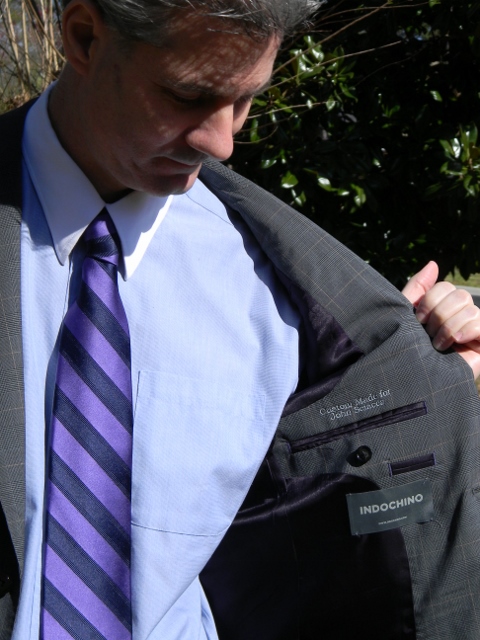 Here's a pic of the pants front: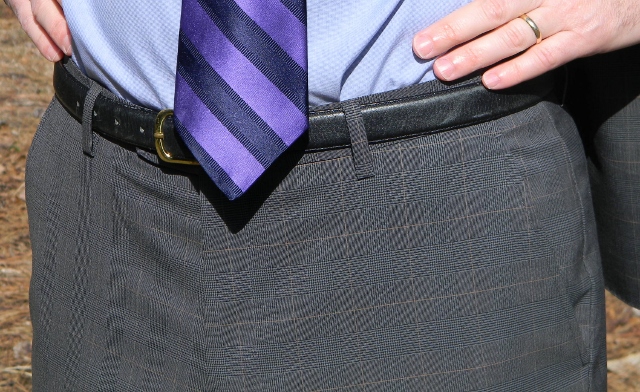 The jacket sleeve and button holes: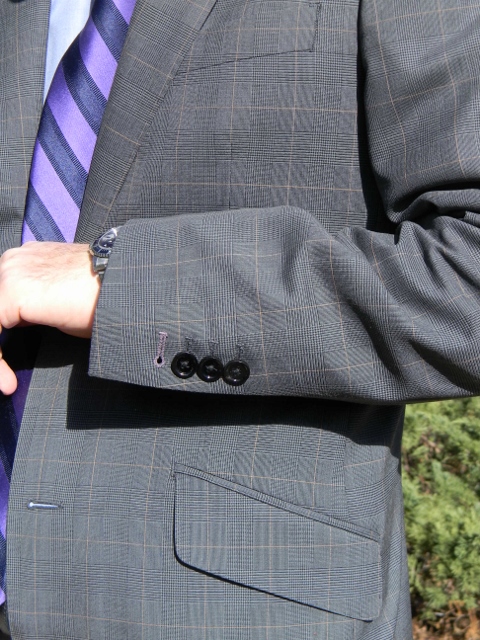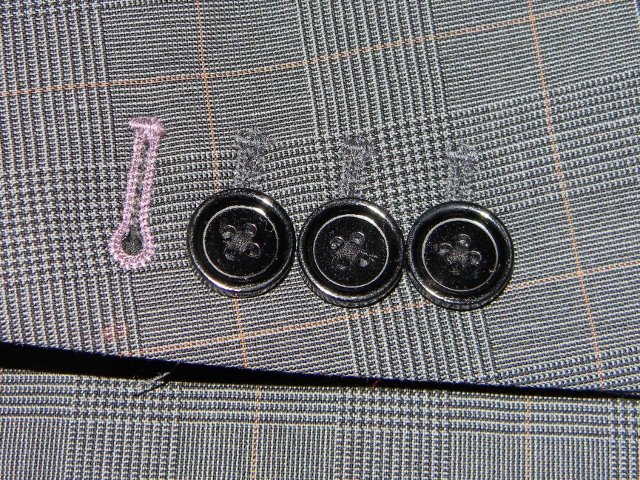 Here's the suit from the back:

And here's me popping the collar, featuring the contrasting purple felt: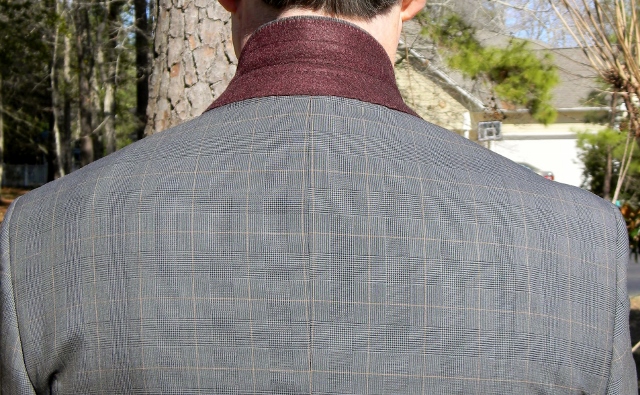 My second suit was the standard Prince of Wales:

I went with the Blue lining on this suit thinking it would match with the pale blue striping in the pattern. I like it, but wish that the blue was a darker, richer navy than the royal, bright blue that it is: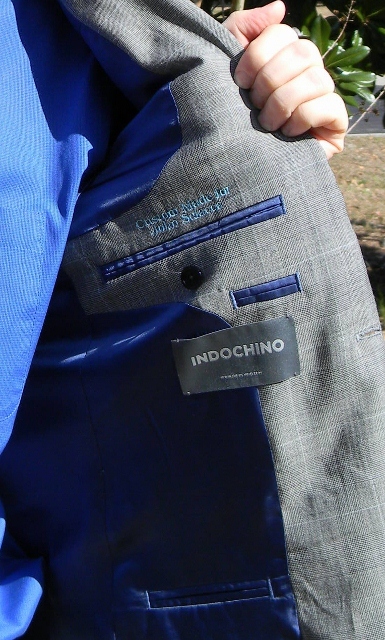 One thing that I appreciated was the attention to detail. The suit pattern on the jacket pockets lines up perfects, making for a much more finishes look: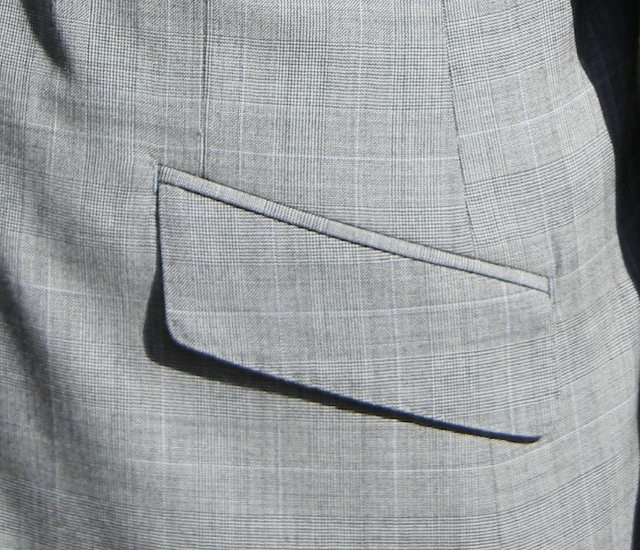 I never really noticed this – or paid attention to it – on my other suits, but I checked them – many by Polo – and none of them have the same attention to detail that the Indochino suit does.
And here's a shot of the suit from the back. I guess, so if you ever see me from behind at CEDIA or CES now you'll be able to recognize me…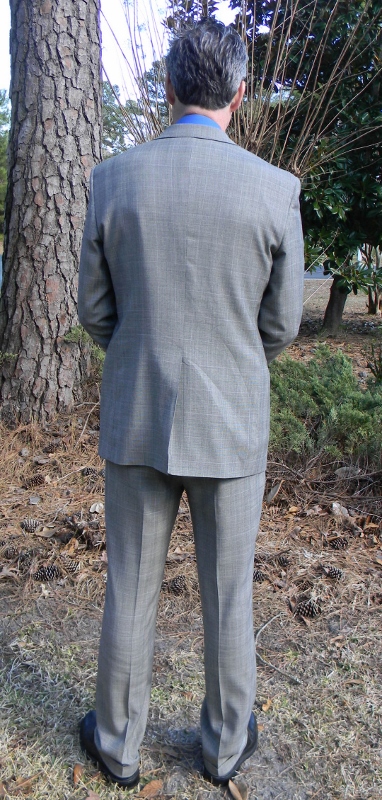 The Pros:
The suits fit great. I love the way they feel and look on me. They have become the favorite suits in my wardrobe and I feel like a million bucks when I'm wearing them. In fact, it has made me aware of how sloppy my other suits fit and how other people's suits don't fit quite right. I love wearing the jackets, and think the Grey Prince of Wales looks great with jeans for a dressed-up casual look. The price for "custom made" is unbeatable. In fact, at the 30% off discount, I ended up paying less for these suits than I did for others in my wardrobe, and in exchange I get something that fits me beautifully. I love the customization options and feel like I got exactly what I wanted. The service and support and communication was terrific. From style advice (they sent me an article from GQ in response to one question) to general inquiries, they were always very quick to respond.
The Cons:
The button quality is really cheap. Like imagine if you went to China and said, "I'll give you one new American dollar for 1000 shiny buttons" this is what you would get. I think they should step up the button quality big time. While the service was great, it wasn't always consistent. On my first order, I was able to get contrasting button stitching on the sleeve but NOT the lapel; on my second order I was told this kind of customization wasn't possible. They offer a "tailor's kit" that includes 16 fabric swatches and 2 measuring tapes. It is $29 but they apply that to your order. I was told that I couldn't this because my suits were on sale. I mean, I spent over $550, you could give me the stupid kit. Also, they have a "friend us on Facebook, get a free tape measure offer. They never came through on this. The fabric selection is limited if your wardrobe is already established. Also, when it comes to truly having a custom made garment, the customization is limited. For instance, I would love have had the right inside jacket pocket made so that it doesn't bulge when I'm wearing my wallet. I would like to have the front buttons set slightly different so it didn't "pinch" when buttoned. I would love the option for a button-fly over zipper. Again, these are minor things, but in a truly custom world, they would be addressed.
Bottom Line:
I would definitely recommend Indochino without hesitation and will buy from them again. With the perfect fit guarantee – and $75 to spending tweaking and tailoring the suit – there is no risk in giving them a try. The company also offers a "premium" suit option called Vincero that uses the same wool fabrics (Italian Reda) that provides for Ralph Lauren Purple Label. I think this suit looks stunning, and it will possibly be my next purchase. (Note to Indochino: You have my measurement profile; feel free to provide this suit for a full review!)
Categories: February 2013, Reviews
/