Shopping Cart
Your Cart is Empty
There was an error with PayPal
Click here to try again
Thank you for your business!
You should be receiving an order confirmation from Paypal shortly.
Exit Shopping Cart
Features, Reviews and a Blog by John Sciacca
| | |
| --- | --- |
| Posted on March 19, 2013 at 11:35 AM | |
Kids develop brand affinity and aspirational thinking pretty early on.
I – like many boys that were young in the 80s – had a Lamborghini poster on my bedroom wall many, many years before I could even think about getting a driver's license, not to mention that it cost more than the house we were living in. But still, the desire for that red Countach was there. And still is there.
I'd like to tell you another little story from my past that perfectly illustrates this point.
My dad owned all of the Ian Fleming James Bond novels, and sometime back in high school, I started reading all of them. I loved Bond's style and swagger and uncanny sense of always knowing the perfect thing to do or say in any situation. The perfect drink, the perfect car, the perfect weapon, the perfect detail to his wardrobe, the perfect line to a villain or woman.
For a teenager, the idea of always being perfect was pretty appealing.
One of the things that I loved about the books was that Fleming's Bond was always ultra-specific and detail oriented. Bond would never drink just any champagne, but rather a Dom Perignon or a Tattinger, and even that of a specific vintage. His smoking habits required utmost attention with custom made Morlands of Grosvenor Street (with three gold rings), a black oxidized Ronson lighter and a Dunhill case. His shirts imported of Sea Island cotton and his Walther PPK carried in a Berns-Martin triple draw holster.
And just as he was specific in everything else, Bond would never wear just any watch. In the books, Bond's timepiece of choice was always a Rolex.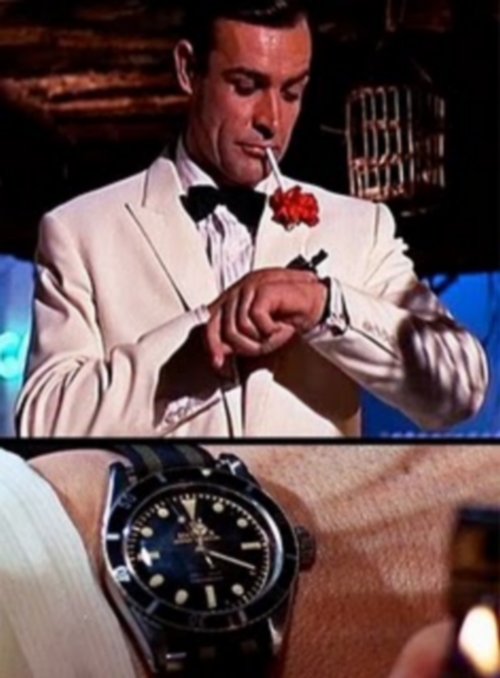 As a teenager with a dad that made him sign a bank prepared promissory note with full payment default schedule for the money he loaned me for my first car (really), I can assure you that buying a Rolex was not within the realms of things that were going to happen.
Even still, I can't tell you how many trips I took to the mall to look at Rolex watches or to ask for the latest bit of literature.  And even though I was 16-18 and probably looked like I could barely afford a slice of pizza and Coke, the jewelers were always very patient and accommodating, pulling the watch out of the case, going through the ritual of shining it up and then letting me try it on.  I remember one time after trying on the Submariner for the umpteenth time, the jeweler asked me if I'd like to try on something really special. He reached under his case and produced a gold and diamond covered Rolex that he said he been ordered for a customer and sold for $50,000.
Think about the impact this had on a teenager: Instead of being exasperated by a kid looking at something beyond his affordability or quickly brushing me off and moving on to the next person, he took a little bit of extra time and let me experience something many times more expensive.
Now, it was years before I was actually able to afford a Rolex (a stainless Submariner with date, just like Bond), but by being treated well, and recognizing them on the arms of others, the desire to one day own the Rolex brand was instilled and never faded, and I always returned. And, finally, when my circumstances allowed, I proudly went down and bought one. From a different jeweler on the other side of the country.
Our industry can actually learn a lot from this. Click here to continue reading at Residential Systems...

Categories: March 2013, CTA
/