Shopping Cart
Your Cart is Empty
There was an error with PayPal
Click here to try again
Thank you for your business!
You should be receiving an order confirmation from Paypal shortly.
Exit Shopping Cart
Features, Reviews and a Blog by John Sciacca
| | |
| --- | --- |
| Posted on April 5, 2013 at 5:10 PM | |
I've had my share* of beers at this point. And you get to a point that when you roam the aisles of your local grocery stores, liquor stores and beer emporiums you find yourself running out of new things to try. Especially when the city you live in has both Myrtle and Beach in the title and is often referred to as "the Redneck Riviera."
(* Many would say I've had more than my share and even some of their share as well. And to them I say, "Thank you, may I please have another?")

Also compounding this is the knowledge that there are just certain styles of beer I don't care to try. Brandywine? I have no use for you. Too high in alcohol and far too sweet. Fruit beers? Meh. I mean, sometimes, I guess… Pale ales? Boring, bland, flavorless dreck for the most part.
So when I stumble across something I haven't tried and that sounds relatively interesting, I snatch it up and give it a go. That was the case when I encountered the Winter Pack from Sam Adams continuing six beers I'd yet to review: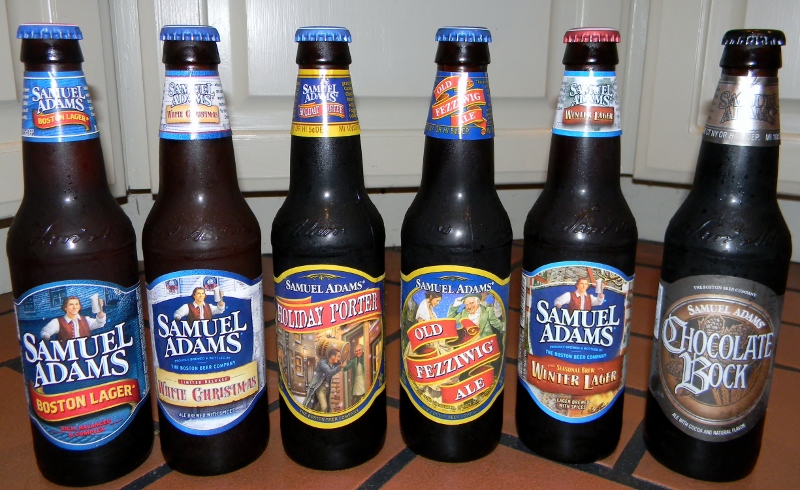 I mean, I *had* to buy it, right….
Sam Adams – Boston Lager
Hop Varieties: Hallertau Mittelfrueh and Tettnang Tettnanger Noble hops
ABV 4.9%, 30 IBU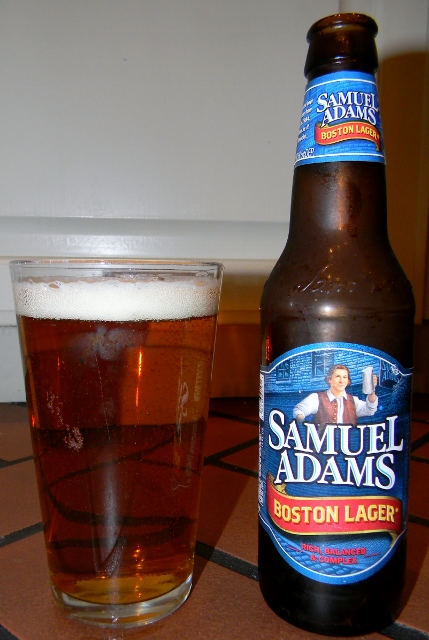 Description: "You're drinking the first beer I made. The recipe came from my father's attic in 1984. It tasted the same then as it does today – flavorful, full-bodied, and balanced. It was a revelation in taste, and it started a revolution in craft brewing that continues today. Cheers!"
It had been a long while since I had a tried this iconic microbrew, and when it can in a sampler-pack, I was eager to revisit it. This Lager virtually gave birth to the microbrew movement and I wanted to see how it held up. Pours a golden yellow color with a finger of head that reduces to a creamy froth on top of the glass. Leaves thick coating of foam on the sides of the glass. I mean, it's basically the quintessential looking lager pour. Body is very clear with traces of visible bubbles slowly drifting up to join the froth at the top of the glass. Not getting a lot of smell out of the glass; some notes of wheat and malt, but not much. First sip and the beer lands wonderfully on the tongue with a nice spark of carbonation, a real blossom of wheat and bread notes and then a nice finish. It has a really nice flavor; rich and full, but not overwhelming. It's easy to see how this would have been revolutionary when it came on the scene and started pouring next to Bud and Coors in bars around the country. The taste is consistent through the glass, with just a *touch* of bitter. I really like the finish, which just lingers on with nice bready flavors. It's easy to see why the Boston Lager is the flagship, hallmark brew of Sam Adams, and it definitely holds up. Definitely a go to beer if you are out at a restaurant that has a week tap list.
Sam Adams – Holiday Porter
Hop Varieties: East Kent Goldings, Fuggles, and Spalt Spalter Noble Hops
5.8% ABV, 40 IBU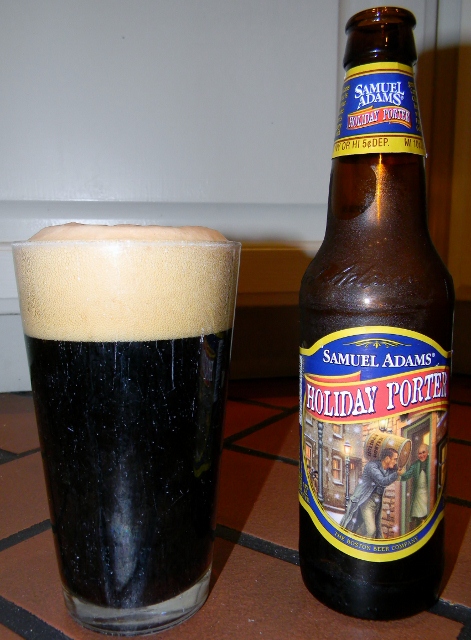 Description: "Samuel Adams Holiday Porter is a full-flavored porter inspired by the famous drink of London's Victorian era luggage porters. Brewed with generous portions of Caramel, Munich and Chocolate malt, this hearty porter finishes with traditional English Fuggles and East Kent Goldings. Cheers!"
Pours a deep, dark color with a definite red tint when held up to the light, producing a generous three fingers of creamy, khaki-colored head. Nose is of coffee with cream with some hints of spice. First sip…the beer lands with light carbonation mid-tongue and then slides to the back of the mouth. There is a quick flash of sweet, but overall, this porter is pretty light on taste. It has the coffee notes of a porter but they taste really watered down. After a bit of time in the glass, the beer is starting to open up, definitely producing a fuller flavor on the finish. The roasted malt notes coming through more clearly. Towards the end of the glass, I'm getting some nice, bitter chocolate notes that are quite tasty. All in all, I'd rate this beer as fair… I don't need to drink any more of it, but it wasn't a chore getting to the end of the glass either. This is like a 3-day weekend holiday and less of a full-on spring break.
Sam Adams – White Christmas
Hop Variety: Spalt Spalter Noble hops
5.8% ABV, 8 IBU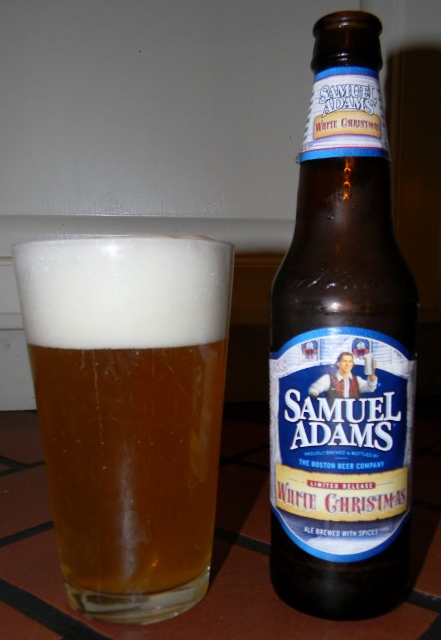 Description: "As crisp as the first snowfall of the year, this unfiltered white ale is blended with holiday spices including cinnamon, nutmeg and orange peel. The familiar citrus and wheat characters of the ale are complemented by the warmth of the spices for a festive brew that's perfect for the season. Cheers!"
When I'm dreaming of a beer, I'm not sure it's going to be of a White Christmas, but we're about to find out... Pours a very cloudy light, golden-banana-yellow color with a nice bit of billowy creamy white head. The head is like a wonderful fluffy cloud that decided to gently drift down from the sky and settle atop your glass. You can definitely smell the spices on the nose here. Clove and nutmeg are what I most pick up, but maybe also cinnamon and a something like raisin. (Yes, I realize raisin is not a spice...) First sip... Wow. It's pretty interesting actually. There's a splash of spice as it lands mid tongue, then a wave of wheaty and bready notes, then another flash of the nutmeg and clove spice, then a lengthy wheat finish.  It's like a merry-go-round of flavors in the mouth, but instead of being all over the place, the tastes and spices work. I also like how the flavor arc has something going on at every stage from start to finish. Definitely more exciting than the Holiday Porter, and reminiscent of a Pumpkin Ale.
Sam Adams - Winter Lager
Hop Variety: Hallertau Mittelfrueh Noble hops
5.6% ABV, 22 IBU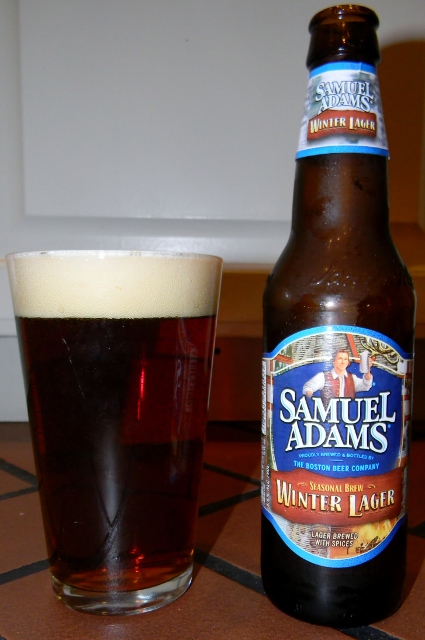 Description: "The first thing one notices about a Samuel Adams® Winter Lager is the deep ruby color. Then comes the magical aroma which promises something special on the tongue. The cinnamon, ginger, and hint of citrus from the orange peel blend with the roasty sweetness of the malts to deliver a warming, spicy flavor. On the palate Samuel Adams Winter Lager is rich and full bodied, robust and warming, a wonderful way to enjoy the cold evenings that come with the season."
A firm pour into the glass produced a nice, creamy two fingers worth of light tan head. Beer is lighter in color than I expected, but still a rich coppery amber. Body is very clear with lots of micro bubbles. Some roasted malt notes, but no real prominent spices. First sip and it lands on the back of the tongue, and then travels smoothly to the back of the mouth with a big, rich malt filled finish. It has a nice lingering malt-filled finish. For the life of me I can't taste any of the spices...well, hang on.  There's a brief glimpse of flavors as the beer hits your tongue. It's like a peekaboo of flavor that you could easily miss, and I'm not sure I could specifically ID cinnamon, ginger or orange peel. Though, whether I've Incepted myself or something, I *feel* like the spice notes are more detectable on the nose as the beer gets lower in the glass and opens up. This is far more reminiscent of a Bock – one of my favorite non-IPA styles of beer – and this reminded me of that, and a fairly good one. I'm glad the spices were muted and felt the other flavors were rich and standout. So, you'll either think the label is mis-leading because you wanted a spiced lager or you'll avoid it because you didn't... But if you happen to pour one, I think you'll like the Winter Lager.
Sam Adams – Chocolate Bock
Hop Varieties: Hallertau Mittelfrueh Noble hop
5.8% ABV, 11 IBU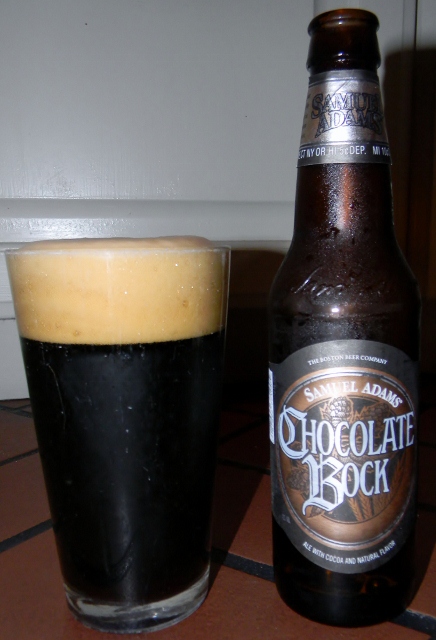 Description: "Samuel Adams Chocolate Bock combines our carefully roasted malts with the robust flavor of premium dark nibs from Ecuador. We slowly age the brew on a bed of cocoa to impart bold flavors of rich chocolate and a smooth velvety finish. Cheers!"
I tried this beer previously at a beer fest and I remember enjoying it. However, I also remember that this was the last beer of the night, following many-a many-a beer before it and my palate's judgment was thoroughly impaired and suspect by this point. Either way, I was excited to try it anew, with a fresh outlook. Pours a deep, dark, molten black into the glass with a generous double-finger-plus helping of rich khaki head. The head holds its shape for a decent bit and then slowly recedes to a nice solid khaki layer atop the glass. Even held up to the light, you might as well be staring into a pot of ink as to see anything through this beer. Nice smokey, malty notes on the nose with a predominant backbone of dark, bitter baker's chocolate. First sip and it lands nicely on the tongue, and then there is an immediate dark chocolate milk creamy sweetness that is evident that slides to the back of the mouth and finishes in a nice malty, smokey linger. It really has a nice mouth feel too; liquid-smooth with the right weight and texture. This beer is so smooth, you could almost think of it as an alcoholic chocolate milk, just creamier – or more velvety as the description says -- and not as thick. This has a wonderful chocolate flavor, which is exactly what I want out of a beer that is going to put "Chocolate" as the headline above the credits. Also, this is probably the first beer that I've had where the description totally *nails* the experience. Well, except that I don't really know what a nib is. Other than that, *nailed*. How could it be better? It's leans a tad to the sweet side, so maybe a little bitter at the end to help balance the sweet and to appeal to the dark chocolate lover in me. More baker's chocolate, less sweet milk chocolate. If I had to sum this beer up in three words it would be, "Chocolate, creamy, delicious."
Sam Adams - Old Fezziwig Ale
Hop Varieties: Hallertau Mittelfrueh, Tettnang Tettnanger
5.9% ABV, 25 IBU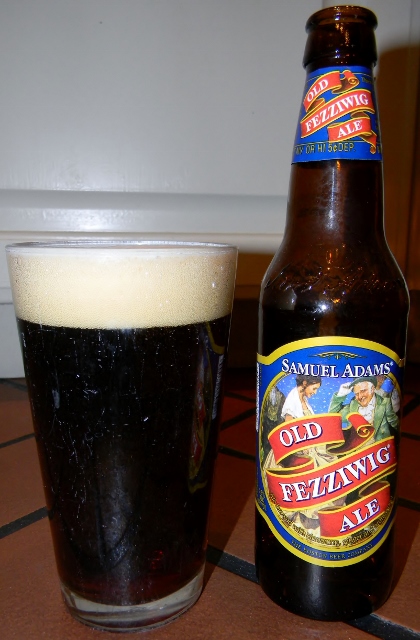 Description: "Spicy & bold, this festive ale is bursting with the flavors of the season.  With a full body and spice it'll help those long winter nights pass more quickly.  The rich malt character creates notes of sweet toffee, caramel, & roasty chocolate while classic holiday spices like cinnamon, ginger and orange peel dance on the tongue bringing with them the celebratory spirit of the season."
Not sure why, but for some reason I had been putting off drinking this beer. I mean many other beers passed my lips while Old Fezziwig sat at the back of my fridge waiting. Finally it was time to take this girl to the dance. Pours a deep, dark brown-burnt amber color of a well steeped tea. Produces a nice two fingers of head that is thick and creamy and just hangs around forever. There is a ton of visible micro-carbonation in the glass. Spicy notes of orange and coriander and gingerbread on the nose. First sip and its got a lot of bready malt flavors and a nice balance of spice. I thought the spice might be too much, but it is pretty well in check, adding flavor but not too much sweetness.  The carbonation leaves a nice zip on the tongue, and as the beer opens up I'm getting some nice orange zest flavors with the other spices. As a seasonal, it has nice flavors, and is rich with spice but without the usual sweet, with the bready malt offering a nice balance and rich finish. It reminds me of a pumpkin ale a bit with the cinnamon and gingerbread flavors, but not quite as sweet. I think I'd probably put the Fezziwig somewhere between the Holiday Porter and the White Christmas on the enjoyment scale.
Categories: April 2013, Beer/Liquor/Wine, Reviews
/