Shopping Cart
Your Cart is Empty
There was an error with PayPal
Click here to try again
Thank you for your business!
You should be receiving an order confirmation from Paypal shortly.
Exit Shopping Cart
Features, Reviews and a Blog by John Sciacca
| | |
| --- | --- |
| Posted on April 8, 2013 at 1:00 PM | |
A recent blog post I wrote titled "The Death of the Dedicated Room" got me talking about my family room home theater system.
I'll be honest, when I installed it, I felt like installing a theater in my family room was a compromise. I really wanted a dedicated room to house my system, but, well, I could either do nothing or make the best with the hand I was dealt. And after living in the home for a couple of years, I decided that I wasn't going to let my lack of a dedicated space keep me from owning the theater system I'd always wanted.
Now, I feel like the family room theater is the terrific solution, getting far more use, and I don't know that I'd go to the dedicated room route if I had the option.
So I mentioned something about my system on Twitter a few days ago and Luke Mullen (@LDMullen) asked me this: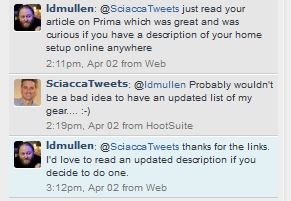 It has been a while since I've talked about my components and there have been quite a few changes to my system over the years since it was originally installed. (The full story on Sound & Vision is here, "My DIY Home Theater Makeover.") I also know that there is a real fascination with the gear used by reviewers and just the "looking up the skirt" of one home theater owner to another. So, for anyone that cares, here is a complete rundown of all of the gear that makes up my home theater system. (And, Holy CRAP! I've got a lot of stuff! I didn't realize until I started typing this!)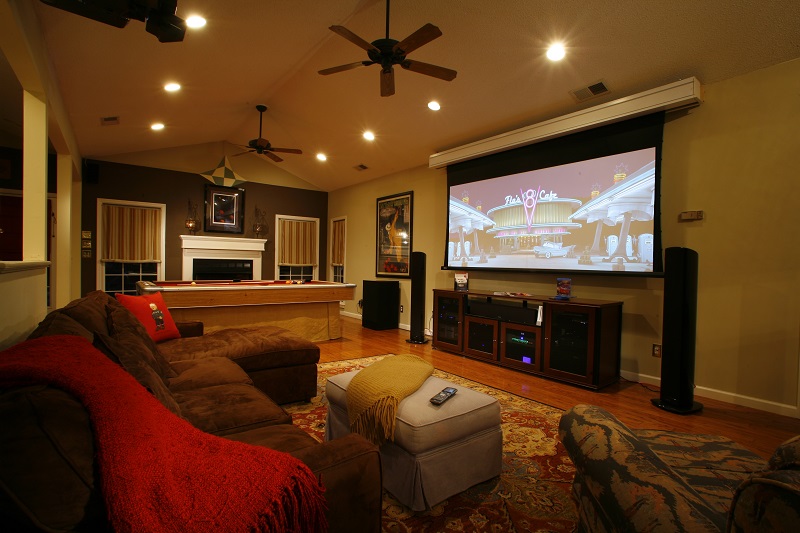 (photo by Jim Raycroft)
Pioneer Elite Pro151FD – 60-inch Plasma Display
This 9G Kuro panel was the best TV available at the time, and is arguably still one of the best pictures that you can own. The deep, black and penetrating Kuro levels are still amazing even by today's standards. This was the last generation set that Pioneer made and since I needed a TV for primary and daytime viewing, I wanted to get the best that I could. And that meant the Elite. (Though, I came awfully close to buying the 58-inch Panasonic due to the significant price difference...) The Elite doesn't have *any* smart features; no Netflix, no YouTube, not even an IP connection at all in fact. But it makes a very smart picture. If it were to die today, I would look really closely at the new 65-inch in the Panasonic ZT or the Samsung 8500 series…
Omni Mount ULPT-X – Ultra low profile TV wall mount
The Pioneer Plasma is not thin by today's standards, being about 3.5-inches thick. And since I needed a screen to drop down in front of the set, I wanted a mount that held the TV as tightly to the wall as possible so we wouldn't need to shim the screen out any further than necessary. Today there are a lot of ultra-thin mount options, but 3 years ago, the Omni Mount was easily the best choice. I also love that the mount has a "kickstand" feature that lets one person pull the bottom of the TV off the wall and holds in it place so you can work on it from below. This is great for when I need to check a random connection or something.
Marantz VP-11S2 – DLP Video Projector
I was really torn between the Marantz and the JVC at the time I made my purchase. They both had their strengths and produced terrific images, so it was a bit like choosing between Ferrari and Lamborgini.  Three things swayed my decision towards the Marantz… 1) I had a preference for the DLP technology at the time over LCD, and the Marantz used Texas Instruments' latest DarkChip4. 2) The brand new JVC wasn't going to be available for a couple of months and 3) Marantz's Kevin Zarrow was so cool to me that I really wanted to do business with him. I love the projector. LOVE. The image is still awesome and since we only use it for movie watching (and the occasional event party like Super Bowl) we've yet to have to change a lamp. I can tell that the black levels aren't as deep as some of the newer models, nor is it as bright. Also, it isn't 3D capable. When I make the upgrade, I'll probably look at the JVC as I'm always impressed with their performance.
Panamorph UH480/ATH1 – Anamorphic Lens and Sled System
I've written about anamorphic systems before (you can read about it here if you want to understand the concept) and I knew that I wanted this in my own theater. (Though, I'll be honest…when I unboxed the lens and sled and assembled it for the first time and saw how God-awful big it looked and knew I was going to be hanging that from my ceiling, my first thought was, "Oh, my God! What have I done?!" After a few weeks though I didn't even notice it anymore until some guest comes over and says, "WHAT IS THAT HANGING FROM YOUR CEILING?!") Even today, going with an anamorphic system is not cheap, still costing around $10,000 for the lens and sled combo. But, man, every time I engage the system and we go from a 92-inch image to a 115-inch, it's still, "Wow! I can't believe this is in my own house!" Also, while there are lens memory systems now that can zoom out and refocus at the push of a button, that transfer is slow, taking like 20-30 seconds. The motorized lens pops in place in like two. I am actually going to upgrade my UH480 lens for the new Panamorph DC1 lens. (Actually expecting it to arrive any day...) This lens is supposed to be a real upgrade, allowing more light to pass through, producing a bright, sharper image with more contrast. I'm hoping this breathes some new life into my projector's anamorphic viewing.

Draper Access MultiView Series V M1300 – Dual aspect motorized projection screen
For home theaters I usually recommend a fixed screen because they are cheaper and permanenetly tensioned for a perfectly smooth, flat surface. But since I have a Plasma TV by day, the screen obviously can't be down all the time. So that necessitated getting a motorized screen. Since I was going to have an anamorphic lens system, that necessitated getting a 2.35 (or 2.40) aspect screen. Since I didn't want to see any big white area of the screen when watching 16x9 material on the 2.35 screen, that necessitated getting a screen with vertical masking. So, I narrowed my choices down. Initially I wanted to go with a Stewart screen, but the price was just outside of my budget. Their dual-aspect motorized screen with masking was like around $8,000 and I just couldn't swing it. So I reached out to Draper and they had the perfect solution. The M1300 material delivers a great picture with lots of detail and a wide viewing angle that is perfect when we have a lot of people over. Because we sit about 12-feet away, I didn't want the image to be too overwhelming, so we have a 92-inch in 16x9 aspect and 115-inch in 2.35. (I'd actually like the 16x9 to be a little bigger, but that would have made the 2.35 too big, so, compromise.) The screen system has two IR receivers, one for the screen and one for the masking and it was a breeze to incorporate them into my control system, letting me raise and lower them as needed. My installer from Custom Theater and Audio, Tom, fabricated a nice L-bracket to mount the screen to my wall (the screen housing is actually meant to go up in an attic or be boxed in, but my trussing wouldn't allow for that) and then Dana's dad made a nice trim that covers it and marries it to the look of the front wall. (Different from what you see in the picture above; the case is now trimmed in black.)

DarbeeVision DVP5000 – Video Enhancement Processor
After seeing the difference the Darblet made on improving video on both my Plasma and Projector, I needed it in my system. Turning off the Darblet makes the image look soft and out of focus. Turning it on causes small details like whiskers and fabrics and blades of grass to just stand out in amazing detail. I know that "sharpness" is usually considered a bad thing, but the DVP5000 adds detail to the image without any negative artifacts. The Darbee doesn't require any interaction from me; I just keep it on at around 80% processing for both my Plasma and Projector, and never have to touch it.  (Here is my review of the DVP5000 at Residential Systems.)
Marantz AV-8801/MM-8077 – Pre-amplifier/processor and Multi-channel amplifier
This is actually my third Marantz pre-pro. I originally had the AV-8003 which I upgraded to the AV-7005 and then this past October I replaced that with the new flagship AV-8801. (I originally had the MM-8003 amplifier that matched the AV-8003 and I changed that out for the MM-8077 as well.) I *love* this new processor and honestly can't think of anything that it doesn't do with sheer awesomeness. Sonically it is stunning. Whether I am listening to 2-channel stereo or 9.1 surround, sounds are incredibly detailed and precise. My biggest motivation for upgrading – other than, you know, just wanting to have the current top-of-the-line piece – was that the 8801 added DTS Neo:X processing to handle 11-surround channels instead of just the 7-channels the AV-7005 could handle. It also added Audyssey XT-32 room EQ, which is a far more powerful version of Audyssey's room correction processing. And it has a greatly improved DAC set and can handle 192/24-bit FLAC files. The AV-8801 is revelatory when it comes to movies or music listening, extracting an amazing amount of ambience from whatever you are listening to. It also has full support for dual displays which I needed for my Plasma and projector set up. Here's a bunch of pics and my first thoughts on the combo from my unboxing. If you have any other questions about the AV-8801, you can read my full review of it at Residential Systems here.
Elan Z660 – Power Amplifier
This was an old multi-channel housewide amplifier we had lying around a shelf in the back room at work that I now use to power my front height channels. The amp is 6 x 60, but I've bridged two of the channels together to give me more power for the front height speakers.
Definitive Technology Mythos – 9-channel surround speaker system
I've always loved Definitive Technology and wanted them in my system. I honestly don't think that there is another speaker manfufacturer that gives you as much bang-for-the-buck as Definitive. Their stuff just sounds great and in reasonably priced. While the bipolar (BP) series are "bigger" sonically, I felt they weren't as tight and focused and musical as the Mythos towers and I didn't need the extra bass since I was going to have that covered. (See my subwoofer below.) I went with the Mythos ST Super Towers for my front left and rights, the Mythos 10 for my center channel, and 6 Mythos Gem XL surround speakers hande side, back and height chores. This gives me a really cohesive sonic array all around with matching drivers and sonics. Also, because this was going in my family room, the sleek design of the Mythos makes them fit in a lot better than some other tower speakers.
Definitive Technology Super Cube Trinity Signature Reference - Subwoofer
Solid bass is definitely the foundation of a good home theater system, and I always tell people that when it comes to a subwoofer, buy the biggest and best one you can afford. For me, that meant going with Definitive's Trinity Signature Reference. This thing was originally designed to replaced the largest pipe organs in a massive church audio system, so, yeah, it plays frickin' low and loud! This beast looks like a mini dorm fridge, and has two active 14-inch drivers along with four passive 14-inch radiators powered by a 2,000 watt amplifier. It plays so low and loud, in fact, that the lowest notes vibrate the windows violently inside of their frames, a problem I still haven't figured out how to address. It also exposes every loose and rattly thing in your home or chest cavity. When things blow up in a movie, they *blow up* with bass energy you feel transferring through the room like a rolling tidal wave. The wall of bass sound is just awesome and once you've experienced that in a movie, it's impossible to go back. I'm sure that the JL Audio Gotham or Paradigm SUB2 can play lower (not sure I need it) and louder (again, not really necessary in my room) and quicker/faster, but they also cost 3-4 times as much as the Trinity, making it an incredible value in high-end bass performance.  Here's a lengthy story about the awesome history behind the Trinity sub.

Kaleidescape 1U Server and M500 – Blu-ray, DVD, CD Server system
My movie and music library lives on the Kaleidescape system, ready for instant access via Kaleidescape's amazing GUI. (Currently 319 movies and 224 CDs.) The 1U server holds four 2-Terabyte disc cartridges in a RAID array, meaning there is 6-Terabytes of usable storage. (Which I'm close to maxing out. Kaleidescape just introduced 4-Terabyte disc cartridges which would literally double my storage space...)  I can't say enough good things about Kaledeidescape – and Lord knows, I've tried – and this system just works. It's incredibly reliable, easy to use and delivers terrific performance. I have reviewed a lot of movie servers and have still yet to come across one that offers anything even as good -- let alone more exciting -- as the Kaleidescape system. Every disc based movie we watch -- rented or own -- passes through the Kaleidescape. And that is a lot of movies.

Dacal Power Drive – Blu-ray Disc Vault
This is part of the Kaleidescape system where all of my (currently 87) Blu-ray discs "live." The drive -- called the "Modular Disc Vault" in Kaleidescape-speak -- connects to the M500 player via a single USB cable and that's it. I have absolutely zero interaction with this thing short of putting new Blu-ray discs in when I want to add something to my collection. Here's my review of the Modular Disc Vault.

DISH Network Hopper with Sling – Satellite Whole-house DVR
This is the newest component in my system, replacing the Hopper just a couple of months ago. We made the switch from the tyrannical chains of Time Warner Cable almost a year ago and it has been awesome. The Hopper has a HUGE hard drive (2 TB) and can record SIX programs during PrimeTime (with 3 internal tuners) and stores so many recordings you'd probably go blind trying to watch them all. It also has an upgraded processor, making it zip through guide listings and menus. The Hopper with Sling lets me watch live or recorded TV from anywhere I have Internet access and can transfer recordings to my iPad for mobile viewing, something Lauryn loves when we go on long road trips. Here's my review of the original Hopper.

Control4 HC800 – System Automation Controller
With this much gear, I needed a control system that was not only powerful but also easy to use and easy to reprogram as new gear is added and removed. (I literally just added a new Kwikset Control4 enabled door lock to the system this past weekend. Took me an hour from opening the box to uploading the programming to my system. That's the kind of easy and fast reprogramming that I need out of my system.) The Control4 system totally fits the bill, easily handling not only my A/V system but also fully integrating with my Lutron lighting, shading and thermostat system. The HC800 is really fast, quickly switching tasks or changing from controlling one room to another. It also gives me IR, IP and RS-232 control over my gear. It also lets me use my iPhone and iPad as system controllers. However, our primary control for the system is the SR-250 handheld wand remote. It's easy enough that even Lauryn has mastered the system. Also, with its remote access capabilities, I can log-into the system from work and make a programming change or fix if need be.  (Less important at my house, but very cool with my clients at work, often saving us from having to drive out to a house to make simple fixes or changes.) Here's my review of the Control4 system.

Lutron RadioRA2 – Lighting, Shading, HVAC Controller
It's hard to believe how powerful the RA2 system processor is considering its small size (roughly a small paperback book). But the RA2 processor handles our automated lighting system, two thermostats and 8 shades. It's pretty much The Awesome. Because it sits on the network, it talks to the Control4 system so that one button press can drop the lights and shades and start a movie. Tots cool.  Here's my review of the Honeycomb Shades the HVAC system and the RA2 lighting control.

Yamaha CDC-755 - 5 disc CD Changer
I bought this like 18 years ago, but since we got the Kaleidescape, it doesn't get much use anymore. But, it's still in my rack, ready to play. (I mean, I assume it is, since I haven't tried using it in probably years.)
Pioneer CLD-D504 - Laser Disc Player
Talk about another relic from the past… Laser Discs used to be the shizzit when it came to home theater, offering picture and sound far better than VHS. We still have a library of like 30 LDs, but haven't broken one out for a while. The last time we went to watch one -- The Saint, I think -- even Dana commented on how awful it looked. The picture is soft and the image is jittery and bouncy. She said, "We used to think this looked good?" But, like the CD player, I just don't have the heart to get rid of it…
Yamaha DDP-1 - Dolby Digital RF Demodulator
This is from my first home theater system, required to decode the special RF Dolby Digital AC-3 signal from a Laser Disc player. This connects to the pre-amp's "EXT. INPUT" via 6 analog cables. Since we don't use the LD player anymore, the DDP-1 doesn't get any use either. But, you know, I hang onto it. Just in case…
SurgeX XN120 – Panelized Circuit Surge Protector
We get a lot of lightning in South Caroilna, so a quality surge protector is key. This is installed in my garage and protects power at the circuit level, offering protection fo four circuits (my theater, bedroom, kitchen and back bedroom). SurgeX uses a patented technology to absorb surge energy instead of shunting it off to metal oxide varistors like other products, and it is nearly impossible for an electrical surge to pass through the XN120, as it completely absorbs surges up to the theoretical limit of how much current can physically pass through a Romex cable. Since none of my stuff has ever blown up, and the four green lights are still light up on the panel in the garage, I can only assume that it is still on duty, viligantly protecting my gear. Here's my review of the SurgeX System.
Monster Power MPHTS5100MkII Signature – Clean Power Surge Protector
I got this on a great purchase from Monster when they were changing models or something. It cleans up the power to multiple components and offers local surge protection as well.
PS Audio IPC8000 PowerPlay - Web addressable power conditioner
This is a better power conditioner than the Monster piece, so this is where I connect my most important gear – Kaleidescape, Marantz, Plasma, Projector. It is also controllable via the Web, but, I've never actually used that feature.
Panamax M4315-PRO – IP Managed Power Conditioner
This sits on top of my rack and is where I plug in those temporary components that I am reviewing. This is also IP controllable and it monitors energy usage and will notify me (via e-mail) if my system loses power. I actually have logged in to this remotely rebooted our cable box when it would go on the fritz. Here's my review of the M4315-PRO.
Linksys 8port Gigabit Switch (x2)
I've got a ton of components in my system that want network connectivity, and with the Kaleidescape system, you need Gigabit speeds. These two switches haven't given me a lick of trouble, and have passed a ton of data over the years.
Pakedge W6 – Wireless Access Point
This is an Enterprise Grade 802.11n WiFi access point. It has incredible power and range, easily filling our entire home with 3-4 bars of WiFi signal. It also has never needed to be rebooted. It just works and works and works. It also has a ton of configurability, a lot of which is way beyond my understanding. But it has crazy long range and fast speed and reliability and offers everything you could want in a WAP.
Nintendo Wii game system
Now that Lauryn is getting older, we have started playing Wii together. Sure, it isn't the best looking or sounding gaming system, but the games are a lot more Lauryn-friendly and she likes playing dance games. Please to enjoy her awesome dance moves...

Monster Cable M1000HD HDMI cabling
A 4-meter cable connects to my Plasma and a 50-foot cable connects to my projector. While the shorter distance isn't that big of a deal, the longer distance can prove fits for cheaper cables. When I installed the system, RedMere active transmitting technology wasn't available and for lengths over 30-feet you could run into real problems manifesting in dropouts or the dreaded "No Signal." I wanted to make sure I wasn't going to have any signal dropouts, and the Monster M1000HD has never given me any trouble. It also has a lifetime performance guarantee, so if a new format comes out that they cable won't handle -- 4K in 3D at 60 Hertz perhaps -- they will swap it out for a new cable that will.

Audio Technica Premium XLR balanced audio cables
Seven of these 3-footers connect my AV8801 pre-pro to my MM-8807 amplifier. Balanced XLR cables offer a better connection and are more resistant to any line noise.
Salamander Synergy Quad Audio/Video rack
As you can see, I have a ton of gear. And all of it needs to go somewhere. And preferably in something that looks nice since it is the focal point of our family room. The Synergy is nice looking, has space for all of the gear, plus I configured it for an area for my Mythos 10 center channel. Also important, it is easy to work on when I add something new or need to rewire something. I have it sitting on slider pads so I can easily move it away from the wall for cleaning or wiring or the twice-yearly cable rip-out and replace that seems necessary. The perf metal front doors also offer some breathability for the gear, saving me from needing any forced ventilation.
Categories: April 2013, Electronics, Reviews
/