Shopping Cart
Your Cart is Empty
There was an error with PayPal
Click here to try again
Thank you for your business!
You should be receiving an order confirmation from Paypal shortly.
Exit Shopping Cart
Features, Reviews and a Blog by John Sciacca
| | |
| --- | --- |
| Posted on April 22, 2013 at 5:55 PM | |
You may recall that exactly a year ago yesterday I posted my drinking notes on Dogfish Head's 120 Minute IPA. My summary was that it was – clears throat – "Like drinking a hammer."
Dennis Burger also provided that review with some wonderful color commentary in the form of this quote re: the 120, "It's way too hardcore for me. Remember my raped-by-a-pine-tree metaphor? 120 Minute is like being gang-banged by the entirety of Plumas National Forest!" (In case you can't tell, he actually meant that as a BAD thing...)

Anyhow, I was generously gifted a 4-pack of this hard-to-come-by ale from GoldenEar Technology founder, Sandy Gross and his companion, Anne Conaway.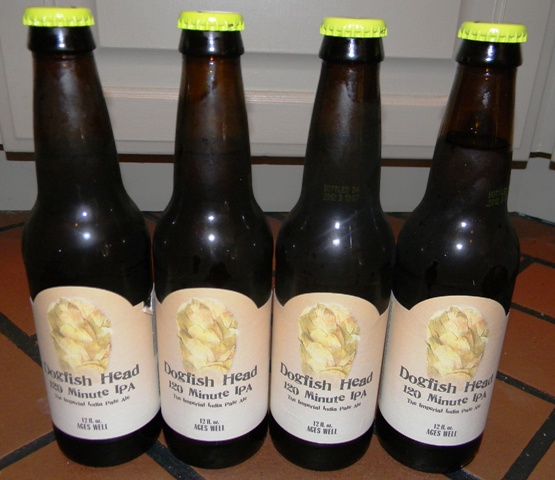 They were readers of the blog and knew I enjoyed rare IPAs and sent me some to try. Since the beer's description says, "Grab a few bottles – some to enjoy and some to age for a decade or so," I thought I would do just that.
And for the past year, I've had two bottles of 120 just hanging out in the back of my fridge. Waiting. I figured I would save them for The Masters and kind of make it a Sunday tradition thing. You have your Green Jacket, I've got my bottle of DFH 120. How will it hold up a year later? Will it have matured and tempered? Will it be even more randy than ever? Only one way to find out. Let's taste…
Hop Variety: Unlisted
ABV: 15 - 20% IBU: 120+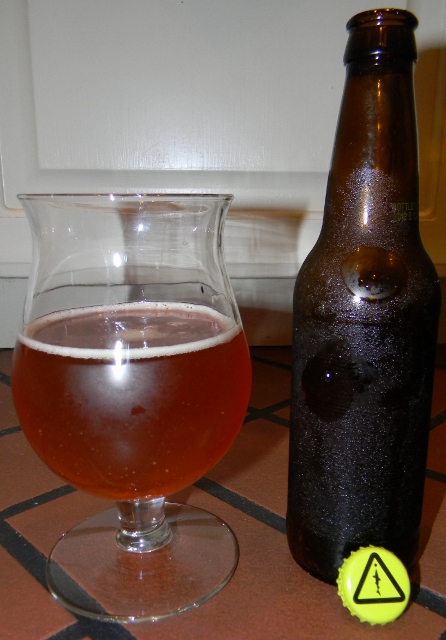 Description: "Too extreme to be called beer? 120 Minute IPA is brewed to a colossal 45-degree plato, boiled for a full two hours while being continuously hopped with high-alpha American hops, then dry-hopped daily in the fermenter for a month and aged for another month on whole-leaf hops! Clocking in at 15-20% ABV and 120 IBUs, 120 Minute is by far the biggest IPA ever brewed! It's easy to see why we call this beer THE HOLY GRAIL for hopheads! We brew 120 Minute IPA a few times a year, but it goes fast. If you find some grab a few bottles -- some to enjoy and some to age for a decade or so."
Over the past 12 months, the label has long since vanished from the bottle, but the distinctive cap stands out as a stark reminder that this IS the 120. I pulled the bottle and gave it a nice 15 minutes of relaxing time on the counter before popping the cap and easing the hearty brew into my tulip. It pours a thick, viscous honey-golden-brown color with a bit of head that quickly reduces to a swirl of froth that looks like a distant cluster of galaxies viewed through the Hubble telescope. Smell is filled with the sweetness of alcohol and spiciness of many-a hops. I carried it over to the couch and held it for a bit; contemplating the smells that immediately brought me back to my first encounter with the 120. Finally, there could be no more waiting. It was time to sack-up and drink. First sip and it immediately lights of the tip of your tongue and then burns its way slowly to the back of the mouth. The beer is cold, but it travels with a liquid heat, leaving behind a molten trail in its wake. It's like a monster slashing tee-shot from Angel Cabrera that explodes off the club face, and then bounds down the fairway. The swallow has a flash of sweet and then a lengthy finish with kind of burnt toffee and caramel notes. My first impression is that a year in the fridge has taken a bit of the bark out of the 120's bite. It certainly still retains the bigness of the flavor, but the intensity of the burn and the harshness of the alcohol seems abated from what I remember. Second sip, and the flavors seem a bit bigger now, as the big fella gets a little time in the glass to open up and stretch his legs. He's been cooped up in a 12-ounce bottle, chillaxing in the fridge for a year, and it's nice to warm up and explore the world. It's still not a beer you plow through, but rather one you savor and respect, but it isn't as intimidating and off-putting as I remember it from a year ago. The beer has so much flavor going on, I find myself holding it in my mouth for several seconds. Letting the beer wash around and taking in all of the different flavors and notes. Also, following a drink you are content to just wait for several moments, absorbing the previous sip and taking in the long finish and the lingering flavors. Like enjoying that long walk up the fairway to the green, as the gallery steadily applauds you on a terrific, brazen approach. I previously described the 120 to drinking a cognac (well, and a hammer), and I think that still holds true. This is an evening beer; one you pour and slowly savor, not minding if it warms up a bit in the glass. Two-thirds of the way into this glass, I can say that a year of aging has definitely taking the whiskey burn edge off the 120, making it no less flavorful or potent, but making it far more enjoyable. It's still a huge beer, and the 18% ABV is still definitely present, but its more approachable and less standoffish. I'm now at the hour point of drinking and have about two sips left in the glass, and the beer is at its smoothest and most drinkable. It has certainly helped that there has been some great golf on TV to go along with it. The alcohol is still there, but the swallow is just rich and warming, and sticky and gooey with all the hops. Last sip and it's clear this beer has matured with some time. It still isn't my ideal IPA, with sweetness that is too alcohol-filled and none of the fresh, hoppy bitterness that I love. But, it's a big beer and I look forward to next year's Masters where I will finish the final bottle of my original 4-pack…
Categories: April 2013, Beer/Liquor/Wine, Reviews
/