Shopping Cart
Your Cart is Empty
There was an error with PayPal
Click here to try again
Thank you for your business!
You should be receiving an order confirmation from Paypal shortly.
Exit Shopping Cart
Features, Reviews and a Blog by John Sciacca
| | |
| --- | --- |
| Posted on April 15, 2010 at 12:23 PM | |
Well, I'm back on a plane heading home from my quick – not even 24 hour – stay in Fort Lauderdale. Once again inexplicably upgraded to one of the comfortable, big seats at the front of the plane, enjoying a pre-flight coffee that would be a tired, brown brew anywhere else but is somehow magically delicious when enjoyed in seat 2D. (Actually, with my railing against 3D, I couldn't be in a more apropos seat! 2D, get it?! Actually I will level one criticism about the first class area; the way that the bathroom is tucked into the curving fuselage of the plane, using the toilet is really optimized for a woman or jockey. Those exceeding 6-feet in height will have to adopt a three-quarter height half-stand half-crouch that just invites disaster at every turn.)
Sometimes it is *great* being a member of the audio/video press corps, and I thought I'd share my experiences from the past 20 hours with you. First, the Trump International hotel was absolutely fantastic. When I arrived at just after noon, my room wasn't ready yet, so I'm basically left with standing in the lobby, toting my backpack and wearing my sports coat in Floridian weather wondering what to do until my room is ready "sometime before 4." So, I venture out to survey the ocean and pool areas, but it was incredibly windy, and again, when you are conspicuously walking the beach and pool area with a full backpack and sports coat, you are garnering your share of looks. And none of the looks are saying, "Hey, look at that *cool guy*!" So, I return to the lobby to get some work down on my faithful laptop, but I discover that you can't to log onto the Internet without being a checked-in guest of the hotel. (OK, seriously. What is it with expensive hotels and their Internet policies? If you stay at the no-tell Motel, you'll have screaming high-speed access for free. Stay at the Trump and they want $10 a day for "slow" 750kbps speed and $15 a day for 1.5 speed. And if you are expecting a free breakfast buffet at the Trump, then might I suggest that you would be more comfortable down the road at the Hampton Inn or Marriott Courtyard?)
So after waiting an hour I talked to the girl at the check-in desk and told her that I *really* needed to get on the Internet, so she bumped me to a junior suite on the 24th floor. Super nice room with a terrific view of the ocean. Tech wise it was a little lean, featuring just a single Philips 42-inch LCD and an old-school Sony clock radio alarm that rebuffed all of my iPod's advances for mating. (I believe I've been tech-spoiled by the Mandalay Bay, which features multiple flat panel sets, iPod docking, cordless phones, etc.)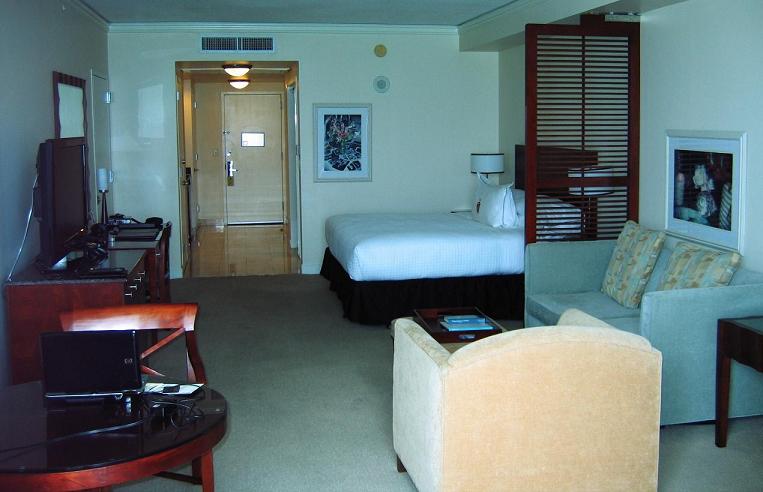 I am sensing that some people out there might be bemoaning Runco "putting me up" in such a hoity-toity place, obviously explaining why their displays are soooo expensive. To you I say, "Shut up!" followed by "And suck it!" Actually, Runco was at this hotel as part of an event being held for HTSA (Home Theater Specialists of America) members, and since their product weighs just shy of 600 pounds and isn't something you just toss in the back of a cab and porty on over to the next spot, it made a lot of sense to have press stay on site.
My Runco meeting was scheduled for 3:30, so I had some time to kill which I did by changing into shorts and sitting on my balcony hundreds of feet up enjoying the ocean sounds, Florida sunshine and surfing the Web, you know, just how God intended you to enjoy nature.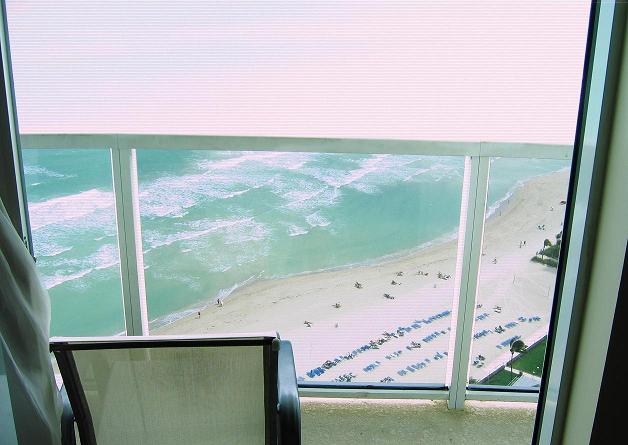 So I dressed and headed down to my meeting with Runco and I must say that the WindowWall product is *super* cool. I won't go too much into it here because I've done a real (read "assigned" and "paid") post for my Jeremy G over at Resi. (Here's the link to that post.) In short, WindowWall is a means for combining a bunch of 46-inch LCD panels with ultra-thin (.14 inch) bezels together with processing to watch a variety of different image combinations. The system on display was a 3 x 3 array, meaning 9 panels total with a diagonal screen size of about 135-inches. (It was odd to me that Runco is using LCD panels with 1366 x 768 resolution, something I didn't find out until it was too late to ask. I'm wondering if maybe they didn't have the overall processing horsepower to handle 9 panels running full 1920 x 1080...?) If you find yourself with a giant wall to fill, and a spare $100 grand, I'd definitely consider getting one.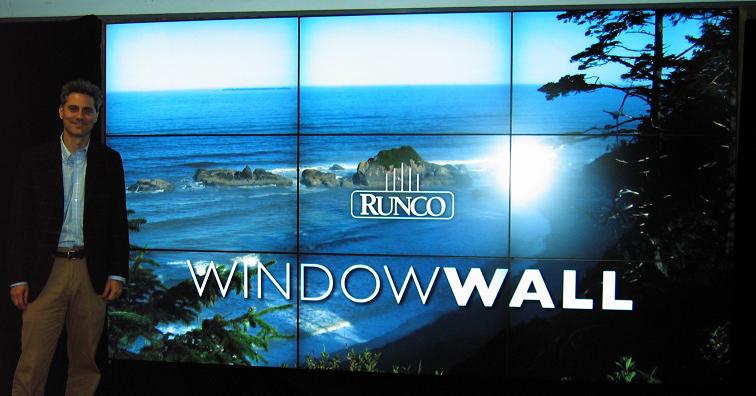 Very cool is that any one of the panels can display a different image. Like to multitask while watching 4 different sports events? WindoWall it up, baby!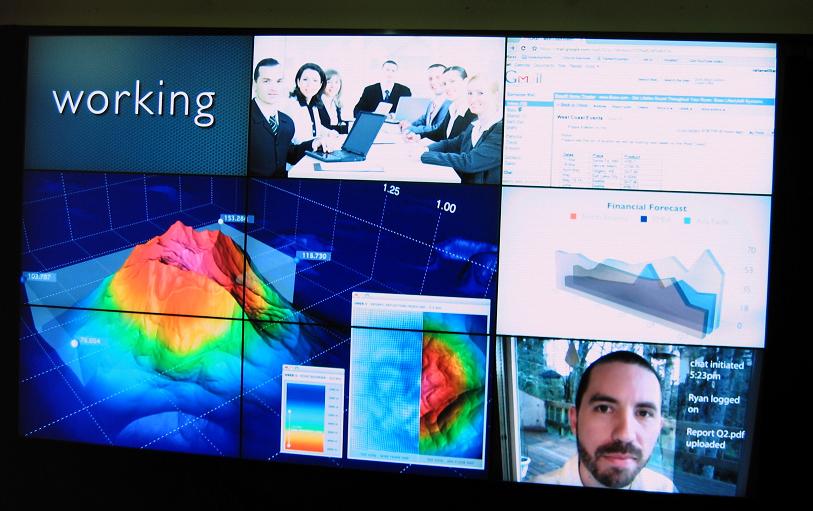 My Runco liaison was their marketing manager, Pippa Edelen, and while I have the feeling that I have definitely met/talked with her before (the entire A/V press corps is an incredibly incestuous world, where everyone knows everyone and all travels in the same tightly clustered groups) I can't really remember. And any previous encounter would have been cursory at best, probably something like, "Hi. I'm John Sciacca with Sound and Vision." "Oh, hi. I'm Pippa with Runco." So, now you're up to speed on my previous, possible knowledge of Pippa.
Well, this time, I really got to know her and I must say, from my experience, the people that handle public relations for the A/V world are some of the coolest, most interesting people. We had dinner at a restaurant in the hotel where we were *literally* the only dinners for the entire evening. It is kind of unsettling just sitting there in this giant room, with staff milling about and looking at you to eagerly fill any need. I think our heavily accented waiter asked to take our order like 5 times before I'd even really opened my menu. ("Damn it, man! I can see you standing right there. How about I just tell you when I'm ready to order?") So, over a surprisingly weak Grey Goose martini (or maybe I've just gotten over-used to my surprising STRONG drinks...) and a giant, bone-in Ribeye, I discovered that Pippa loves sharks, hopes to go on a great white cage dive in Australia and has a tattoo of a shark on her calf that she got when she was 16. Turns out she also loves They Might Be Giants, Mad Men and Star Wars, owns a 65-inch Runco Plasma and was surprised to find herself rooting for Tiger to win The Masters. (Though we both agreed that he came off like a total douche in his post-tourney interview.)
Of course, I would have been derelict in my duties as cub reporter if I didn't ask her about 3D and Runco's take on it. Pippa says that Runco is, of course, very interested in bringing a 3D experience to the home, but that it will have to be the same high quality of experience that Runco is known for in their other products. They are definitely not looking for just another "me too" 3D solution, and she says that they feel that none of the 3D solutions currently being offered are anywhere near where they need to be. They feel that Avatar has established the bar for what 3D should and *needs* to be, and the home experience needs to match that standard. Since theatrical systems use a passive (non-active) polarized glasses, where the image is shuttered at the projecto, you can imagine what "mratching this theatrical experience" will likely require. (Pippa claims that shuttered glasses actually make her nauseous, and I have to admit that the longest I've worn a pair has been for a 10 minute demo, after which I'm pretty ready to ditch them and move on.) Of course, two other giant benefits of a system using passive glasses is that glasses would be FAR cheaper and would be compatible from system to system. This means that you could bring your glasses to my house to watch something and vice-versa as opposed to the active solutions which are all (so far at least) proprietary (Samsung glasses only work with Samsung sets, Panny with Panny, etc.) Pippa also volunteered that she's seen the Runco solution and that it is amazing (of course), but no mention of when it would come to market, or at what price point or what final form the tech would take. I did ask if previous projectors (not just Runco's but say any manufacturers) could be upgraded either with firmware or some kind of black-box ahead of the projector in the signal chain and she said no. Of course, she can only speak for Runco, but the techno-guts inside most units is so similar, that this is probably -- sadly -- true for all. To handle full resolution 3D, a projector needs to be able to run at 240-hertz refresh, and she says current models are only 120.
As a final note on this Tax Day, I'll say that during this trip I counted exactly ONE iPad out in the wild. Of course, the guy using it was also sitting in first class, and was cradling the tablet lovingly in his arms, Moses with the Commandments style, and couldn't stop talking about how great it was! iPad, you will be mine, you will be mine, you mine, all mine!
Categories: April 2010, TV, 3D TV
/