Shopping Cart
Your Cart is Empty
There was an error with PayPal
Click here to try again
Thank you for your business!
You should be receiving an order confirmation from Paypal shortly.
Exit Shopping Cart
Features, Reviews and a Blog by John Sciacca
| | |
| --- | --- |
| Posted on June 7, 2010 at 5:10 PM | |
The other night at my parent's house, I told Lauryn that she was getting so big and that I was sad because she wasn't my little, baby Lauryn anymore. And she looked at me with big eyes and shook her head and said, "It's OK, daddy. I'll always be your little baby Lauryn."
Then minutes later she broke my heart by saying those 3 words no parent ever wants to hear: "I…hate…chocolate."
I don't understand where I went wrong, but clearly I have failed her somewhere as a father. That she uses words like "yucky" and some kind of guttural, Klingon sounding throat noise when describing chocolate does not bode well for any future daddy-daughter hot fudge sundae outings.
So, after dinner – and refusing the chocolate dessert that my mom had – my dad offered to let Lauryn light some fireworks. So we go into the street and my dad lights some sparklers that Lauryn holds and waves and she is really having fun, and of course wants to do more. So after he retrieves some more, my dad holds Lauryn and I go to light a sparkler for her.
Now, a sparkler is the single most benign firework in the history of fireworks. They are the Gandhi of fireworks. Even in California, a state where fireworks are considered more illegal than drugs or firearms, sparklers are tolerated. You just can't get into any trouble with a sparkler. In fact, the only thing less fireworky than a sparkler would be the punk; that brown incense stick looking thing used to light other fireworks.
So, my dad hands me the pack of matches and I am trying to light Lauryn's sparkler. And trying and trying, and finally it lights. And immediately shoots a plasma beam of scalding green phosphor into my thumb and index finger. To try and help you visualize the level of pain, imagine that you are standing just a few feet from the 5 exhaust jets of a Saturn V rocket. And then, just when it has reached maximum,  earth's gravitational pull breaking levels of thrust, you casually stick your hand into the flame. And then hold it there for a long three count.

I would say that the pain was mind numbing, except that it was totally the exact opposite of mind numbing. Rather, it was mind *focusing* blocking out every other thought or rational action, just creating an express, laser beam route straight from the throbulating, searing pain shooting up from my thumb deep into my brain. This was a Tantric pain-gasm so intense that Sting would have looked on in jealous wonder and perhaps been inspired to write a comeback album and reunite The Police.

After I finished running around, jumping up and down and clutching my charred stump of a thumb, I went into the house to put some ice on it. The second I walked into the kitchen, my mom said, "Pee-yew! What is that awful smell?!"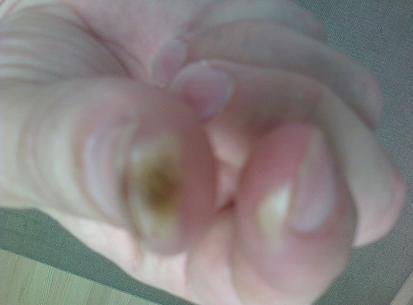 Oh, that? That nutty, roasty, woody kind of meaty, fried hair smell? I don't know....maybe it is the third degree scorched remnants of my THUMB!

/