Shopping Cart
Your Cart is Empty
There was an error with PayPal
Click here to try again
Thank you for your business!
You should be receiving an order confirmation from Paypal shortly.
Exit Shopping Cart
Features, Reviews and a Blog by John Sciacca
| | |
| --- | --- |
| Posted on June 24, 2010 at 5:41 PM | |
Despite every company carpet bombing you with their rigorous, "Hey, we care about your privacy. No, really! We do! We're not like all those other guys. We'd never sell your information to some spammer in the Far East for 15 cents. Nor will we use woefully out of date security to protect your Top Secret personal info. That's not how we roll."
So, despite ALL of those assurances, you routinely see things like "Google caught gathering info" or "Facebook makes it even harder to keep personal info personal" or, the classic, "Bank loses another million account holder's info."
Today I stumbled upon a Website (www.spokeo.com) that prides itself on capturing tidbits of personal info gleaned from all manner of on-line sources and social networks and then shares it all with the world. They'll give you a tantalizing glimpse into people's lives for free, but if you want to dig deeper, say get pictures (likely sordid where your head is Photoshopped onto a porn star), financial records or specific addresses, you'll have to pay. A whopping $2.95 a month for an entire year's worth of on-line peeping privileges.

So, I headed over to Spokeo and checked out what they had on me. Granted I am not a super private person, so this wouldn't be like tracking down J D Salinger or Bin Laden. (Click through some of my past blog posts and you'll find pictures of me and my family, discover that I like to watch movies, don't like other people's home cooking and that I cop to a totally natural, perfectly hetero appreciation of John Mayer.) Here's a rundown of what Spkeo shows on me: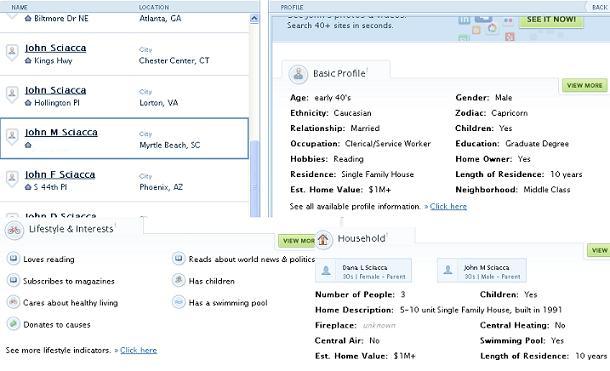 So, here's what they got right. Male: Check! Early 40s: WAY early, but, check. Caucasian, married, and children: Yes, yes, and yes. Here's where they were woefully wrong: My home is definitely NOT $1 Million + (though I'll be happy to entertain high 6-figure offers and I can be out by the end of the month), and it definitely has central heat and air. I'm not a Capricorn and not a Clerical/Service Worker. And, unless they're talking about my high school diploma, I'm significantly lacking a Graduate Degree. From a timeliness standpoint, they are totally on top of things, knowing that I now "Cares about healthy living."
All those forms you fill out. All those bubbles you check. All your personal biographical information that I am selling to MRS. GHAYTH FAIZA (hey, that iPad ain't buying itself, and besides, she won't be around long with that raging ass cancer). All of it is up for grabs to savvy/sleazy folks looking to make a dime. So, watch where you walk on the Net, because you're leaving big, muddy footprints on the white pile carpet of security.
Categories: June 2010, Computers
/