Shopping Cart
Your Cart is Empty
There was an error with PayPal
Click here to try again
Thank you for your business!
You should be receiving an order confirmation from Paypal shortly.
Exit Shopping Cart
Features, Reviews and a Blog by John Sciacca
| | |
| --- | --- |
| Posted on June 30, 2010 at 8:20 AM | |
A couple of weeks ago, Jeremy G forwarded me an e-mail of an invite he received to a Sony press junket. While I feigned happiness for him -- Wow! That's so great for you! Really! Just....great. For you. -- really I was seething with jealousy. While press trips are always kind of fun -- the nice hotel, the wining, the dining -- this one sounded especially great. So, I of course offered to go in his stead, but he declined, saying he'd gladly take the bullet on this one. (He's a right selfish bastard, I know.)
But, not a day later, I go an e-mail from S+V's Al Griffin saying he too received the invite but that he couldn't attend. (Oh, thank you, Al's family vacation!) Would I like to go in his place? Would I?! Would I!!! (I would.)
So, today finds me back on the road, zooming out to LA for a Sony press event. And, I must say, so far the trip is off to an auspicious start.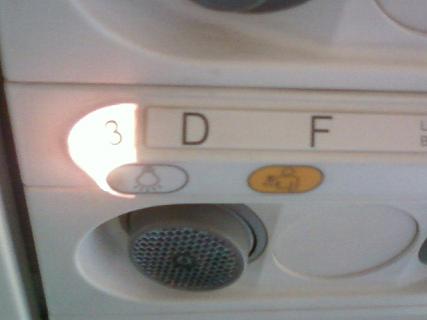 Though I must say, the flight from Myrtle to Charlotte takes all of 31 minutes. So, knowing that your next flight is over 5 hours long, enjoying first class for this little hop is really just kind of a tease. Similar to getting a little plastic taste spoon of some chunk-stuffed Ben & Jerry's and then being handed a giant heaping bowl of vanilla ice milk. Or, maybe more like getting a chauffer driven stretch limo ride down the street before you crumple into the back seat of a VW Bug. Knowing how plane travel is, when the first class lady came by with the little snack tray, I asked if I might take a couple of extra for the road. Understanding that a powerful businessman such as myself was not to take no for an answer, she said to help myself. Which I did. To an embarrassing amount of riches including two bags of chips, 4 bags of cranberry nut mix, 2 granola bars, etc. She kept saying, "Take more. Really. It's OK" to the point where even I started feeling like, no, really, it no longer was OK. I'm stocked for the day.
So, back to the trip... Here's the official invite from Sony's PR:
Sony would like to invite you to join us in Los Angeles, Calif., for a special preview of the 2010 ES Receiver and Blu-Ray Disc Product line and go-to-market strategy discussion. You are one of a select few journalists [WOO-HOO!] who will receive details of the new ES line prior to the official announcement.
After the session, we will move over to Sony Pictures Studios to experience an in-depth tour including the 3D technology center, digital authoring center, image works, and the post-production sound stages. The tour is designed to provide insight into Sony's deep 3D expertise that carries through from production to our home AV equipment.
So, totally awesome! I love in-depth, backstage tours. And checking out Sony Pictures and their 3D center? Sa-weet!
Also sweet? Our hotel. The SLS at Beverly Hills. I'll try and post of some pix of the hotel later. So, thanks for hte WiFi once again CLT, and safe travels to wherever this day takes you all.
Categories: June 2010
/