Shopping Cart
Your Cart is Empty
There was an error with PayPal
Click here to try again
Thank you for your business!
You should be receiving an order confirmation from Paypal shortly.
Exit Shopping Cart
Features, Reviews and a Blog by John Sciacca
| | |
| --- | --- |
| Posted on July 1, 2010 at 1:00 AM | |
This will be my last post for the month of June, and will complete a hat-trick of posts for today. As a bit of a disclaimer, I must say that I am  fully wined-up right now, enjoying a most pleasant red wine buzz from the fully open bar at tonight's dinner, and I am basically waiting for the next 25 minutes so I can on-line check-in for my US Air flight tomorrow. I am returning to SC on the red eye, and I desperately want to NOT be sitting in a cramped middle row seat. I can pre-board as of 10:30 PM PST, so I am trying to stay up until then. (Understand that it is 1:30 AM EST for me, and a bit out of my normal range....)
So, I'm just back from the Sony press dinner and it wasn't really anything like I was expecting. Usually press dinners are kind of formal sit down affairs, presided over by a PR person and detailing the following days events. This was outside and very free flow with a buffet kind of dinner and a bunch of random, kind of sit anywhere on couch type seating. The strip steak was delicious and I returned for seconds and thirds. (We don't often have red meat at home, so I have scratched that itch but good tonight.) Again, the SLS let me down on the desert category, offering tarts and fruit based dishes. Seriously, would it kill you to give your guests something that had cocoa (or the more exotic cacoa) as the main ingredient?
If you are any kind of follower of the A/V industry, then the people present tonight were all amongst the  Who's Who of the press corps. In attendance was Brent Butterworth, Julie Jacobsen, Geoff Morrison, Scott Wilkinson, Jeremy Glowacki, Rebecca Day, and Tom Norton amongst others. These names might hold zero meaning to you, but for those of us in the A/V press, these are most of the big names (probably the biggest missing would be Al Griffin, but I'm here in his place so bully for me!) and I always feel a bit like the kid at the grown-ups table to be included among them. Even after 8 years of doing this I still can't help feeling a bit of the industry outsider.
I spent the majority of the evening with Tom Norton and Jeremy G and enjoyed some good conversation. I asked/grilled (Dana will understand that borderline interrogation questioning technique that I have when I get my mental hooks into something that interests me, say, oh I don't know, an iPhone) Tom about some high-end receivers/processors that he's reviewed and tried to get a no BS answer about whether he could really hear a difference between a $2000 processor and a $20,000 one. Answer: yes, he could hear a difference, but different didn't always mean better. I offered this analogy, probably fueled by the several glasses of red wine. When I drove the Aston Martin, I could TOTALLY tell a difference. I didn't have to guess or nit pick about whether it was better. It was clearly, totally WAY better. High end audio should be THAT much better to justify the extravagant price difference. It shouldn't be that you are paying for milled aluminum this and small batch quantities of that and hand picked portions of the other. It should be the aural difference between sex with a condom and without.
On that little jewel of wisdom -- yes, I shared it with my group, and as I remember it, it got an appreciative laugh; men are so easy! -- I felt it was time for me to take my leave. So I asked the bartender if he could poor me a traveler to take back to my room. Good man poured me the traveler of travelers, a glass SO full that I could barely negotiate it through the elevator ride back to my floor. Here it is in all its magnificent glory. Sleep well and hopefully we'll all wake up headache free. Cheers!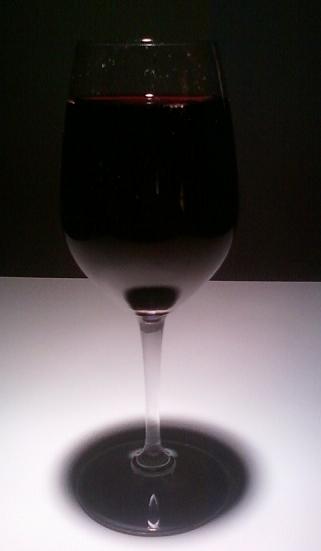 Categories: June 2010
/