Shopping Cart
Your Cart is Empty
There was an error with PayPal
Click here to try again
Thank you for your business!
You should be receiving an order confirmation from Paypal shortly.
Exit Shopping Cart
Features, Reviews and a Blog by John Sciacca
| | |
| --- | --- |
| Posted on March 6, 2014 at 10:15 AM | |
The Simpsons re-ran an earlier episode on piracy the night of the Oscars which perfectly articulated my blog. Enjoy quotes from the episode liberally sprinkled throughout!
Bart: "Homer, you don't need a theater to watch the movie. You just have to illegally download it."
Homer: "Illegally download it...? Is that legal?"
Bart: "Who knows. But it sure is easy. I'll walk you through…"
Homer: "Wow! That was easy! All I had to do was click on…" -- The Simpsons, "Steal This Episode"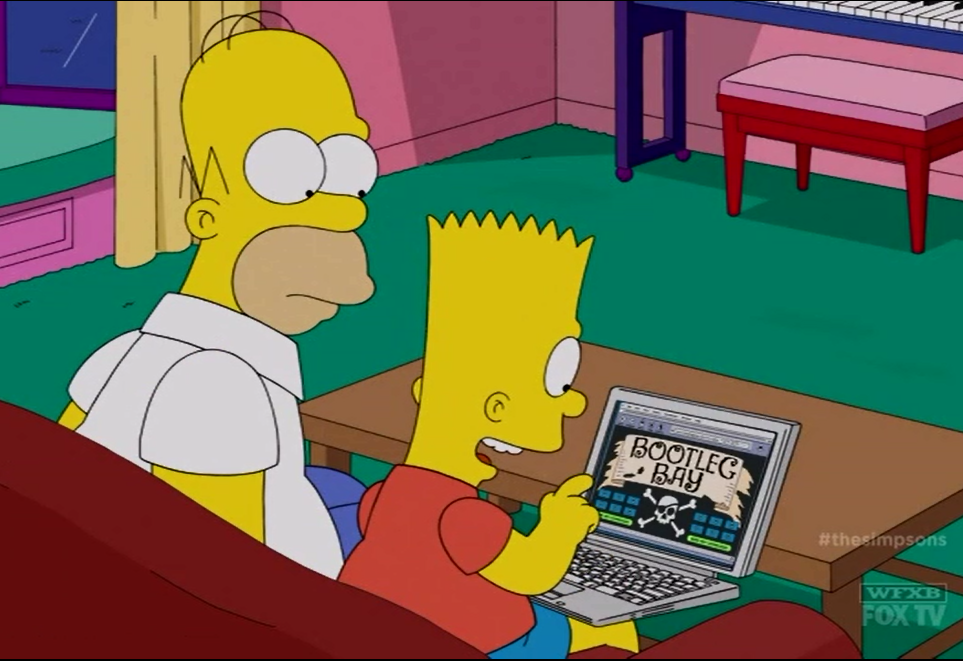 If you have a movie-loving bone in your body, then you know that the Academy Awards was broadcast this past Sunday night. Sure, I could take this space to talk about how fun and quirky Jennifer Lawrence is, or how much better Tina Fey would have been than Ellen, or that of the 86 films that have been awarded Best Picture, 62 have also been awarded Best Director (sorry, Gravity...). But instead I want to pose an interesting question… Do the Academy Awards actually encourage movie piracy?
It's a crazy proposition, I know, but hear me out…
Of the nine films up for best picture this year, only five of them were available for "legal" – buy or rent the disc, buy or rent the download via iTunes, Vudu, etc. – viewing. If you wanted to watch American Hustle, Her, Philomena or The Wolf of Wall Street prior to the Academy Awards, you had to turn to some form of questionably legal on-line Website with even more questionable picture and sound quality.
Homer: "Theaters? Ha! All I need to see this movie is a laptop and a website based in a country that is really just an offshore oil platform!"  -- The Simpsons
Like many people, I subscribe to Netflix (Blu-ray disc program, represent!) and I am more than happy to pay my monthly dues in exchange for watching movies in the best manner possible. I have a terrific home theater, with a 115-inch, 2.35 aspect screen and Panamorph DC-1 lens that looks stunning. And I made that investment because I enjoy movie watching and want it to be in the best quality possible.
The best movies and actors have the ability to connect with and impact us greatly, and when you've seen the nominated films, it's easy to feel a connection with them. I can remember a few years ago literally sitting on the edge of my seat and then jumping up and cheering when Robin Williams won for Best Actor for Good Will Hunting. I loved the film, I loved the writing, and I especially loved Williams' interpretation of Sean Maguire. But, more and more, the disc release dates are lagging, and when the movie is unavailable legally - and there is so much hype around an event like the Oscars where people want to watch the films before the awards – people are increasingly turning to on-line streaming pirated content.  
Many people who would blanch that the thought of stealing a pack of gum are more than happy to visit sites like Pirate Bay to find virtually any movie they might want. Because if it's readily available on the Internet and can be yours with just a couple of anonymous clicks, it's not really stealing to watch it, right? I mean, it's not like they are the ones that copied the work print or Academy screener…
Marge: "Your country doesn't think illegally downloading movies is wrong?"
Lisa: "The people of Sweden believe all movies should be shared freely."
Marge: "How is that not stealing?"
Categories: March 2014, Movies, Rants
/