Shopping Cart
Your Cart is Empty
There was an error with PayPal
Click here to try again
Thank you for your business!
You should be receiving an order confirmation from Paypal shortly.
Exit Shopping Cart
Features, Reviews and a Blog by John Sciacca
| | |
| --- | --- |
| Posted on July 5, 2010 at 5:32 PM | |
Remember a few weeks ago when I went shopping for a new digital camera? (The part where it tumbled out of the box and smashed onto the concrete floor at Sam's...) Well, I finally got a new camera; an upgraded Sony model (the DSC-HX55) which I broke in this past week at the Sony press event. (And, yes, they noticed it was a Sony. And, no, I don't think it got me one lick of extra-special attention.)
Well, like many things Sony, this camera uses kind of a bizarre, proprietary cable to get the pictures from the camera to my laptop. (Why? WHY?!) This irritation was compounded by the fact that I recently discovered that Lady Phone is able to Bluetooth pictures directly to my laptop, which is quite cool. When I'm out and about and see something that strikes my fancy, I snap a pic and then come home and just beam it to the computer. Handy-dandy, no fuss no muss.  So then I immediately started having buyer's remorse about my Sony. Wouldn't it be just SO much better if it had Bluetooth? Then I wouldn't have to tote that stupid extra cable around. So I searched for Bluetooth digital cameras and didn't actually find too many. (Some pro-looking SLRs to be sure, but nothing in the price and performance range I wanted.)
Then, lo and behold, I stumbled across something today. Now, this isn't really that new, but since it was new to me, it makes me think that it will also be new to many of you.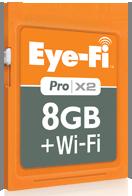 This memory card by Eye-Fi (www.eye-fi.com) is the awesome solution! Just pop it into your camera and it will transfer your photos to your computer or favorite Website via Wi-Fi! So awesome! When it gets in range of a Wi-Fi signal, it can start a beamin' so you never have to do anything! It also has a feature called Endless Memory that automatically deletes old photos to make room for new photos AFTER it has confirmed that your computer has successfully received the images. Very cool. The Pro version (shown) doesn't even require a Wi-Fi network to be present, but can create an Ad-hoc network between the camera and your laptop. Also cool is the Geotagging feature. The card ID's its location through surround Wi-Fi networks and then "tags" the photos, so you can always remember where you were when each photo was taken. No more, "I wish I could remember where I was when that guy said he'd kill me if he ever saw me again."
Eye-Fi works with any camera that supports SDHC memory cards. So if you shoot a lot of photos and hate being tethered by another cable, you might want to give Eye-Fi and Try-guy.

Categories: July 2010, Computers
/