Shopping Cart
Your Cart is Empty
There was an error with PayPal
Click here to try again
Thank you for your business!
You should be receiving an order confirmation from Paypal shortly.
Exit Shopping Cart
Features, Reviews and a Blog by John Sciacca
| | |
| --- | --- |
| Posted on July 8, 2010 at 4:14 PM | |
OK, as you know I ruthlessly monitor the traffic to my blog. Like I am watching in real time virtually every moment of the day. (During my off hours, I hire out a sweatshop in China for young, nimble fingered girls to keep up with those 1 or 2 random visits from Turkey or Afghanistan. I feel that them randomly refreshing my home page shouldn't cut too deeply into their stitching fake Nike and Gucci logos on random paraphernalia.)

So, when you tell me that you've read something, I pretty much already know. And when it turns out to not be true... Well, to quote Little Bill from Unforgiven, "Now them whores are going to tell different lies than you. And when their lies ain't the same as your lies... Well, I ain't gonna hurt no woman. But I'm gonna hurt you. And not gentle like before... but bad." Picture me kindly floating aloft on those Interwebs, looking down on all my readers, smiling and smiting with equal measure.
Lately, there has been one person that has gone above and beyond in their support. This person is the frickin' MVP of John Sciacca Writes. This person has gone back DEEP into the blog post archives to read nearly everything. This person *clearly* understands brilliance. This person is...well, I have no idea who this person is at all.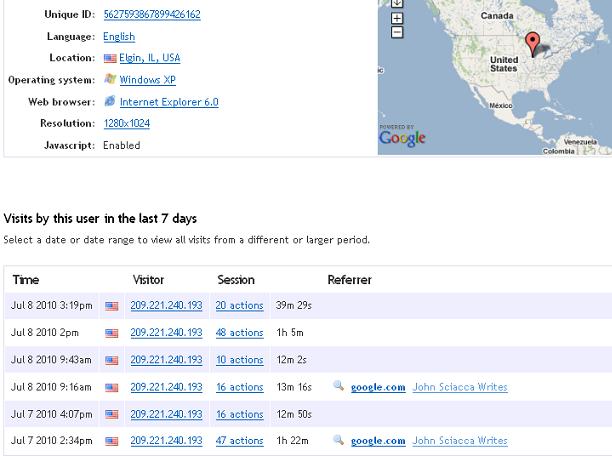 I don't know where Elgin, IL is. I wasn't even sure that they had Internet there. To my knowledge,  I don't know anyone that lives there. But I do know this: Whoever you are,  I already love you. And not in that weird, I need to keep explaining it John Mayer love kind of way. More in that totally unashamed iPad kind of way. I'm just hoping you don't love ME in that "I'm your number one fan!" Annie Wilkes kind of way; where you secretly hope you stumble across me after a car wreck so you can tie me to a bed in your remote Elgin basement and then whack off my feet with an axe. Cause, frankly, I don't think I'm quite ready to take our relationship to that level, and the loss of feet thing is going to seriously cut into my new bike riding regime. (Oh, that's right. I'm still riding.)

Thanks for reading, Elgin! Keep up the good GREAT work!  XOXO

Categories: July 2010
/