Shopping Cart
Your Cart is Empty
There was an error with PayPal
Click here to try again
Thank you for your business!
You should be receiving an order confirmation from Paypal shortly.
Exit Shopping Cart
Features, Reviews and a Blog by John Sciacca
| | |
| --- | --- |
| Posted on August 2, 2010 at 5:18 PM | |
Oh, HDMI… just when you promise that all of your problems are fixed and that we shouldn't have any more bizarre handshaking or copy-protection issues, there you are, lurking just below the surface to give me an unexpected bite on the HDM-Ass!
On the surface HDMI sounds like it would be the greatest thing ever, including sliced bread. (I've no doubt that somewhere out there exists a skilled HDMI artisan/High Plains Drifter/ninja warrior who could actually swing a cable in a manner of awesomeness that would indeed slice bread.) This single cable transports gobs of data (the technical term), and can carry high-definition video and audio and control signals. It also carries copy protection (HDCP) that prevents me from renting, say, The Last Airbender and pirating 100 copies (enough to more than satisfy the worldwide demand.)
Now, in theory, this is a good thing. Hollywood feels safe and comfortable in their copyright-protected digital cocoon, so they benevolently grant us (paid) access to a pristine digital copy of their film to enjoy at home. In theory...
In reality HDMI has been a nightmarish, technology-spiting succubus committed to destroying the lives and good names of custom installers everywhere. When it first came out, it had a working success rate that, if turned into a batting average, would have made even the Baltimore Orioles (currently rocking a 31 and 68 record) boot it off the squad. Beyond about 10 feet, you had a higher probability of stumbling across a cure for cancer on your next jaunt around the grocery store. And God help you if you turned your components on in the wrong sequence. What?!? You turned the TV on first? Are you mad?! Clearly you are trying to steal something. Black screen for you! What?!? You turned the TV on last? You must be some kind of international video pirate hell-bent on single-handedly bringing down Hollywood! Black screen! What?!? The TV isn't on AT ALL?! This is just madness! TURN OFF AUDIO IMMEDIATELY!!!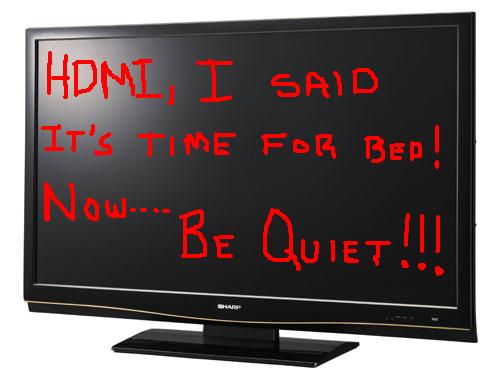 Story continues here....and only gets more interesting. Go ahead and click. I won't tell.....

Categories: Electronics, August 2010
/