Shopping Cart
Your Cart is Empty
There was an error with PayPal
Click here to try again
Thank you for your business!
You should be receiving an order confirmation from Paypal shortly.
Exit Shopping Cart
Features, Reviews and a Blog by John Sciacca
| | |
| --- | --- |
| Posted on August 3, 2010 at 11:26 AM | |
C4: You had me at iPad!
Just when I thought my yearning for iPad had reached max gross load, with no possible way of adding in even one more droplet of John-love – OK, I do kinda want the front and rear facing cameras for pictures and video chat, the iPhone 4's better-than-my-eye retina display, the USB port for all my US-Bees, and all the other stuff that his Steve-ness is just holding in reserve for the 2.0 Pad release -- I find a new way to fuel my unnatural affections for this glossy device in a little black dress.
Yesterday, I performed my first iPad for Control 4 app install. And, OH MAN is that thing sweet-ass-sweet as a controller. (Yes, I know that I've written about it as a controller before, but that was all mostly theoretical, in-the-lab stuff. Things I'd seen from the YouTubes and what had been ground out by the PR Machines. This, my friends, was actual in the wild, hands-on – MY hands on someone else's iPad, like making sweet and passionate love to his woman while he sits next to me on the couch, forced to watch as I delicately finger caress his Pad. "Oh, you like that, hmmm. Yes, I knew that you would...") The tablet is just shockingly perfect as a controller. Super fast, incredibly easy to hold/handle/use, and flip from one activity to another. Doesn't get hot and try to scorch my boys over long hours of "cuddling." It really is everything I knew it could be, and it has somehow made me want to be a better man…well, if not "better" at least to be the kind of man that owns an iPad and says things like, "I'll just download an app" and "Don't worry; I'll just grab an app" or, "Hell yeah, I know the answer to that. It's right here. On my iPad. Bitch."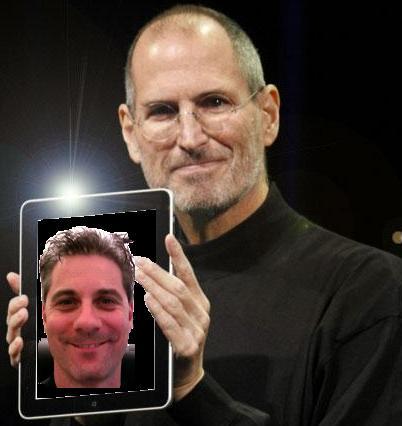 The install process required for transforming a regular, mostly awesome iPad into a Control 4 super-awesome iPad controller was also shockingly simple, though I did learn an important -- and giant time-saving -- lesson from my first go round. I had thought that the client would go to the iTunes store, buy the $99 app and then be issued a license key and then we'd skip off to iPad land together. Not so, young grasshopper! Turns out that the app downloads for free, then I have to place the order for the license from my C4 rep who then adds the license key to my account…a process that takes like 30-45 minutes. During which time the customer is sitting right next to me on the couch simultaneously looking at me like A) I don't think you know what you're doing and B) Are you checking your e-mail? and C) Why do you keep touching my iPad that way? It's making me feel awkward and uncomfortable.
So once the license magically pops up onto my account, I assign it to his account, refresh his log-in, press "license" on his iPad and, press "Update" and…..BAM! I've programmed an iPad for Control 4! (It really is about that simple...) The graphics are SO smoking hot. Especially since his previous GUI was a 92-inch, 4x3 old-school Sharp LCD projector banging out 720-Peezy in a super overly-lit room, with pixels so big and chunky it was like looking at James Edward Olmos' skin under an electron microscope. Compared to that, the iPad was so bright and sharp and cheery it was like walking into Wonka's Chocolate factory and stepping into a world of Pure Imagination.
So I've decided that we MUST add an iPad to our store's Control 4 system. It is the wave of the future even at the risk of it possibly trying to put me out of business. However, I've also decided that doing so will be the equivalent to posting a "GOOD NEWS! WE'VE DECIDED TO NEVER SELL ANOTHER CONTROL4 TOUCHPANEL AGAIN!" on our store's billboard. Since the C4 controller has:
1)    A way smaller screen – This is not a great selling point for any controller, or even a cell phone for that matter. Seriously, have you seen the size of the Droid X? That thing is a BEAST. If it were any bigger it would have to come with a back strap and its own power generator. So, while the C4 touchscreen is technically 7-inches versus the Pad's 9.4 inches, those extra 2.4 inches make the man and in reality the Pad *appears* like twice as big and 16 times as awesome.
2)    Lower Resolution - Because, really, when you are controlling something how much resolution do you need? Isn't good enough good enough? No? Yeah, I didn't think so either.
3)     Heavier and clunkier – Again, never a selling point for ANY kind of electronics device unless you are also planning on using it as a clubbing or bludgeoning weapon. In which case, I will choose the C4 touchscreen *every* time. Though, if you tried to hit me with the iPad, I would probably let you. And maybe even thank you.
4)    Less battery life – I'm not saying the C4 controller WON'T make it through an entire movie off the cradle, but I will say the iPad will make it on a trans-Atlantic flight. And show up looking clean and pressed and smelling good; stepping off the plane with a jaunty air, the hot stewardess' phone number in his contacts list and ready to control your world.
5)    Incredibly limited features – At the end of the day, the C4 controller is JUST a C4 controller and will never be anything BUT a C4 controller. If you take it with you away from your home, you just have a heavy, small screened clubbing weapon that probably won't have any battery life. The iPad is an iPad and does everything the iPad can do. Which is everything. How much wood could an iPad chuck if an iPad could chuck wood? None. It's still just an iPad you idiot.
6)    Higher cost – You might think that the one place the C4 controller would trounce the iPad like an over-sized adolescent bully giving the nerdy kid repeated swirlies in the junior high bathroom would be price. You might reason, "Sure it's cool, but it's an Apple so you know it's gonna be expensive." And it's exactly that kind of thinking that keeps his Steveness locked away in his hyperbaric chamber, wearing turtlenecks made from the skins of unbelievers, drinking1964 Chateau Margaux mixed with the blood and souls of overworked interns, only to emerge at the height of the black moon to say one single word to the masses. (Uhhh, I kind of lost my way there…sorry.) Back on topic. C4 remote: $1499. Entry level iPad: $499. With that extra thousand you can book a suite at the Ritz, buy a bottle of Dom and *really* get to know your new iPad. Or you could take that extra thou and buy some other really cool C4 stuff -- lighting, thermostats, door locks, IP cameras -- to control with your new iPad. Yeah, the second one.

Categories: August 2010, Electronics
/