Shopping Cart
Your Cart is Empty
There was an error with PayPal
Click here to try again
Thank you for your business!
You should be receiving an order confirmation from Paypal shortly.
Exit Shopping Cart
Features, Reviews and a Blog by John Sciacca
| | |
| --- | --- |
| Posted on November 5, 2016 at 9:25 PM | |
Previously our family did a Kit Kat battle with several Japanese flavoured bars sent courtesy of Chris Heinonen. (You can read that battle here.)

For those out of the candy loop and only familiar with the regular US wafer bar (along with the occasional White Chocolate version, the bastard of the candy bar world), it turns out there is a whole WORLD of bizarre flavored Kit Kats out there just waiting to be discovered. Unfortunately, unless you live in Japan, this discovering process can be a lot tougher to do. However the Australians and the British are also rocking some of the most awesome sounding KK's out there. Cookies and are-you-kidding-me Cream?! Tirami-frickin-su?! Royal Milk Tea?! If that doesn't make you want to shout, "God save the Queen!" while you mounding down some wafer deliciousness, then I think you may be dead inside.
So, when I saw that Cookie Dough Kit Kats were making their rounds in the UK, I started pestering my new best-good-PR friend, Shereen Russell. (I checked. That is actually the correct number of eee's.) My pestering was actually to try and get her to buy this bar, try it, then describe it to me in excruciatingly, tantalizing detail.
Instead she went me three better and sent me three UK edition bars to try! So huge love to Shereen (@ShereenWildwood) and her PR company Wildwood (@WildwoodPR)!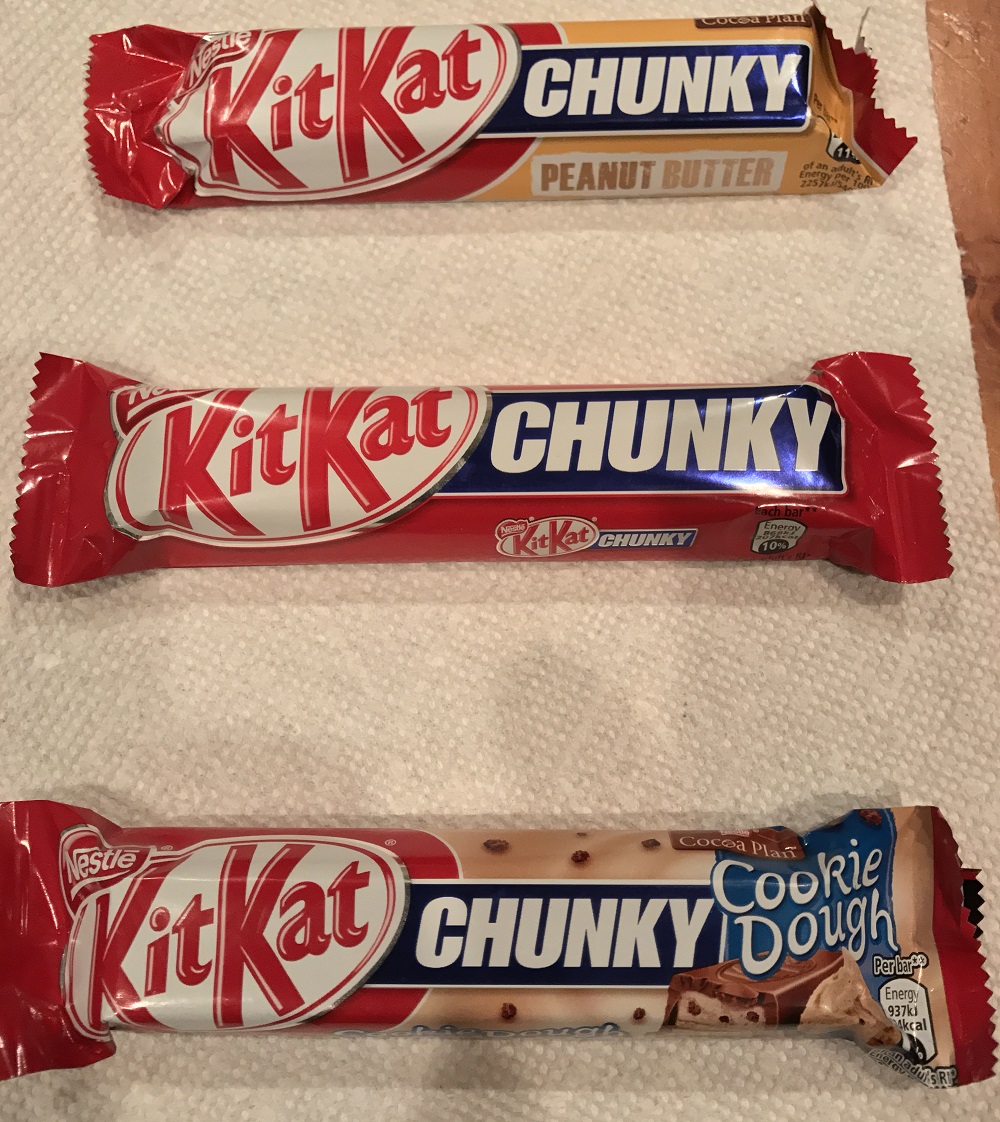 So, with three new exotic candy bars to try, bars that had traveled 3987 miles to get to our mouths, I gathered the family around the table for a second Kit Kat battle. Ready? FIGHT!
Kit Kat Chunky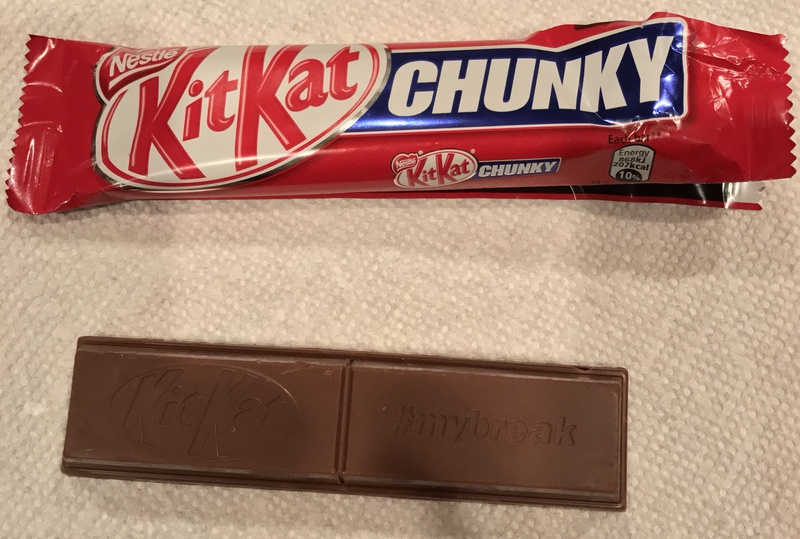 Immediately you notice that the UK bars are thicker, more like a traditional candy bar size/shape and less like the four-thin wafer bar we get in the US. We thought we'd start with Chunky as it seemed to be the most like our bar.
DANA: The chocolate tastes different from a regular Kit Kat. Like the thick chocolate around the outside. It's not as sweet, and I like it.
LAURYN: Oh! It has two pieces! That's great for sharing! It doesn't have the thin bars of chocolate in the middle like our Kit Kats. Overall it is very good and I like this bar.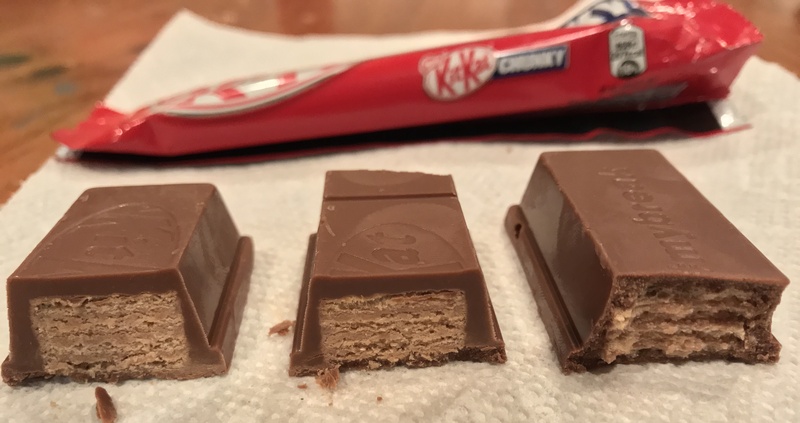 JOHN: As Lauryn noted, the cross-section reveals less clear wafers than we're used to. This tastes more like cocoa than the US version. Less waffier too. This is almost like a chocolate milk, creamy flavour. Definitely close to the US version, but with a UK spin. More restrained and refined. This bar shows pleasure and disgust with just the merest raise of an eyebrow. The texture of the bar is thick and crisp and I like that. There is a nice denseness to the bar on the upper teeth as they bite into it and it has a good mouth feel.
Kit Kat Peanut Butter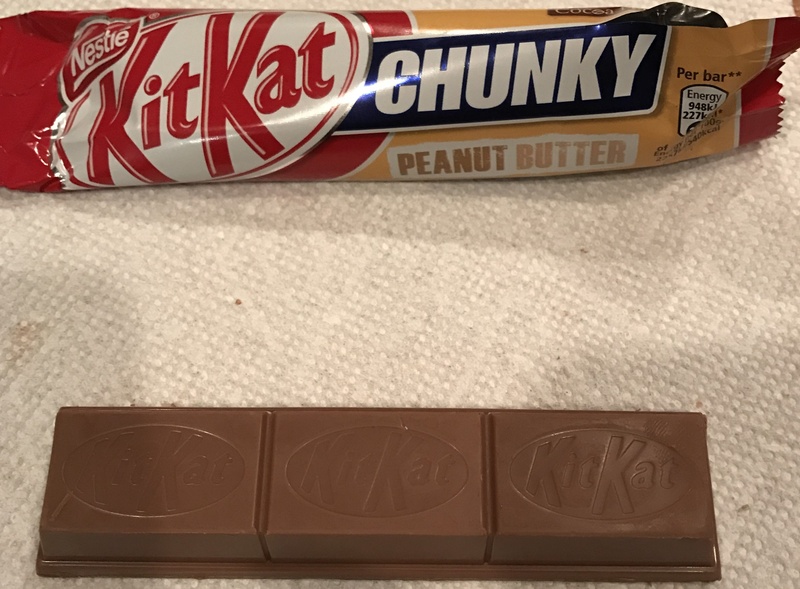 DANA: The peanut butter texture reminds me of the nutty texture of the peanut butter in a Reeses. If you love peanut butter, this probably isn't going to have enough peanut butter inside for you.
LAURYN: (It should be noted that Lauryn has a very European feeling towards peanut butter; she doesn't like it. Though, unlike Europeans, she doesn't like Nutella either. She pretty much isn't down with any nuts. So she didn't even want to try this. It was only after I said, "If you're in for the battle, you're in for the WHOLE battle!" that she agreed to try it at all.) Ugh. Already I hate peanut butter so I don't even want to try this. It's very nutty. This has the chocolate bars in the middle unlike the other one. Not my favorite Kit Kat ever. I give this a 3.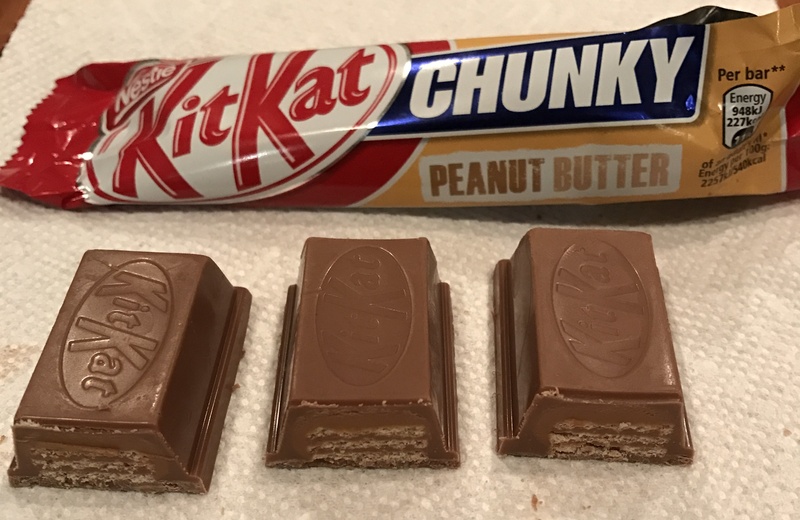 JOHN: Interestingly, the Peanut Butter bar is in three sections. Lauryn thought this was perfect as we would all now get an equal serving. Looking at the cross-section of the bar, there is just this thin, scrim of peanut butter paste on the top layer of the wafers. Definitely has a strong peanut butter aroma though. You would smell this and immediately know it had some kind of nut inside. Maybe not immediately recognizable as peanut butter, but nutty for sure. This bar is very soft on the top and your teeth just sink and melt into the chocolate peanut layer. There is a lot less crunch on this bar, having an overall very creamy mouth texture. I am actually getting plenty of peanut flavour and think this is a pretty solid peanut chocolate combo. Would have liked a little more wafer texture and density though.
Kit Kat Cookie Dough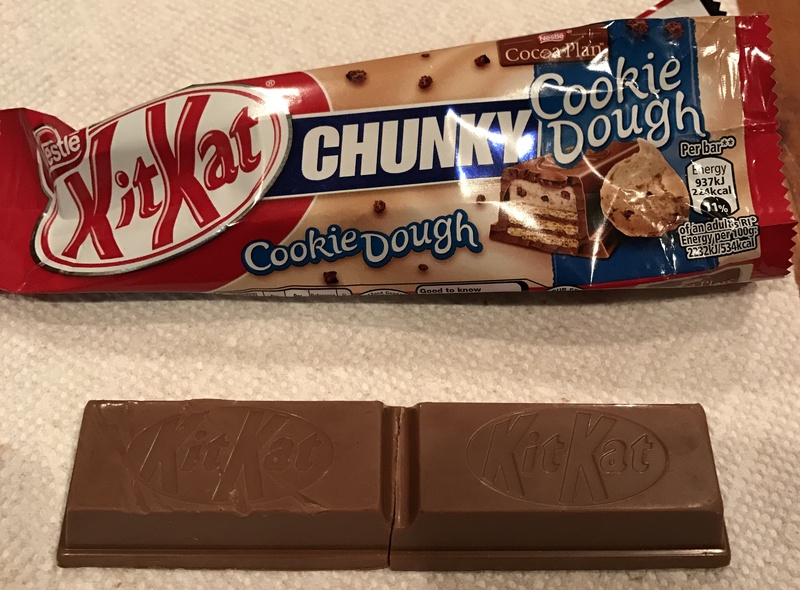 DANA: It's very sweet. I like cookie dough in ice cream but don't know about in a candy. It's really sweet. Not my favourite.
LAURYN: It smells weird but OH! This is so stinking good! I think this is the bar I've been waiting for! It's a really good Kit Kat! I wish it had a less amount of cookie dough, and more chocolate. On a scale of 1-10 I give this a 9.
JOHN: This is the Kit Kat I've been waiting to try. I love cookie dough, and when I saw this UK bar, I knew I had to try it. This is one of the unique international flavours that I've been craving (along with blueberry cheesecake!) In fact, to be honest, I really wanted to just eat this one entirely on my own. To hole up in a back room somewhere and slow enjoy my precious all by myself. Cross-section of the bar shows a huge top layer of cookie dough, like 2-3 times the amount of peanut butter. It has an unusual smell to it. Not really sure what the smell is, but kind of chemically sweet vanilla. I'm liking the flavor, though it tastes a bit more like Oreo filling than cookie dough. Though on the finish it is a bit batter-ey. This bar has a nice denseness to it; definitely better texture-wise than the Peanut Butter bar. Try as I might, though, I can't really pin any cookie dough flavours, but maybe more like cookies 'n cream flavour. But this is definitely my favourite of the three and I would certainly eat more of these given the chance. In the end, this isn't the cookie dough Kit Kat bar that I thought I wanted, but it is the cookie dough Kit Kat bar that I apparently needed.
/