Shopping Cart
Your Cart is Empty
There was an error with PayPal
Click here to try again
Thank you for your business!
You should be receiving an order confirmation from Paypal shortly.
Exit Shopping Cart
Features, Reviews and a Blog by John Sciacca
| | |
| --- | --- |
| Posted on August 11, 2010 at 1:59 PM | |
So, now that you know Darryl -- aka the Second Best A/V Editor – nearly as well as I do, I felt I would bring you along the rest of the way. To take you by the hand, as it were, and personally guide you over those final treacherous feet of spiky rocks and spewing liquid hot magma which is crucial to successfully completing your "getting to know Darryl" journey.
Uh, not really.
So, while Darryl and I were in the limo riding to New Hampshire, I was of course busily texting away on Lady Phone.  (And by "busily," I mean carefully punching in each key and judiciously monitoring Lady Phone's eerily inappropriate predictive typing to ensure I don't do something horribly awkward like sending the name of a lady part instead of a US state...) Now, normally, when I am in the presence of anyone more sophisticated than a 4th grade girl – and I'm not talking about an Asian 4th grade girl that carries around a Hello Kitty backpack and laughs demurely into her tiny little hand and actually determines the future of mobile computing and the cellulars -- it is safe to assume that Lady Phone will be the inferior phone in the room. And the accuracy of this assumption escalates stratospherically when in the presence of other tech journalists who often whip out any manner of – OK, who am I kidding, they are all using iPhones. I'm the only pink-phoned sad sack in the bunch. But, oddly, shockingly, when Darryl went to use his phone it was clearly advantage Sicacca (dammit!) I mean Sciacca. Because Darryl's phone was, in fact, NOT Darryl's phone. It was one of his wife's old cast-off Blackberrys. And Darryl didn't know how to use it. What he did know how to do was talk about the Droid X he had pre-ordered. Talk about it to the point that I started doubting my entire belief system. Was Steve Jobs, in fact, not the second coming? Could there be something better than the iPhone 4? Would an HTC Evo actually build me an island and transform into a f---ing jet and then fly me to the island? Would that island be flowing with wine and sweet-sweet wine?
During my totally manly, bros-chatting-with-bros e-mail exchanges, Darryl drops on me that he has finally received the Droid X. Now, Darryl is an experienced wordsmith; a journalist of the highest (well, second highest..) caliber who can craft a description that would make you wish that you were blind just so you could let him crawl into your brain and splatter words around your cerebral cortex Jackson Pollack style. Because of this, I'll not try and paraphrase or reword the brilliance which was Darryl's description of the Droid X. Instead, I'll just give you the exact quote and let you suckle at the teat of Darryl's prose.  
"I tried to send you a picture I took at Walmart today from my awesome Droid X phone. I'm still not totally sure how to use it, so it may not have gone through."
Tech-spert that he is, of course the picture came through; making AOL gag on all fricking 8 megs of it. And even though another bit of me died inside at seeing a  Blu-ray player reaching sub $80 pricing (and likely including a pack-in HDMI cable and coupon for free HDTV mounting bracket and installation) the quality of the giant image was impressing, and I saw a ray of hope here… Perhaps I could tap Darryl to guest blog about the new Droid X phone.  I offered Darryl my standard guest blogging fee: The promise that some of you would indeed read the story; few of you would sack-up the nerve to comment and that his commission would be valued at just slightly less than the Peso. More like a Peseta.
Here is the Guest Blog: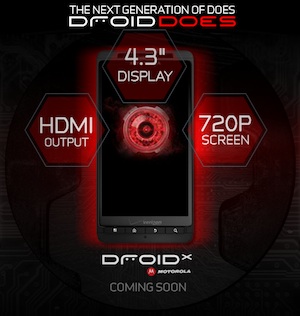 I don't know why Verizon offers another Android phone that's called the "Incredible" because the Droid X is abso-frickin'-lutely incredible. (Maybe they couldn't trademark that as a name.) Seriously, this is the first phone I've ever had that I didn't find six things I didn't like about it in the first 30 minutes. I've had it for something like two weeks now, and it continues to amaze me. In fact, my 10-year-old daughter finds cools things just playing around with it and shows them to me. Then I find some cool stuff and show it to her. It's a great relationship builder. The only thing it lacks that the iPhone4 has (other than a sh---y antenna) is the option of the Siri app. Now that Apple owns the company that came up with Siri, I doubt the bastards are going to be in any hurry to come up with an Android version of the app. Oh, yeah, and the Droid X is so cool, other people download its built-in ringtones to use on their phones.
Although there are fewer total Android apps than Apple apps, that just means there are fewer useless, time-consuming, brain-wasting ones – not to say that the Android platform doesn't have its share of those, though. I can't wait for Netflix to come up with a streaming app for Android. I may give up my 50-inch plasma… (Wait...what?! A 50? Your plasma is only a 50? Does it say Etch-a-sketch on the side?)

On a related note, I waltzed into the Apple store in St. Louis months ago and bought my iPad. They had it in stock and even set it up for me. The local Best Buy didn't have any there, either. (The only reason why I would have bought it from BB is to get the Reward Card points.) (OK! I was doing it for the points! You think I want to voluntarily put any more money into the Great Blue Satan's wallet?) Did I mention that I already have an iPad?
After reading your post about walking in on the customer in bra and panties, (that's just too big a tease not to give you the link....here it is!) I'm thinking about getting back into the custom install business. I forgot about all the "fringe" benefits.
Darryl
Darryl: Many thanks for taking the time out of your busy blackberry picking schedule! Your wit and wisdom are welcome here anytime!

Categories: August 2010, Electronics, Guest Blog
/