Shopping Cart
Your Cart is Empty
There was an error with PayPal
Click here to try again
Thank you for your business!
You should be receiving an order confirmation from Paypal shortly.
Exit Shopping Cart
Features, Reviews and a Blog by John Sciacca
| | |
| --- | --- |
| Posted on August 18, 2010 at 5:01 PM | |
We all have those clients that are That Guy. And you know who That Guy is. They're the ones that think that they are the ONLY clients that you have. That your entire company is teetering on the brink of extinction save for their singular largess of keeping you in business.
These are the people that expect you to just be sitting by the phone waiting for them to call when any need or whim arises. In fact, since you have a smart phone – you do have a smart phone don't you? – they expect you to essentially be near 24-hour standby ready-alert status, like an old SAC Bomber, just turning big lazy circles right outside Russian airspace.
Meet Mr. Money
So, I have a client like this that I'll call Mr. Money. Our relationship has been going on for over a year now, and it is fairly typical of any relationship with That Guy type customers. Essentially everything is rainbows and unicorns until something isn't. (Mind you, this is a GIANT reason why I left the golf business. Working six days-a-week at a mega-private club where EVERYBODY is in fact That Guy is a particular level of hell that I hope you'll never have to visit.)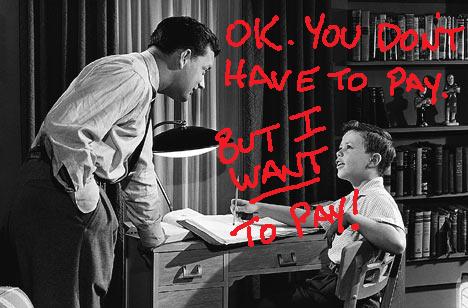 Mr. Money's e-mails are peppered with phrases like "overwhelmingly impressed" and "love your professionalism" after I tracked down a doctorate-thesis amount of information on something that he said he absolutely had to have – "money is not an object here." (Of course, when I told him that, yes, we could do it but that it is going to cost X to the power of 2. Then money became an object and "let's just back-burner that for now." Actually, back-burnering things is a special skill of Mr. Money now that I think about it.)
Our First Bump in the Road
I remember at one point I had to leave town for a few days for a family medical emergency. When I had to e-mail back that I would be unable to meet him, I got this terse message that maybe he needs to meet with another company that is better able to suit his schedule. (Yes, I realize how unprofessional it was to be out of town for an emergency angioplasty that got in the way of your totally unplanned spur-of-the-moment weekend trip to visit your project.)
Then once we finally nailed down all the particulars, I asked Mr. Money for a deposit. On large jobs, our company requests a fair percentage of the project to ensure that if something happens – client dies, goes bankrupt, decides to go on a year-long sailing trip around the world, whatever – that the amount of our butts left out in the breeze will be small enough to ensure that we can continue dealing with our other That Guys. But Mr. Money responds that he pays no one that kind of deposit. Then he hits me with the modern-day version of "Mine is bigger than yours!" He says, "I pay my bills. You can Google me." Now because Mr. Money's job did not in fact make our company – and because I am particularly sensitive and respond in an ass-like manner when confronted with such puffery – I responded that I have already Googled him. And that he is also welcome to Google me. (My name actually comes up WAY more often – how you like me now, Money?! Sadly, my Google entries don't say that I sold my company for $200+ million... )
"You want to CHARGE me that service call?"
This back story is all just an amusing set-up to the premise of this blog. (ARE YOU NOT ENTERTAINED?!?!)
To continue reading, follow this link down the rabbit hole to Residential Systems...
Categories: August 2010, CTA
/