Shopping Cart
Your Cart is Empty
There was an error with PayPal
Click here to try again
Thank you for your business!
You should be receiving an order confirmation from Paypal shortly.
Exit Shopping Cart
Features, Reviews and a Blog by John Sciacca
| | |
| --- | --- |
| Posted on August 20, 2010 at 5:40 PM | |
For nearly all of my adult life, I have been shackled to the Great American Burden which is…debt. I remember the day I turned 18, I applied for a credit card. (Side note: it *totally* helps when applying for credit cards if you have the exact name as your well-credit-established father.) I wanted to buy a Radar Detector. My dad was not interested in me buying a Radar Detector. So, I got a credit card. And I bought a Radar Detector. And the great wheel of consumer debt was set into motion…
I've always been good about keeping spending in check a tight reign on a Vader-like Force Choke on unnecessary spending. ("Good" is the term I choose to use. Others might choose words like "miserly," "old man Scrooge-like," or "tight-ass bastard." You say tomato, I say tomahto. ) But, since marrying Dana – totally unrelated to being in debt, I'm sure; just a crazy happenstance of coincidence – I have owed one institution or another.  
When we got married, I owed no one anything. Car: paid for. Housing: lived for free at the Country Club. Other bills: none. I was free and easy, navigating the treacherous debt-filled skies like a streamlined Stealth bomber flanked by a full sortie of EA-18 Growlers.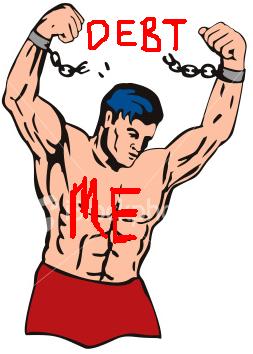 (Disclaimer: Ripped-ness of my body might not be accurately portrayed in the above image.)

Then the Scirocco caught on fire. So we had to buy a new car. And Pow! Just like that, Honda slapped me with a 48 month sentence. But, we needed a car right? (Did you notice the singular use of "a car"? Oh, that's right. For the first 4 years we were married we had A car. The routine was Dana dropped me off at the golf course about 6:45, she went to work, and then she picked me up at night about 6:30 PM. Day in and day out. Like Sisyphus. )
Then we moved to South Carolina and it was time to step up from condo living. And KA-POWWWW! Chase Mortgage hit me with the mother lode of debt punches in the form of a 30 year mortgage. ("And here is your amortized payment schedule showing all 360 payments…" "And this figure here? That's the national debt for just my reference?" "No. That's your total payments with interest." )

Then Dana got me a Rolex for our anniversary.
Then we redid our kitchen counters.

Then we – and by "we" I totally mean Dana – redid our pool deck. (I must say, I do love the way it turned out, however if up to me, I would still be getting splinters in my feet and bemoaning the horrible cracking concrete until the one day that it just eventually collapsed into the pool and then I just called it my big dumpin' hole. )
Then we – and by "we" this time I totally mean me – redid our home theater. (Best…purchase…ever!)
Then we had Lauryn, who came with her own sizable set of bills. (Thanks Cigna insurance for somehow finding a way to deny like $7500 in maternity bills!) And then needed to buy a car suitable for housing a Lauryn and all the Lauryn-related paraphernalia. So we bought the RAV4.
Well, no more! My last payment to Southeast Toyota Finance has cleared. As of right now, I sit here *totally* free-and-clear of debt! I'm like that 18 year old me! Right before buying the Radar Detector. Which ultimately went on to get stolen out of my car in front of my house in Berkeley. I don't care, dad! It was still worth it!

Categories: August 2010
/