Shopping Cart
Your Cart is Empty
There was an error with PayPal
Click here to try again
Thank you for your business!
You should be receiving an order confirmation from Paypal shortly.
Exit Shopping Cart
Features, Reviews and a Blog by John Sciacca
| | |
| --- | --- |
| Posted on August 29, 2010 at 8:28 PM | |
Usually when you see a concert, the opening act is just a step above a street performer. And often not even as entertaining as one of those robot-guy street performers that stands completely still until someone gives him some change and then he'll do some trick accompanied by a bzzzz-whirrrr-click sound. But occasionally, you'll stumble across an opening act that isn't chosen by the headliner to be SO bad that they'll look extra awesome by comparison. Sometimes the headliner picks an opener that can actually hype the crowd and put on a great show in their own right. And when I saw John Mayer back in February, that's what we got in the form of Michael Franti and Spearhead. (I guess that if you have to be a part of the spear, the head is as good as any. Besides, Michael Franti and Spearshaft doesn't have the same ring. Though Drive Shaft worked out OK for Charlie... )
If you recall, Dana had to bail on the Mayer show at the last minute, so I called a friend, Edmund, to take Dana's ticket as we were literally getting in the car to drive to Charleston. Edmund thanked us with a gift certificate to an all-you-can-gorge Brazilian steakhouse. And when he heard on the radio that Michael Franti was coming to the Myrtle Beach House of Blues, Edmund hooked us up with some tickets.
So, last night was the show, and it was a blast! Here's a picture of Edmund and I getting ready for the big time. Not pictured is the $9.75 Corona I purchased. Imagine a 24 ounce can of Corona priced like a 12-pack of Coronas and you'll have a pretty good idea of what you're missing.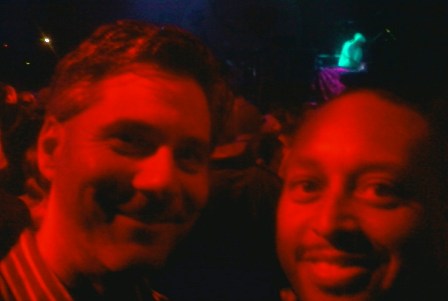 Michael Franti has tons of energy and a cool reggae style that isn't trying to cram Bob Marley, ganja smoking and Jah love down your throat – or more accurately ears --- the whole night. He's got a lot of lyrics like "We can bomb the world to pieces but we can't bomb the world to peace" and not a whole lot of rat-da-da-da-daddda-dat Reggae scatting. The show started out very Talking Heads "Stop Making Sense" style where Franti came out alone. He played for a bit, then a guitarist came out. Then a bongo player. Then a female singer. The slow build is a nice touch, allowing you to appreciate the growing instrumentation. (OK, that's pretty much where the Stop Making Sense similarity ends. Though, during the first break, they played "Naïve Melody" followed by "Genius of Love" by the Tom Tom Club which was either just an insane coincidence or the house DJ picking up on the SMS vibe. ) Also a nice touch was the break from the bassist who wasn't content to have his amp turned merely to 11 but sounded like he had his amp pumped to max which was then in turn connected to another amp also at max. It was so overdriven that every time he strummed a note you could feel your organs kind of shrink back and hear the speaker drivers actually apologizing to the cilia in your ears.
One thing about Michael Franti is that he is giantly, freakishly tall. Up on stage, he looks about 6-foot 10. Now, maybe he isn't actually that tall and he just surrounds himself with tiny performers, but I continually had this forced-perspective feeling like I was watching Gandalf the Grey up there jamming with Bilbo, Samswise and the gang. He also rocks like a size 15 foot and he seems to never wear shoes. He's also really cool about bringing people – especially kids – on stage and letting them dance and rock out with him. He had these two 4-5 year girls banging the cymbals in time with the music which was pretty sweet. (He also seems a bit of a chubby chaser in his selection of women that he helped hoist up to dance with him. Maybe that's a directive from his girlfriend; bring up as many girls as you want, as long as they're over 200 pounds.)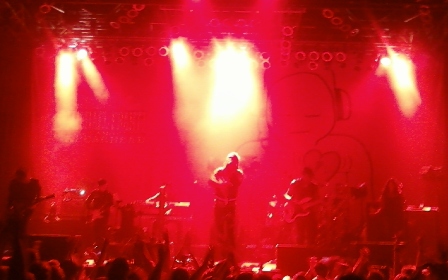 If you've ever been to the House of Blues, you'll know that it is General Admission and that it gets pretty packed down on the floor, and smells of weed and unnatural hey-hippie-you're-nature-body-stone-odor-fighter-ain't-cutting-it BO filled the air. Also, Edmund and I are just standing there with a few feet of open space in front of us when this woman and her boyfriend come and stand in front of us. Except the woman stands RIGHT in front of me. Like we are millimeters away from pee-pee to booty contact. Her hair was right in my face and it didn't smell all lilacs and rose fields. So, I take my $9.75 Corona and place it on her back and gently nudge her forward. "Excuse me?!" she turns around all outraged. "Yeah. Excuse me. I've been standing here. And I'm just not interested in you grinding up into my personal space." I don't think I've ever actually heard anyone "harumpf!" before, but, well, now I have. But she left. So, win. Also, if you've been to the House of Blues, you've likely missed out on this little bit of artwork near the men's bathroom that I have eloquently entitled "Gat to head." Yeah, it's pretty much a close up of one dude just capping another guy in the back of the head. Sadly, Lady Phone could not capture its total essence, subtle coloring and textural detail, but you get the salient points.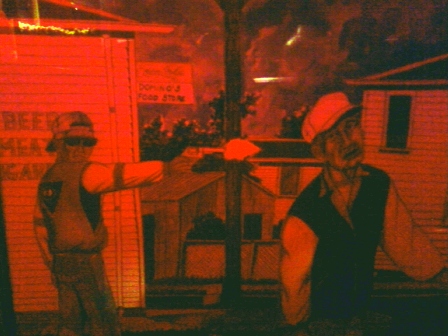 Michael played for close to 3 hours and we had a great time. If you get a chance to see Franti and his Spearhead, I definitely recommend it. Today, I Rhapsody'd all of his albums on my Sooloos server and then Pandora'd him. And, Michael, to answer the question you've been asking us all night – I'm feelin' great!
Categories: August 2010, Music
/