Shopping Cart
Your Cart is Empty
There was an error with PayPal
Click here to try again
Thank you for your business!
You should be receiving an order confirmation from Paypal shortly.
Exit Shopping Cart
Features, Reviews and a Blog by John Sciacca
| | |
| --- | --- |
| Posted on September 24, 2010 at 8:15 AM | |
I'm hoping that at least one of you faithful readers out there has been like, "Where's John?! My God, I hope he's OK! I'm starting to get the no new blog twitches!"
Wow! It has been a BUSY, action-packed couple of days here in Atlanta! After getting to bed after midnight last night, I'm actually up at 6 AM to shower, dress and write for a bit before resetting the clock and starting all over again! So, here's some highlights so far since the last post...
Wednesday is generally Press Day at CEDIA. Now, you might expect with a title like "Press Day" that there would be a variety of Press Day events going on. A press conference here, a product unveiling there. But no. This was the LAMEST Press Day I have ever attended in lo my many years of not being a journalist. There were a total of *three* press events. And there were crazy spaced out where you had several hours in between where the press corps kind of looked at each other and just randomly stumbled around waiting for a shepherd to tell us what to do now.
So the day started out with Dana and Lauryn accompanying me to the press room to check in before they were heading off for some fun-fun time at the aquarium. (In truth, I think Dana was just kind of zombie-following as there were veiled promises of press room coffee.) So I get to the press room and as I'm checking in, "The name is Sciacca. S...C...I..." a shout from the other side of the wall yells, "Don't let him in!" Darryl Wilkinson. (Darryl, if you want to stop showing up here, you need to stop being such a part of my life. That's that way it works, friend!) So, I introduced Dana to Darryl and afterwards Dana said, "Don't take this the wrong way, but Darryl is really handsome. Like Cary Grant. And not like how you think your grandfather looked like Cary Grant, but really like Cary Grant." Damn you, Wilkinson! Then, of course, Darryl had to chime in later that I really rented a nice family for myself, since there was no way that I could have a wife that was actually as good looking at Dana and that Lauryn didn't look anything like me.
At this show I'm doing some virtual "live" reporting for Jeremy at Resi. His team puts out a book every day called "The Daily" which honestly feels more like the Hourly as there are deadlines at 11 AM and 4 PM. So there has been a lot of sit in an event, scribble some mad notes, find what I can crib from the press release, type like my fingers are on fire, and then hustle back to their press room so I can file the story. So far I think I've turned in like 8 stories for them with 3 more today and then I'm free! I actually even did pull off the ultimate journalism move of calling in information from the field. I was just some green-screen shelling and one government toppling away from being the next Wolf Blitzer.
One of the girls on the team is Kirsten Nelson, who turns out to be a big fan of the blog, so I of course instantly thought that she was brilliant and clever and witty. Between her looks, personality and "I'm not really blind at all" glasses, imagine a combo between Tina Fey and Lisa Loeb; except more snarky than Fey and less guitarey than Loeb and way better able to cleverly work in phrases like "the Harvard comma" into her speech. I told Kirsten that she is the Daily's martyr, chaining herself to her chair – I have seriously not seen her leave it – and shouting phrases like, "I will NOT each that sandwich until I finish editing this page!" And "Seriously. I wasn't kidding. Get me some Starbucks!" And "I'm about to start a silent, sustained scream!" (Except throw some F-bombs in there to get a more accurate idea. And a Harvard comma reference.) I'm fully expecting her to have a massive case of deep vein thrombosis in her mostly non-functional legs by the show's end. Another girl on the team, Mary, is also very cool. I was lamenting the fact that I have been assigned to cover a press conference on antennas – AN-FRICKIN-TENNAS! – and how giga-boring that sounded. Then Mary had the ultimate quote. "This entire thing is nothing but antennas to me." (Turns out they thought I was joking about the whole how lame and boring antennas thing until they rechecked the schedule and saw that by an event about antennas I meant I had to cover an actual EVENT ABOUT ANTENNAS. Mary was willing to take the ultimate step-in-front-of-bullet for me by semi-volunteering to go to the antenna event for me. "I totally would. But I'm doing something else." They do say it is the thought that counts.)
Wednesday night I went to a Sharp press event where the fully stocked bar had Crown Royal Black label that I've been wanting to try. I asked the bartender what was different about Black and she said, "It's more expensiver." And damn if it wasn't! Now that I've had a taste of more expensiver, it is pretty much all I can think about. It went down smooth and easy like Sunday morning. Also went to a cool Meridian event at the aquarium where they had a diver in the giant whale shark cage holding a Meridian sign while those of us not breathing compressed air drank cocktails and ate.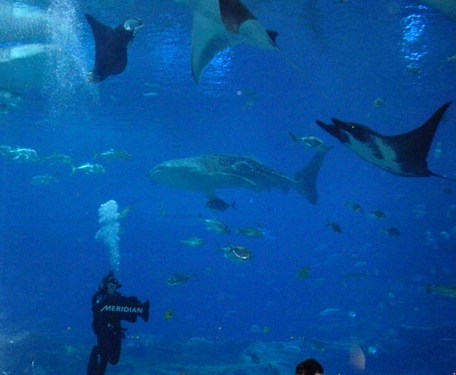 Of course, when it came time to live, my awesome orienteering skills kicked in and I started out on foot patrol TOTALLY headed in the wrong direction. Of course, Dana was on the phone telling me that, "Wait, you turned right? You needed to turn left!" But I was all, now, I'm using the part of the aquarium I can see from out hotel window as a point of reference, and I'm walking in the direction where our hotel has to be. So after like 30 very sweaty minutes of walking around lugging my backpack – and multiple panicked texts from Dana that didn't actually use but definitely implied that I was in imminent danger of being mugged and then made into someone's prison bitch – I decided to jump into a cab that *immediately* made a U-turn and headed back all the way that I'd walked to get right to my hotel in about 2 minutes and $8.
The show floor opened yesterday and that's really where I want to spend every minute. There is this one section of the floor where, if you had the Hubble telescope, you could actually see the entire length of the floor. Looking down this SUPER long hallway, I think I could actually see the Coriolis Effect of the earth curving and felt a little vertigo-ey like I was staring off into infinity.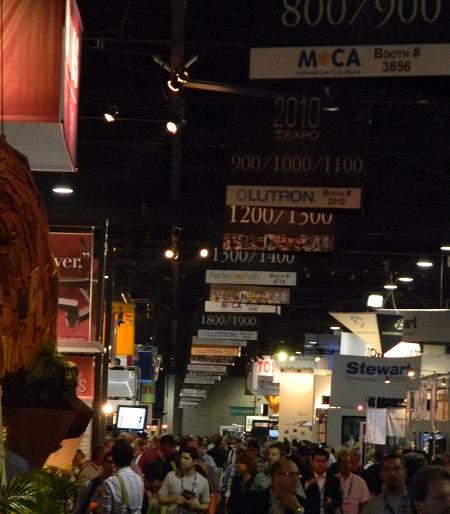 The Expo has a definitely upbeat vibe to it this year and feels crowded. I don't' know what the actual attendance numbers will say, but it *feels* more positive and the people that are here seem happy to be here instead of just carrying out the final twitches of the death throw which was shows in the recent wake of the economy. I ran into Ashley from Caster – and by "ran into" I mean we both showed up for our pre-scheduled appointment at the correct time and in the correct place – and she related how she ran into a group of guys on the floor – including Darryl W – and apparently the topic of Darryl and me having some kind of gay sexual tension between us came up. Darryl tried to say that it was entirely one-sided, but I assured her that it wasn't. Or gay. At all. (By an odd bit of scheduling and just the incestuous nature of the A/V press corps, Darryl and I are scheduled to attend EVERY dinner together, from Wednesday to Saturday. Who's gay now, Darryl?! Wait. That didn't come out right.)
Have run into several people so far that have commented on reading and loving my blog which is totally cool. And these are conversations that didn't even start with me saying, "Hey! Have you read my blog? Here. Read it. Right now." And multiple people have commented on the blog on the speaker manufacturer who shall not be named and have all totally taken my side. (I carefully skirted their booth yesterday. I care not what new products they have to offer.)
Well, it is 7:37 and now I'm off to my first event. When you hear the sound of a million voices suddenly crying out, don't be alarmed. It's just my feet continuing on in their not-so-silent service.
Categories: September 2010, CES/CEDIA
/