Shopping Cart
Your Cart is Empty
There was an error with PayPal
Click here to try again
Thank you for your business!
You should be receiving an order confirmation from Paypal shortly.
Exit Shopping Cart
Features, Reviews and a Blog by John Sciacca
| | |
| --- | --- |
| Posted on October 3, 2010 at 11:03 PM | |
If you recall, a few months ago I went new camera shopping at Sam's Club. After my first little "Whoops! Uh. Sorry!" of dropping the camera onto the concrete floor right in front of the saleswoman, (yeah; I did; read about it here) I ordered one on line and used it for a bit. It was a Sony, and it had great features: it was small, had a 3-inch LCD screen, 14 megapixel resolution, 10-times optical zoom, 720p HD video, took SD memory, etc. So I used the Sony for a bit (actually took it to the Sony event where they put us up in one of the best hotels EVER, the SLS Beverly Hills. Click here to see the Sony cam in action. OK, forget about the Sony camera. Click there to see the awesome $600 a night hotel. That pool is sick!) but then decided that it just wasn't fast enough. In low-light conditions – which are prevalent in press events and other things where I need to be using the camera – it would take just a few seconds shy of forever to focus, lock and take the picture. Not what I wanted.
So I took advantage of Sam's Club's incredibly generous "use our stuff for 90 days and then bring it back for a full refund! No! Really! You can!" return policy. So at like day 89, I took the cam back and got a new model. Look, I *really* want an SLR, but I'm just not ready yet to make the financial plunge and full being-an-SLR-guy commitment yet, so I went with just-looks-like-an-SLR Nikon Coolpix L110. This cam is only 12 MP but has a more powerful zoom, a better lens and – so far – seems much faster.
So I packed the new cam up and took it to CEDIA where I've been pretty impressed with it so far – though I certainly reserve my right to wait another 60 days before finalizing my decision and then possibly taking it back to Sam's if A) I can remember B) hang onto the box and packaging and receipt and C) something better comes along – but it is considerably larger than something that just easily slips into your pocket and I desperately need some kind of camera case instead of just lumping it into my backpack where it rattles around amidst a sea of laptop charger, USB cables, Flash drives, pens and semi-forgotten hard candies.
Hold thought....
Snap-cut to my car drive in to CEDIA where I see a few billboards extolling the virtues of crystal meth, but also a couple promising the delicious smoothness which is Crown Royal Black. Now, I'm a sucker for luxury products that add "Black" to their title. OK, well maybe just THE luxury Black product, the AmEx Black card. But since I'll never be in line for one of those – though I've asked Parisian super-fan Gary M, who is actually teaching English to workers of the Paris-branch of AmEx and who has discovered that Black Card membership requirements in Europe are considerably more relaxed, if he can garner me a Euro-invite, so of course I'll keep you posted if I suddenly go Black and can't come back – I can at least drink my way to blackness. Or blackitude. Previously that has been limited to random bottles of Smirnoff Black Label – a liquor that can only be found outside of the US and that has become a running "I'll bring you one, you bring me one" gift exchange between my brother and I as we grab a bottle for the other whenever we are in a position to grab some. So, Crown Black was implanted into my brain like a subliminal message virus; a steadily growing seed saying, "Hmm. You're gonna need to try that. Soon." So when I arrived at the Sharp press event and saw the well stocked open bar that included a bottle of up-front-and-center Crown Black, I knew that I was going to bypass my normal "Grey Goose martini with as many bleu cheese stuffed olives as you can cram into the glass" and go for the Black. So I asked the bartender what makes the Black better and she responded that it is "more expensive-er." (Technically Crown Royal describes it as "Crown Royal Black is extra bold in flavor, darker in color and known for legendary smoothness. The deeper oak background with dark yet sweet maple notes." ) So, I got a glass. And I loved it. And I drank it. And I shook the ice around and I sucked the last remnants of Black from them. Then I got another glass. And then I talked Darryl W into getting a glass. And then it was all I could think about. At other press events I asked the open bars if they had Crown Black. It was in my blood. It was working its Black magic on my liver, making it crave more of its smooth, oaky, alcoholey goodness.
So, when I got home, I headed to the local ABC. And I bought a bottle of Crown Black. And in that brief span of time between unpacking it and pouring my first smooth-smooth glass, I discovered that I didn't really buy a $35 bottle of Crown Royal Whiskey. What I REALLY bought was a new $35 black velvetey, draw-string camera bag that just happened to come with a free bottle of deliciousness! Now, if you'll excuse me, I'm going  to go and drink another two fingers of my camera bag.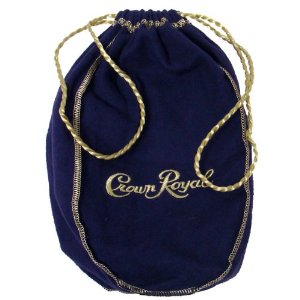 Categories: October 2010
/