Shopping Cart
Your Cart is Empty
There was an error with PayPal
Click here to try again
Thank you for your business!
You should be receiving an order confirmation from Paypal shortly.
Exit Shopping Cart
Features, Reviews and a Blog by John Sciacca
| | |
| --- | --- |
| Posted on October 17, 2010 at 11:56 AM | |
Right now I am watching Ratatouille on DVD with Lauryn. I *should* be watching this on Blu-ray, but I am temporarily sans working Blu laser. (This setback will hopefully be resolved next week. S+V reviewer Uber alles, Al Griffin, said he had an extra player that he could ship me.)
Actually, that isn't true. What I *should* be doing doesn't involve Ratatouille or TV at all. What I *should* be doing is being the first reviewer to be playing with enjoying fiercely evaluating the brand new Marantz NA7004 network audio player. After being rushed into the US from Japan (?), it should have arrived at the Marantz US PR office of DBA where they were going to immediately slap a "ship to John" label on it and then overnight it onward. I *should* have received my precious Saturday Fed-Ex delivery yesterday, unboxed it like a giddy school girl, marveled at its smoothened, couture edges, and then connected it to my Marantz processor. Right now instead of the umpteenth viewing of le rat, I *should* be streaming high-resolution FLAC files from my bedroom's hard drive. I *should* be entering my Pandora and Rhapsody account information and then be listening to all manner of new and even more depressing music. I *should* be entering its IP address into the iPad and exploring Web-based control and the new iTunes AirPlay feature.
But, I'm not doing any of these things. I'm watching Ratatouille. On 480P, non-high-res audio DVD. "Why, John? Why?!" you ask?
Because of the crack US Customs department.
For some reason, they have stopped my NA7004 shipment at the border and are now Guantanamo'ing it into confessing exactly why it is trying to immigrate its way into the US.
"State your business."
"Entertainment. I play all manner of digital music files and streaming Internet radio."
"So, you're here to steal our music, is that it? Is that what you're planning?"
"No. I just play whatever files somebody already has. WAV, MP3, WMA, AAC, FLAC… I don't ask where they came from, I just process them and serve them up."
"Don't ask, don't tell, is that how it is with you?"
"I'm just here to play music as good as I can. That's it."
"Drugs."
"What?"
"Drugs. Where do you keep the drugs?"
"Do I look like I'm full of drugs? You already cavity searched me, you know I'm just packed with silicon and power supplies."
"Yeah. A lot of power and wires and chips and processors. You know what that says to me?"
"Awesome music processing power?"
"No. IED. Improvised Explosive Device. So you know what I'm thinking?"
"That you're going insane?"
"Oh, you wish. I'm thinking you're some kinda new Al-Qaeda something."
"Al-whatta?"
"We know you're a terrorist. Here to infiltrate into people's homes, get on their Internets and then report back to your cell and then….POW! That's why we've stopped you. So, tell me, what's the plot."
"You don't like music do you?"
"Where were you on 9/11?"
"Getting ready for CEDIA?"
"Not this 9/11, the 9/11."
"I think I want my attorney now."
"Fine. We'll do it your way. Bring in JACK BAUER!"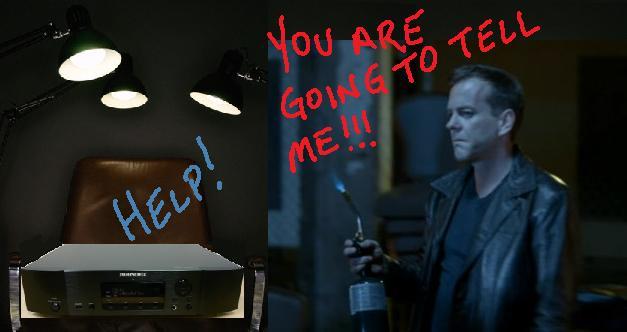 Categories: October 2010, Electronics
/