Shopping Cart
Your Cart is Empty
There was an error with PayPal
Click here to try again
Thank you for your business!
You should be receiving an order confirmation from Paypal shortly.
Exit Shopping Cart
Features, Reviews and a Blog by John Sciacca
| | |
| --- | --- |
| Posted on November 8, 2010 at 11:16 AM | |
Back in June, Dana and I saw Toy Story 3 in the theater. This was going to be Lauryn's commercial theater cotillion, but she was unsold on the whole 3D glasses experience. I believe her exact comments were, "No...no...noooooo!" followed by some crying and backing away like when we said, "Try on these glasses" what she heard was "Eat a giant spoon full of vegetables!" So, Lauryn loves Woody and Buzz and when it came out, we immediately snagged the Blu-ray.
So, my parents came up to visit this weekend, and they hadn't seen TS3 either so this seemed the perfect movie to share together. So after dinner (since this was their first time seeing our redone kitchen, which they also, umm, totally paid for, I prepared the lamb balsamico that we used to christen our kitchen) we all settled onto the couch to watch Toy Story 3. Dana with her vodka/berry drink. My mom with some 10 year old port. My dad and Lauryn with some popcorn. Me with some single-barrel Jack Deezey. So, right off the get go, we were already WAY ahead of the theatrical experience.
At the press of the "Watch Blu-ray / Projector" on my URC remote, my Lutron lights all dimmed to off, my projector turned on, my screen dropped and we left the living room and were transported to and immersed in the magical world of Disney trailers. ("Oh, daddy! That's the castle you want to take me to!" )  The bonus trailer here was a teaser for Cars 2 coming out next year, so YAY! Pixar, I just can't quit you! You say the word and I'm lacing up my purple Nikes and jogging out to meet you in Emeryville!
So here we are; my wife and daughter to my left, my parents to my right, me in the sweetest-of-sweet spots in the dead, Audyssey-calibrated center, watching a movie. And it was great. Lauryn was so into it, yelling for Buzz and Woody to be OK and rooting against Lotso.
And I have to say, while I found the movie to be emotional and moving in the theater, at home, it really hit me. Towards the end, I had tears streaming down my cheeks. I can't think of the last movie to affect me so. And this was a cartoon. Which just shows the incredible power of great storytelling. I'm sure that it was a combination of several things. Maybe it was the more intimate setting of my living room. The picture and sound were definitely better than the theater, sitting just 10 feet away from a 92-inch screen. And I wasn't fighting the "are my eyes going blurry?" 3D glasses-ness. Maybe it was the single-barrel JD. But more likely it was just a brilliantly written and crafted movie, and watching it at home, allows you to enjoy it on a deeper, more personal level. Without too much spoiling, the part near the end where they all link hands... Man. That's powerful stuff. And Spanish Buzz? Great. Just great. Honestly, every scene seems to be just...perfect. The Green Army men paratrooping away? "Our mission here is  completed." The totally Vader/Emperor allusion with Big Baby and Lotso? Brilliant. Pixar just nails everything.
My brother-in-law, Eric, had been deciding what to do with his old toys. And after he watched it, his comment after walking out of the theater was, "I'm glad I decided not to get rid of my toys." If you open yourself up to it, Toy Story 3 can have you ache for your childhood. I still have my stuffed animal, Henry. And watching Toy Story had me going back and remembering the times he and I shared. (We once traveled to Hawaii for two weeks with my grandmother...)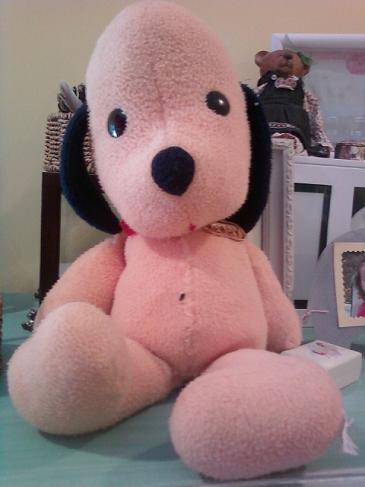 Henry, thanks for being there all these years! No attic trash bag for you, buddy!
We also happened to watch it on the day that Lauryn turned 4, so the combination of watching Andy grow up – little boy one minute, in his room, playing with toys and making up stories, then grown up and heading off to college the next – was especially poignant. She's not going to be my little, tiny, baby Lauryn forever.
I can't imagine that there is anyone that hasn't seen the Toy Story films – though, I wouldn't have imagined that there was anyone that still hadn't seen Star Wars, but Josephine proved me wrong there – but if you happen to be that person, rent them. Actually, scratch that. Buy them. All of them. Watching it was even better the second time around, and the ending even more perfect. Here's to hoping we get another installment. To infinity and beyond...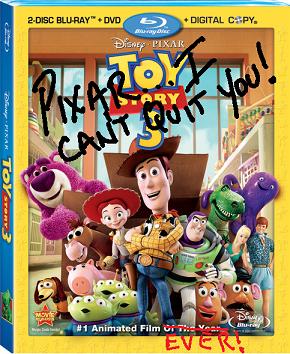 Categories: November 2010, Movies
/