Shopping Cart
Your Cart is Empty
There was an error with PayPal
Click here to try again
Thank you for your business!
You should be receiving an order confirmation from Paypal shortly.
Exit Shopping Cart
Features, Reviews and a Blog by John Sciacca
| | |
| --- | --- |
| Posted on November 22, 2010 at 5:42 PM | |
The phones at our store seem to have two modes: constant, incessant, line one-two tag-team ringing where both lines compete for the title of "First to make John go insane!" and dead silent. To keep the insanity at bay for as long as possible, I let our salesperson grab the phone and handle any calls that don't require John-level attention. But there are certain keywords that come up in a conversation that trigger me into action and that get immediately routed up the importance tree straight to Priority Level Alpha John. For instance when that select cadre of builders calls and mentions a new project. Or when one of our "whale" clients is on the line. Or if the words "Kaleidescape" or "Runco" are mentioned.
But the bullet-train to getting my attention? When someone says they have been robbed and that they need me to meet with police to go over the recording on the DVR we installed.
We installed a six-camera and DVR system at an ocean-front condo high-rise back in March. The building's property management association were interested in seeing the cars driving in and out of the building, people coming into the lobby, and people getting onto the elevator. Accordingly, we installed a DVR with a one-Terabyte hard drive, an LCD TV for local monitoring and a UPS battery backup to ensure that the system would run reliably. The install went smoothly, we went back and demonstrated how the system worked and adjusted the cams for them, collected the check, and rode off into the sunset.
But after a car was broken into in the parking lot – and someone living in the unit narrowed it down to around 3:30 AM – the condo management called for us to help out. So I pulled my notes on exporting the video file for the police, grabbed a spare 1GB USB stick and made the 45-minute drive to help McGruff take a bite out of crime. And the whole time I'm thinking that we would be golden in helping them see who came into the building at that time.
When I arrive, the building super and police detective are both sitting there in front of the DVR ready for me to get all CSI for them. I log into the Admin screen, and start going back through the recording logs and notice…nothing is there. Like nothing. Appears that the unit has not been recording since JULY! (Reminder: We are now in November. Which is clearly NOT July and, in fact, several months later than July.) My first thought was, "Oh ca-RAP!" but then I'm thinking, "Be cool, John. Don't let them see you panic." But, the more I searched, the more clear it became that the data just wasn't there. Like Keyser Soze, poof!, and it was gone. Panic!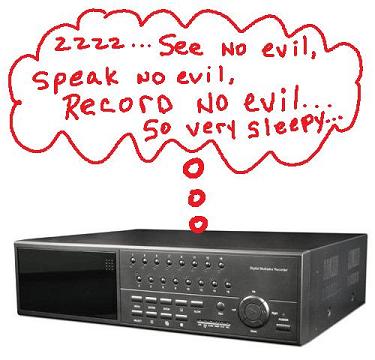 Turns out that at some point in July the unit locked up and stopped recording....
Click over to Glasseser's Website, Systems Contractor News, and keep reading the story. I'd like to say it has a happy ending. I also wish I could tell you that Andy fought the good fight, and the Sisters let him be. I wish I could tell you that - but prison is no fairy-tale world and this isn't a magical hard drive back from the dead story either...
Categories: November 2010, CTA
/