Shopping Cart
Your Cart is Empty
There was an error with PayPal
Click here to try again
Thank you for your business!
You should be receiving an order confirmation from Paypal shortly.
Exit Shopping Cart
Features, Reviews and a Blog by John Sciacca
| | |
| --- | --- |
| Posted on December 6, 2010 at 5:45 PM | |
Generally, I view things like special membership clubs, introductory offers, and friends-and-family insider deals with a heaping pinch of organic Sea Salt. (It is, as you know, one of the things which White People Like...)
Before joining any sounds-too-good-to-be-true thing, I very skeptically look through all the fine prints with a Mafiosa consiglieri level of scrutiny looking for the "gotcha!" What commitments do I have to fulfill before I can leave this secret club? What is the egregious shipping and/or handling fee you're going to try and tack on? Yes, I understand that the first ten discs are $.01, but how much are the next five I have to buy gonna cost? How often are you going to try and sneak in a "special one-time" shipment?
Sure, in the past I have done the whole BMG and Columbia House thing. First cassettes, then CDs then videotapes than DVDs. (Wow, maybe I am a sucker for these stupid clubs after all! Now that I look at it, I've pretty much batted for the whole club media cycle. I guess if Columbia comes up with a "scented candle of the month," or "sheathed meats" club, I'll go on ahead and join.) Oh, Columbia, and when will you hit us with the 8 Blu-ray discs for a penny promo? I used to pour over these offers in the Sunday paper, determining my A-list must haves, with some B-list kinda likes down to some C-rate order fillers and then figuring the amortization for my entire purchase before carefully affixing my single penny to the order form; a penny that thus committed and sealed the unholy alliance between myself and the House. Before Lauryn was even born – actually years before Dana was even pregnant – I signed her up for the Disney Books club. Get 8 books and a backpack for like $4.99 with NOTHING more to buy ever. Return the first follow-up shipment at their cost, write cancel on the outside of the box and Bob's your uncle and your home Scot free! Bwa-ha-ha! Then steal off the hardened wall of your heart and emotions and cavalierly toss away the numerous supposed heart-wrenching follow-up letters straight into the trash. "Mr. Sciacca! Wait! Come back! Don't you want your daughter, INSERT NAME HERE, to continue to enjoy the magical world of reading? By cancelling now, you are virtually guaranteeing that she is going to grow up serving drinks while other previous members dance on a pole in the background. We don't want that to happen to you or your family. Just check this box and we'll figure this whole bit of unpleasantness ever happened, or ignore our pleas and be sure and look your daughter in the face when you tell you don't love her." (Quick bit of Wiki for you on the origin of the term "Scot free." Scot as a term for tax has been used since then to mean many different types of tax. Whatever the tax, the phrase 'scot free' just refers to not paying one's taxes.)
So, when I got this offer from American Express for joining the Laithwaites Wine club, I viewed it under my immediate microscope of scorn and contempt. "Sure, you'll send me an opening shipment, then sit back and hope I forget to cancel all future shipments until I'm stuck with some awful case of undrinkable Mould wine! I know your game, Laithwaite! Oh, and PS: I don't want to buy into your Madoff hedge fund either!" Then, calm heads prevailed; I recalled that if there is anythign that rivals my rage-level passion for technologies it is my loves of drinkings the wines. And instead of looking for every reason NOT to do it, that I'd really love nothing more than for Mr. Laithwaite and his wine offer to be on the up-and-ups plan. So I did a tad more researchery.
And, lo and behold, I couldnt' find any hidden loopholes, no ancient runes that appeared only when the offer was heated over the fires of Mordor, nothing! In fact, it seemed like a helluva good deal! The offer was for 12-bottles of red wine, plus a nice binder and tasting notes and pairing suggestions. And, if the fancy wine labels were to be believed -- not a one of them proclaiming "WINE" -- these looked like classy wines! From places that didn't look like they rent their vineyards out to paintballers or swap meets on the weekends. And if I've learned *anything* about labels, it's this: Labels make you money, and stickers don't! (That bit of business legerdemain is courtesy my friend Dan, label baron.) But wait...there's more! If you act today, they'll throw in a bonus bottle of Chianti. Still not convinced? OK, tough guy, make it THREE bonus bottles! Pow! Now your opening shipment is up to 15 bottles, each more full of wine than the last! (Note: each bottle actually contains the same amount of wine.) Disappointed that these wine bottles won't saw through a tin can and retain a razor's edge for years to come? How about taking $100 off the bill? And the capper? My six favorite crazy-offer, golden parachute words: "Cancel anytime with no further obligation!" Done and done!
So the other day, my Fed-Ex man came a knockin'. (A $20,000 Kaleidescape system they leave stacked haphazardly on your front doorstep, but this you actually have to sign for.) Here's what I got: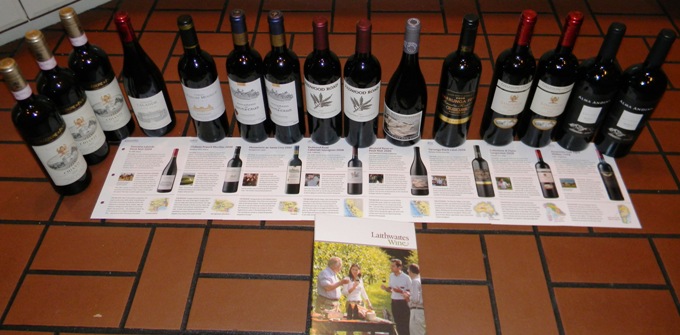 All for $90. ($69 for the wine and $21 in hateful taxes and shipping.) Not too shabby. Just seeing all these bottles all lined up gives my liver a warm and fuzzy! Like, I think I can actually feel it liver-ing up in preparation for all that wine drinking goodness! We had a bottle of the Chianti last night and it was imminently drinkable. Now, I'm not a giant Chianti fan so I can't comment on its Chianti-ness, but I will say it was every bit as good as many of gli bicchieri di vino that Dana and I enjoyed on our past trip through Italy. (All of which paled when compared to our afternoon visiting the Lamborghini factory, however. A story which we'll save for another day.) Also, the Italians, they may love wine, but they seem to share a universal disdain for a decent wine glass. Almost every Italian restaurant serves wine out of a small glass that we Americans would refer to as a "juice cup." But, meh. When in Rome. (Like, when you are LITERALLY in Rome...) My thinking is that at an average price of $6 per bottle, even if none of these approaches the chewy-berry, complex sucking-fermented-juice-out-of-hunks-of-new-French-oak, huge mouth flavor explosions of a Far Niente or Rombauer or Chataeu Montelegna, that's OK. For $6, even if every wine is just a squib single that dies between third and the mound, I'll be happy. But maybe -- just maybe -- one of these babies is waiting to really surprise me, and that, friends, is the beauty of trying new wines. Knowing that the next girl you meet could be the girl you want to marry. Or something, with wine drinking.

So, if you like wine, you might check out this deal. And if you do, tell 'em Johnnie sent ya. Seriously. Tell them. Because I get like $50 in wine credits for each person I bring in. Hey, it's a pyramid-drink-pyramid world, and I gots ta gets my drink on! Salute!

Categories: December 2010, Beer/Liquor/Wine
/