Shopping Cart
Your Cart is Empty
There was an error with PayPal
Click here to try again
Thank you for your business!
You should be receiving an order confirmation from Paypal shortly.
Exit Shopping Cart
Features, Reviews and a Blog by John Sciacca
| | |
| --- | --- |
| Posted on February 21, 2011 at 10:07 PM | |
My mom sent Lauryn a package the other day and inside was this whole kit of materials for making paper dolls. There were tons of papers and cutouts and glue sticks and pens and kid-proof scissors and sheets of accessories that popped out and basically made a giant mess everywhere.
So, Lauryn took all of these materials and dumped them out all over our dining room table. And she started working; cutting, coloring, gluing, creating. It's been a while since Lauryn has done anything of our entire family. The first thing she did was of all of us watching Yo, Gabba Gabba! I was angry in the picture, but she knows that I don't like her to watch that stupid show, and we all looked kind of melty and Picasso-ey. Then she drew a couple of self-portraits of herself; one holding the Kaleidescape kid's remote and one with her and a giantly awesome glass of red wine. Then she turned the full bore of her laser-perceptions onto my face, producing a close up portrait that resembled one of those 100-times magnification mirrors where only your flaws are visible.
But when she was done, she made paper dolls of our family; one for each of us. Here is the group photo where we're all lined up holding hands followed by individual shots with a Lauryn symbolism explained. She's pretty much the Dan Brown, Davinci Code of paper doll making. But with longer, curlier and never-been-cut-to-retain-the-full-strength-of-her-anger-rage-power-strength hair like Samson.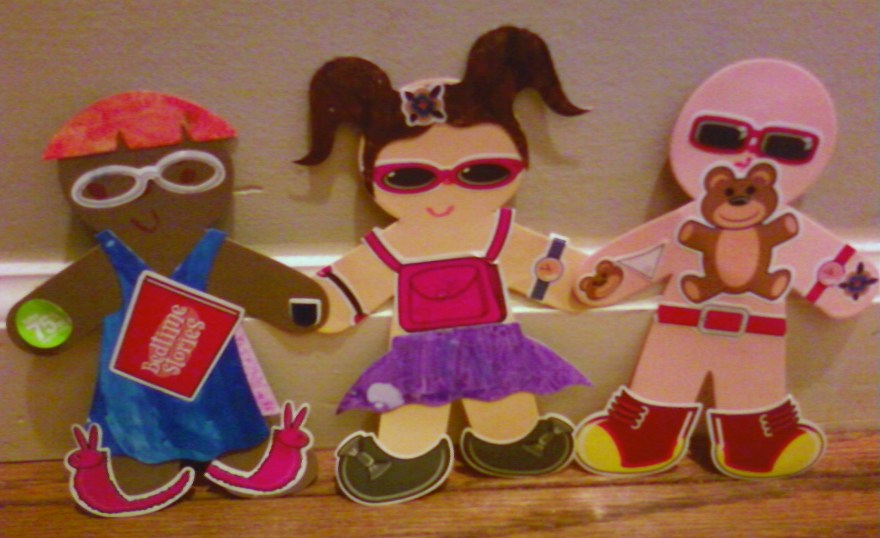 This is our whole family. See how we're holding hands and all smiling? For some reason, while everyone else likes to dress up in colorful and stylish outfits, I rock it commando. Meh. What are you gonna do?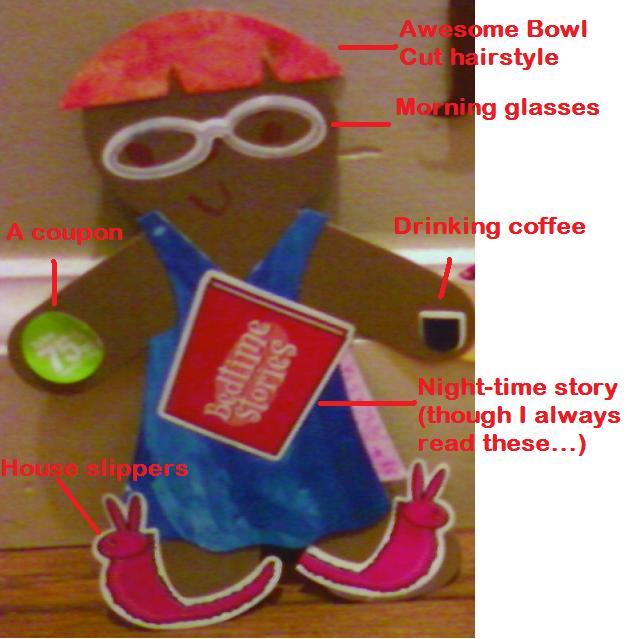 Here is Dana wearing what looks like a sweet blue housecoat and equally awesome pink bunny slippers.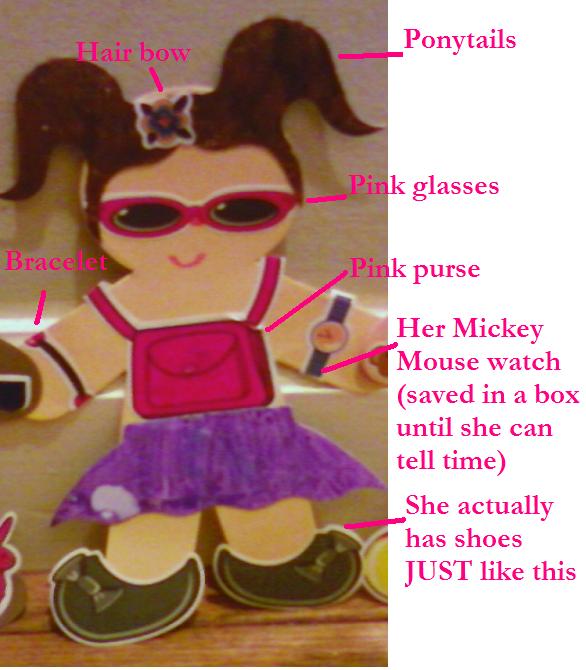 Not surprisingly, Lauryn looks most like herself.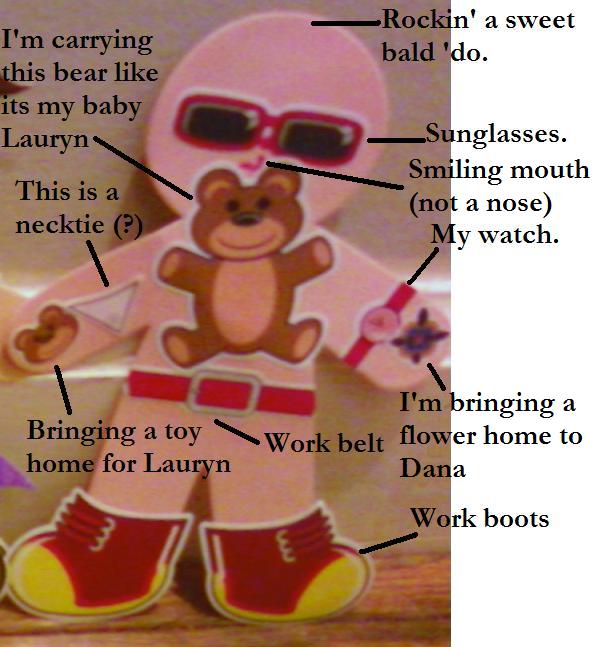 Oddly, while I have remembered to pack a neck tie and belt to accessorize my outfit, I have neglected to include any shirt. Or pants. Or hair. However, I do have my watch and since I never -- as in NEVER -- take that off, she got that detail dead on. Also I like that I'm bringing gifts home to my ladies, so maybe Lauryn sees me as the provider or something. Plus, a stylish pair of work boots can really tie a lot of mess together. At least that's what I'm going with.
Categories: February 2011, Family
/