Shopping Cart
Your Cart is Empty
There was an error with PayPal
Click here to try again
Thank you for your business!
You should be receiving an order confirmation from Paypal shortly.
Exit Shopping Cart
Features, Reviews and a Blog by John Sciacca
| | |
| --- | --- |
| Posted on March 3, 2011 at 11:44 AM | |
Man! I have just got SO many things I want to tell you all about! Several stories that are just dying to leap out of my mind and spill all over my keyboard and then dribble down and stain into your minds. But, I'm just limited on time! Between all this work and sleep and travel there just isn't the time for me to be all that I can be. Well, the lack of time and just the pathetic and anemic battery life of my HP laptop. It seems to barely scrounge out about 3.5 hours and that is on "Power Saver" setting and only doing word processing! If only there was a power plug in First Class! Or if the flight attendants would be cool with me stringing my AC cord across the floor and plugging in next to their station or maybe under the door and into the cockpit. (Though, I'm not pushing my luck…The stewardess on my 8:45 AM flight scored me THREE bottles of The Glenlivent for later consumption. I told her my sob story about not being upgraded out of PHX and how I could *really* use a drink later and how ordering three mini bottles of scotch for actual drinking at 8:45 in the morning would leave me feeling a tad like a raging alcoholic regardless of how warm and fuzzy the rest of the day might go...)
So, first thing I want to get out today is that I have been hanging around the Runco factory in Beaverton, Oregon for the past 6 days. Got here on Thursday night, left here yesterday (Wednesday). Had a blast in Portland despite the fact that the weather was cold, grey and rainy or, how they choose to refer to it in Portland this time of year, "the weather."
So, I've been out here for their Runco Academy factory training (review to come...) and to take a first-look review at one of their new 3D projectors (review also to come...). But while spending time here, I thought I'd share a couple of things that caught my eye at the factory…
First, you need to understand that Runco builds some of the finest home theater projectors in the world. Models that range from like $5,000 to $300,000. And, they, you know, *build* them here at their factory headquarters in Beaverton. So, on our factory tour I noticed all of these signs hanging everywhere. Little motivational things like, "Hang in there, kitten!" and "Teamwork: It's what separates us from the walking undead." You know, stuff like that. So I started taking pictures of some of them. (Then the stupid batteries in my stupid camera died stupidly with no warning whatsoever after taking like 5 stupid pictures. And after I was the ONLY person given permission to actually take pictures during the factory tour. Fortunately, Lady Phone was on the scene to make it happen.) Anyhow, I took some pictures of the following signs around the factory that I especially liked. *Some* of them might not actually be Runco signs...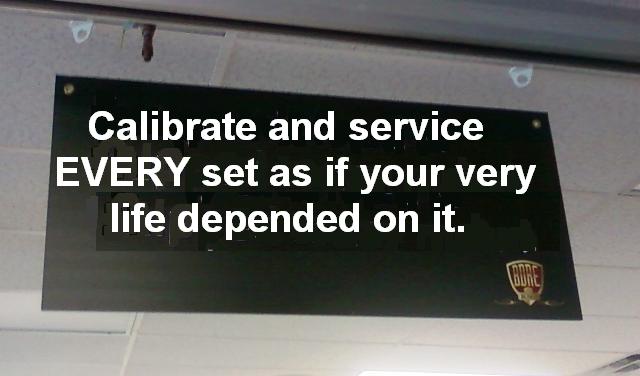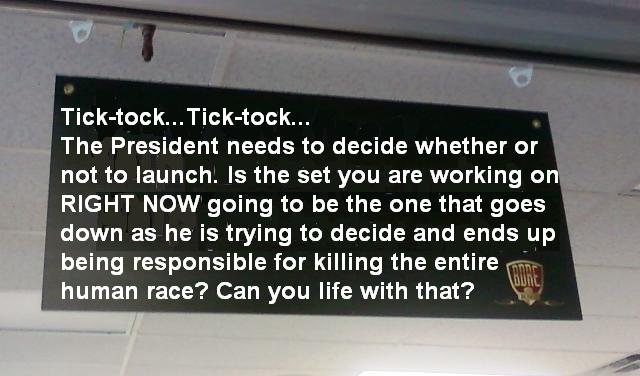 Categories: March 2011
/