Shopping Cart
Your Cart is Empty
There was an error with PayPal
Click here to try again
Thank you for your business!
You should be receiving an order confirmation from Paypal shortly.
Exit Shopping Cart
Features, Reviews and a Blog by John Sciacca
| | |
| --- | --- |
| Posted on March 4, 2011 at 4:15 PM | |
Clearly, if I would have let Lauryn watch the stupid-stupid TV show, Yo Gabba Gabba! I would already understand this basic tenet regarding friends and biting. (Though Lauryn and I used to play a back-and-forth game where I would ask, "Can I bite a juicy apple?" And she would say, "Yes." "Can I bite a juicy pear?" "Yes." "Can I bite a juicy peach?" "Yes." "Can I bite a juicy watermelon?" "Yes." "Can I bite your juicy leg?" "No, Daddy! You don't bite someone's leg!")
However, I think that what the titular Gabba or, God I can't even believe I'm actually going to type this, Muno – seriously, I just shuddered a bit – aka the big, red, Cyclops guy, is referring to is the physical act of biting. Which, at 40-something, I have managed to seriously curtail in my adult life.
What I apparently could use a refresher on is the figurative act of biting...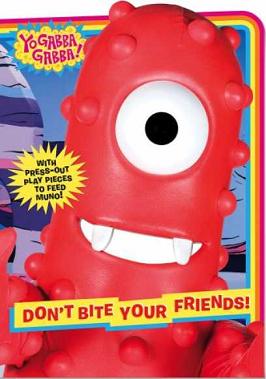 As you are probably all well aware by now, I post up a bunch of stuff here. This blog is often a pretty clear window into my world. When I like something – the Kaleidescape experience, Lutron's tech support, Survivor, my home theater, Portland (minus the weather), iPad – you get to read about it.  And usually quite a bit. Because you do talk about your friends. And when I DON'T like something – the speaker company who shall not be named, multiple customer interactions, Blockbuster, 3D – you get to read about that too. Because it's OK, and even fairly delicious, to bite your enemies. The rest of the time there is just a lot of random stuff that I fine interesting or amusing. Walking around DC, meeting people at a restaurant, hanging out in a hotel, pictures that Lauryn draws. Which is why I originally entitled the blog section, "Random Thoughts."
So, I generally think my random thoughts are funny. (OK, I generally think that they're not only funny but brilliant, each and every word a hilarious jewel of genius unto itself, but I was trying to feign some bit of modesty. Illusion of humility over!) And usually a lot of you think they're funny too. Who doesn't remember John McCann and his steel cut oats? Or the far more disturbing "Spotted Dick." Both stumbled upon while shopping at World Market. Or perhaps the new 3D church that I happened upon. Or the scammers that I've baited. Or the child, um, touching, uh, guy who has the rather most unfortunate coincidence of sharing my name. Or just click on the "Bizarre" link over to the right and see any number of other oddball things that have struck my fancy. All random bits of funny.  
But, sometimes things that are meant to be funny, or that seem funny while I'm typing them, don't go over so well. My sense of humor is often edgy and usually sidles right up to the line, but sometimes I don't realize that MY line might be a shade farther down the road than YOUR line and I'll end up posting something that ends up being hurtful to someone. (Of course, I'm talking about unintentionally hurtful.  I stand by the intentionally hurtful ones. That goes for you, AOL, and you, Time Warner, and triple-triple for you, Blue Cross, you black-hearted Satan!) Well, I put up a post a couple of days ago that contained a section that wasn't seen as funny at all to the people that were mentioned. And, well, instead of taking it as a little poke-poke, ha-ha, funny-time-laugh-hour, that they would acknowledge with a simple "Ha!" or perhaps even a stylish emoticon, they instead took it as mean-spirited.
Now, I have to say, I was pretty surprised by this. In fact, I sent them a link to the story with the subject, "Only because I KNOW you guys have a good sense of humor..." because I thought they would see that it was all in fun. (And what happens when you put me on a plane all day with nothing to do but drink mini bottles of scotch...) So, if I would have thought they would have been put out by it, I wouldn't have, you know, tipped them OFF to it. But, they didn't think it was funny. And instead those most closely involved in the PR part of it felt like they were going to take some serious flack for it. And by they, I'm talking about people that I've come to consider my friends.
And, they could have asked me to change it or take it town or cited some bit of "non-disclosure agreement" something or other. But they didn't. But, I felt bad. So, I took the part down that they liked the least. Because, the first rule of Friend Club is that you do not talk about bite your friends. And the second rule of Friend Club is that you...DO NOT...BITE...YOUR FRIENDS! Apparently a lesson that can be learned and applied at any age. And, because this time there is an I in "I'm sorry." And, if this is your first night at Friend Club, you have to Friend...
Categories: March 2011, On Writing
/