Shopping Cart
Your Cart is Empty
There was an error with PayPal
Click here to try again
Thank you for your business!
You should be receiving an order confirmation from Paypal shortly.
Exit Shopping Cart
Features, Reviews and a Blog by John Sciacca
| | |
| --- | --- |
| Posted on March 17, 2011 at 4:42 PM | |
I first experienced Runco's new D-73d 3D projector at the CEDIA Expo last September and was pretty impressed. By "pretty impressed" I mean that it was the best display of 3D technology I witnessed at the show. I find myself prone to headaches and discomfort when viewing many 3D demonstrations, and the D-73d was the easiest-on-the-eyes solution I'd seen. But there is a big difference between being wowed by a 10-minute demo and evaluating something critically for hours on end. So, when an opportunity to review this new projector at Runco's factory headquarters came up, I jumped at the chance!
Since this was a pre-release unit assessed at the factory, I will not be doing a typical review with grayscale before and afters, contrast measurements, and scaling performance tests. My goal was to spend as much time as possible with the projector in 3D mode to see if my initial feelings held up over a full day's viewing. To that end, I spent nearly eight hours with the D-73d, free to watch — or play with — whatever material was at my disposal. Runco's viewing room had absolute light control, with black walls and ceiling and dark carpeting.
Runco's approach to 3D is unique in the home space in that it uses a passive, double-stack solution. Essentially, two of the company's Q750 LED-based DLP projectors are mated together in a single chassis with video routed through its new 3Dimension processor.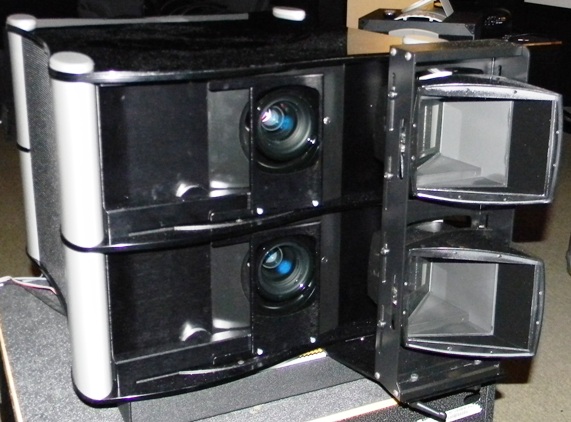 The 3Dimension processor is essentially three of the company's DHD4 processors: one that splits incoming 3D video signals into two parts, and a dedicated unit for each of the projectors. A polarization filter slides in front of each of the D-73d's lenses when viewing 3D material, with the discrete left- and right-eye images then filtered by passive glasses. Since 1080p left- and right-eye images are always on the screen, Runco calls its solution Constant Stereoscopic Video (CSV). It claims that the benefit to its approach is freedom from the fatigue that single-projection systems induce by rapidly strobing left/right eye images onto the screen. Additionally, since both of the D-73d's light engines can also be utilized for viewing 2D material, a configuration that doubles picture brightness while retaining contrast, it can be used to drive a much larger-size screen.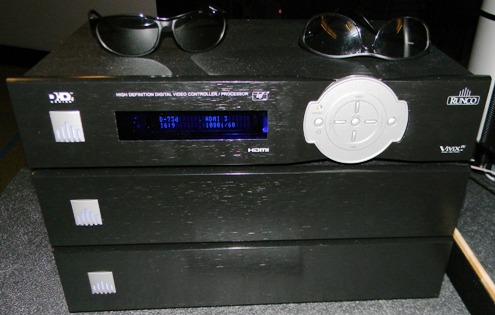 Installation of the 3Dimension processor is quite simple. For explanation's sake, I'll refer to the three processors as primary, red, and green. All inputs are made to the primary DHD4 processor, with the system accommodating up to four HDMI sources, along with component-video/SCART and composite-video. The primary processor's red and green color-coded outputs link to inputs on the red and green DHD4s, each of which connects to a projector.
The processors communicate with each other and with their respective projectors via RS232. HDMI outputs on both the red and green processors are used to send audio out to your audio system. By first routing audio signals through the D-73d's video processing chain, Runco maintains that lip-sync and timing errors are greatly minimized and the potential for A/V processor-generated video artifacts is also eliminated.
The next step is to align the two projectors on the screen, a process that is similar to — but a greatly simplified version of — converging an old CRT projector. And by "greatly simplified" I mean that I did it by myself the first time in about 10 minutes. Once the primary lens is correctly dialed in for size and focus, the secondary projector is aligned to the image using a process that Runco calls Digital Compass.
The D-73d's case, which features Runco's new Copenhagen industrial design, places the lenses a mere eight inches apart. (The closer the lenses are, the less adjustment required to align them.) Multiple physical and digital adjustments allow installers to converge the secondary image onto the primary one within a +/- one-half pixel tolerance anywhere on the screen. In practice, the images looked perfectly aligned, with only a single-pixel multiburst test pattern revealing slight moiré artifacts. Once the lens lock screws are tightened, the images remain in perfect alignment.
Because of the linear polarization filters placed in front of the D-73d's dual projectors, it must be used with a special "polarization preservation" screen. I initially viewed images on a 12-foot wide, 2.35:1 aspect ratio Mocom Tech Power Screen MTS-160 with an ultra-high gain of 20. I also used a 100-inch, 16x9 Stewart 5D screen, a new material with a gain of approximately 2 that is said to be optimized for both 2D and 3D viewing. (The Stewart screen is the one more likely to be used for residential applications.) One potential drawback to linear polarization is that your head must remain relatively vertical while viewing; leaning sidewise causes the image to blur and darken and lose the 3D effect. In reality, unless you plan on watching while lying down on a couch, I don't find head positioning to be an issue.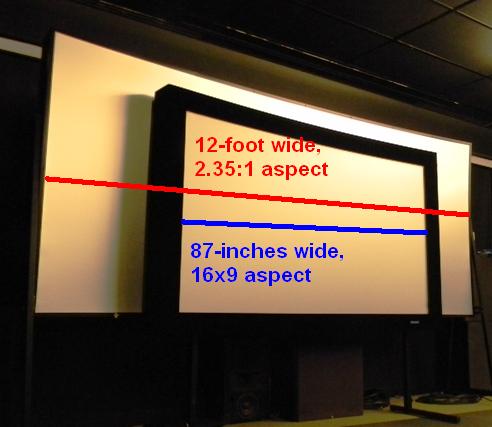 So, how did it look? In a word, awesome! The D-73d's dual projectors delivered enough brightness that the 3D image didn't ever look dim or lack punch. I watched a ton of programming — literally 8 hours worth — including some DirecTV 3D shows where the limited resolution as compared with full 1080p 3D material was immediately apparent. Selections included a few IMAX features, several movie trailers, some recordings from The Masters golf tournament, and clips from the Monsters vs. Aliens and Cloudy With a Chance of Meatballs Blu-ray 3D discs. The 3D effects were always convincing, and only once did I feel a slight bit of 3D-induced eyestrain. After a couple of moments that, too, passed, and I felt fine for the remainder of my viewing session. Content definitely played a role in my 3D viewing comfort. For example, a few scenes from the IMAX doc Space Station were filmed in such a way — objects out of focus and WAY up in the foreground — that immediately made my eyes feel like they were under assault.
Read the rest of the exclusive First Look Review over at SoundandVisionMag.com! 
Categories: March 2011, 3D TV, Reviews
/