Shopping Cart
Your Cart is Empty
There was an error with PayPal
Click here to try again
Thank you for your business!
You should be receiving an order confirmation from Paypal shortly.
Exit Shopping Cart
Features, Reviews and a Blog by John Sciacca
| | |
| --- | --- |
| Posted on April 9, 2011 at 10:25 AM | |
As I write this I'm sitting on my little private patio enjoying a cup of Earl Grey tea. My patio is overlooking a fountain thing as the a gentle breeze is trying to flip the pages of my notebook sitting on the table next to me and the sun is dipping low into the Scottsdale, Arizona sky. A couple thousand miles to the east, Tiger has just completed a pretty amazing back nine at Augusta putting himself into serious contention, ensuring an exciting bit of weekend golf watching. But far nearer, there's an older gentleman below me sitting on a bench, wearing some kind of fashionable looking faux-hunting vest with lots of pouches and pockets and zippers, a flannel shirt and some khakis. He's staring at the fountain while he smokes a cigar and drinks what I can only hope is a truly impressive glass of scotch. He's puffing away, totally relaxed and at ease. If I was Ansel Adams, I'd take a black-and-white photo of him and call it "Repose" or something. You would see that painting and think about your grandpa and more peaceful times.
I started the day with a 7:15 flight from Myrtle to Charlotte, followed by a 9:30 flight on to Phoenix. You'll be happy to know that I completed 3 of 4 Sudokus, the entire crossword puzzle and grabbed a new Sky Mall. Oh yes! Rest assured that there is PLENTY of fodder for a new post! So far I am batting 100% of getting upgraded on that Phoenix to Charlotte and Charlotte to Phoenix route…100% meaning that I have NEVER been upgraded on that route. Going hub-to-hub with US Air is clearly a recipe that includes several parts disappointment sauce shaken over crushed cramped-coach finished with a vigorous dollop of resentment. Being Gold on that leg only means that you get to watch at the podium while all the REALLY frequent fliers say, "Stand aside, son; real man comin' through!"
So I'm back out in Arizona for the Ingram-Micro line show. You might recall that I was here last year for the same event. That time, however, they put me up at an Indian Reservation called Talking Stick. I really enjoyed my time at the Stick and was hoping that I would be able to listen to it talk some more. But this year they've elected to move us to another hotel, the Fairmont Scottsdale Princess. I had no preconceptions about this hotel save for it was A) NOT the Talking Stick and B) did not include transportation to and fro the airport. Little did I realize that getting here would be a SIXTY-FIVE DOLLAR cab ride! Holy crap! Oh, and PS, that's $65 EACH WAY! As each dollar rolled over on the cab's meter, my anger rose to a new level with increased mutters of, "This place better be DAMN nice!" (Especially as we drove past the Talking Stick – oh, Stick! The good times we had! The Mesquite Bean body scrubs and Cholla Bud lotioning sessions! And remember the chips and beer by your massive pool! And your Cisco phone system with its "Welcome, Sciacca" message? Let's always stay friends! – with only about $35 on the meter!
So, we pull up to the Fairmont and it is immediately clear that we are in swanks-ville, population me! This place is like seriously nice. Like Triple-A 5-Diamond Award Nice. (Like actually, exactly that nice judging by the plaque prominently displayed at the check-in counter. *****, count-em, five.) So, I get to my room and it is definitely living the how-the-other-half-live life. Or, rather more accurately, vacationing briefly how the other half vacations regularly. Here's some pix of my room. Oh, a quick note before the pix. So, I'm out here to cover this event for Jeremy G at Resi, so obviously pictures are going to be needed. So, I pull out my nice cam to start taking some snaps and it immediate says "batteries discharged." Damn! This is the EXACT thing that happened at Runco! At Runco I went down to the hotel gift shop and bought a 4-pack of some kind of Digital Power Cell batteries that sounded like they were made from freshly minted plutonium or something and were designed specifically for digital cameras and should last just this side of forever. And they cost like $6 for a 4-pack. So I head to the gift store here and it is $6.41 (plus tax) for a TWO pack. The woman sees me recoil and says gently, "Well, you are at a resort..." Yes. And clearly these resort guests think nothing of paying for a 4-pack of batteries what I could buy a case for back at our store. So, note to self – get some frickin' rechargeables!! (My plan for the event is two-fold...swipe the batteries out of the remote control and see if that will nurse my camera along and then try and sweet-talk some vendor into being my battery sugar daddy.) So, these are all Lady Phone pix...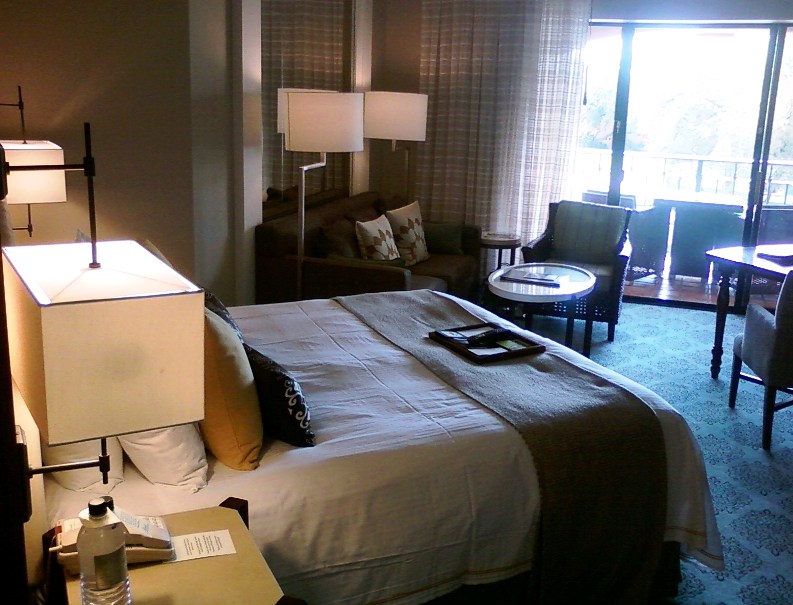 On the other bedside table is a iHome iPod radio dock. This might be one of my most used in room gadgets, as I rarely bring an iPod charger with me, the trip back home is usually a battery crapshoot. So with this, I can not only enjoy my tunes but charge up as well. Double-win! What is visible is the $8 bottle of "We hope you'll get thirst in the night and be unable to stumble to the bathroom for some water! Enjoy!" water. Oh, you rich people! You so impetuous and crazy!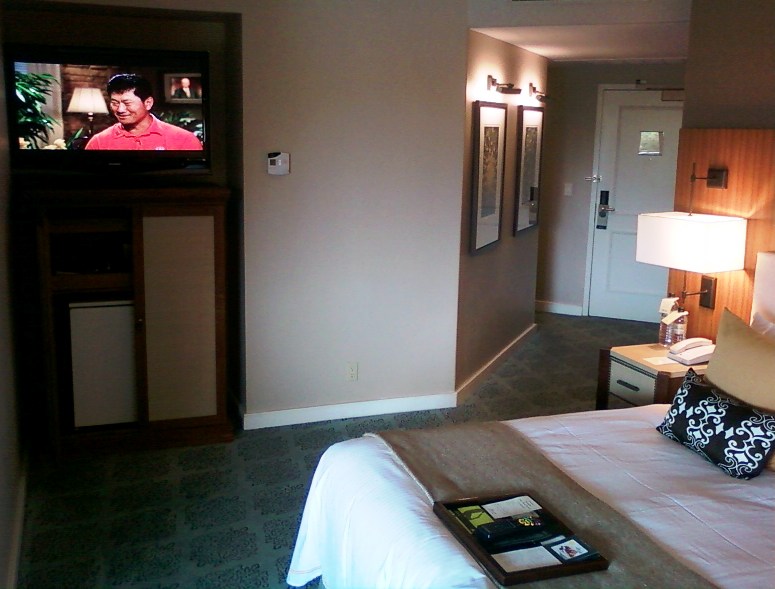 The TV is actually REALLY inconveniently located for viewing from bed. The TV is at an odd angle on the wall in relation to the odd angle of the bed, meaning that you are both craning your neck AND watching the side of the set. Double-fail, Fairmont! It should be on some kind of arm mount or something. At least it is a semi-decent set, a 46-inch Sharp LCD, but when I saw the Pioneer Elite Plasma in the bar area, I hade a moment of giddy hope that perhaps all the rooms would be outfitted similarly, you know, making me REALLY feel like I was at home. Below the set is the requisite mega-high-priced in room liquor cabinet.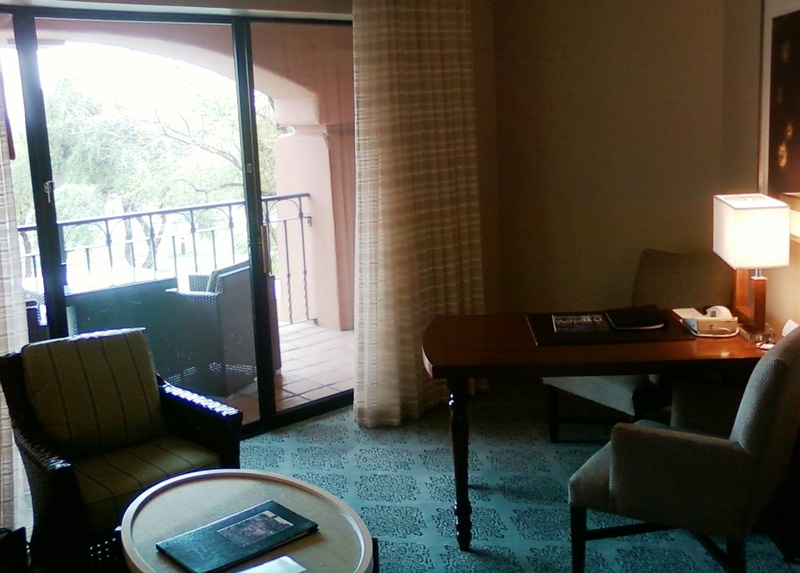 Here's my little desk/work area and my patio where it is Tea Time with Sciacca.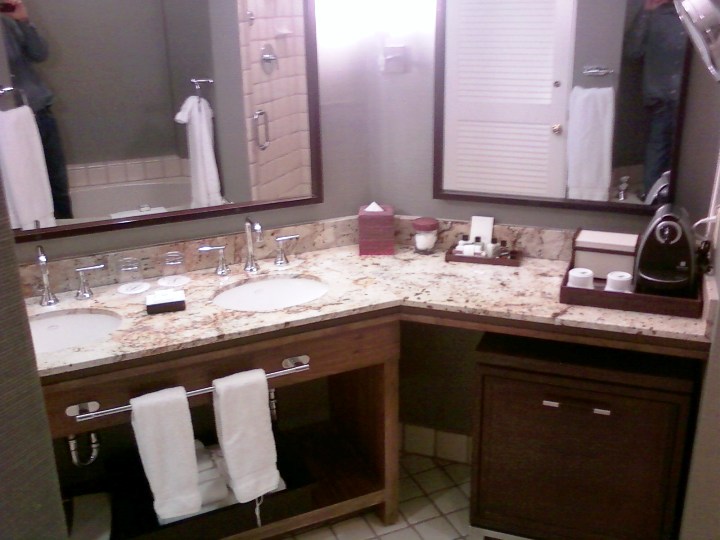 The large bathroom which has both a shower and full whirlpool tub and the...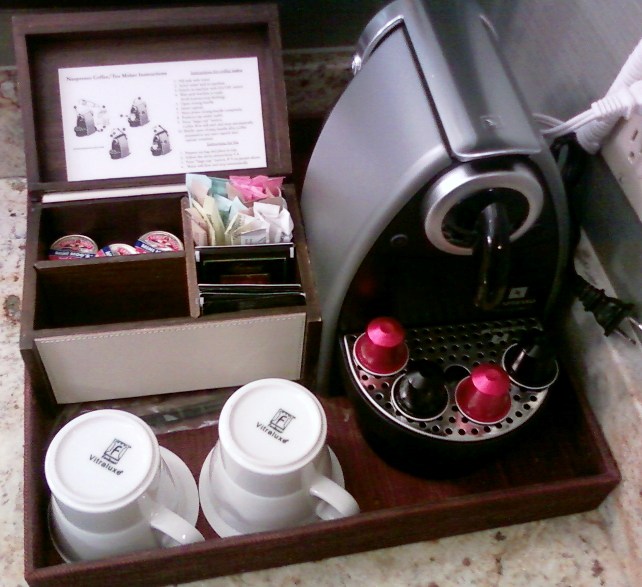 Nespresso coffee machine. This is a nice touch, far better than those old ratty things that are in most rooms where you wonder what might be running through the mecahism when you brew a pot. This makes surprisingly good coffee (and hot water for tea) with a really nice crema.

So after I got unpacked, I decided to walk around for a bit, both to stretch off the 5 hour plane ride and to see what the grounds have to offer. The 65 acre property actually borders on the TPC Stadium golf course and you walk around the edges of several holes while meandering around the path. There is a lawn area where you can play either bocce or croquet, and I seriously hope that I can find someone tonight at the little meet-and-greet who is staying tomorrow who wants to get a seriously lawnsport ass whipping from me! They've got tennis courts, a full spa, a basketball court and a lagoon where you can go fishing. They have two pool areas; one that is mainly for kids that has TWO waterslides! Like actually 4-story high waterslides, not like a little climb up the ladder regular slide. I walked over today to check it out and felt a little awkward climbing up and giving it a go since I was A) like the only adult there and B) would have been the only one riding the slides. If the weather holds tomorrow, I'll try and man up (or, perhaps boy down) and give the slides a go. I'm a sucker for a water slide. I really need my friend Dan here. Dan is unencumbered by concerns such as "I'd be the only adult doing this!" and rather weighs things on how fun they would or wouldn't be. Something tells me that Dan and I would have massive amounts of fun on that slide right up until management asked us to leave. The larger, more adult pool area is also really nice, making up in lux for what the Talking Stick had in sheer massiveness.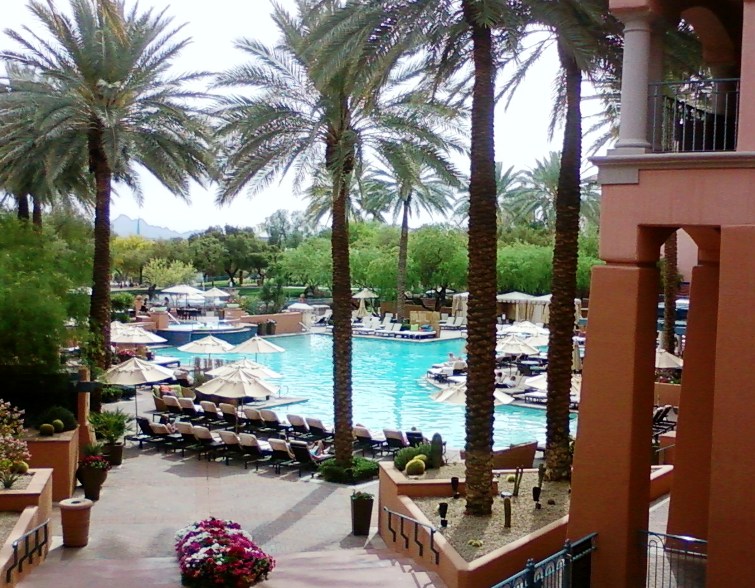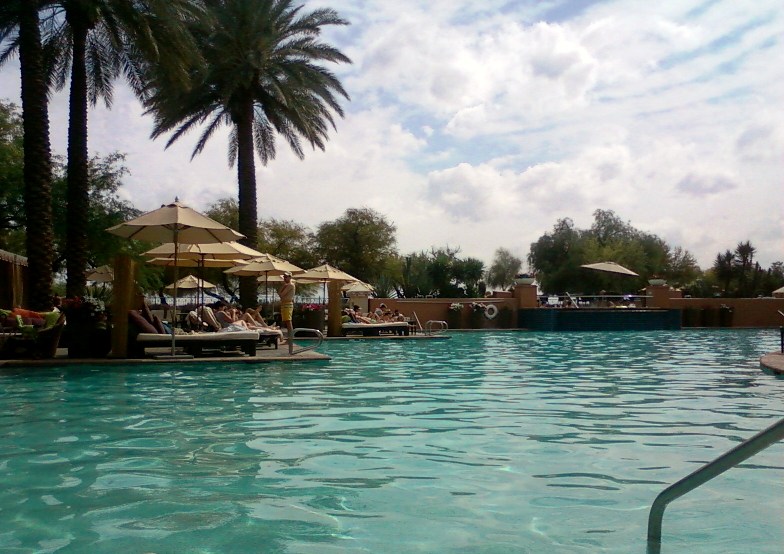 Sadly, the sky was kind of cloudy and it was breezy. You'd lie there and be all warm and sunny and then all of a sudden a cloud would blow by, the temp would drop like 20 degrees and the wind would kick up and you'd want to cover yourself with a blanket. This is not what I expect from my Arizona! Plus, even more lame, they are predicting 50 degree weather and RAIN for tomorrow! L to the izzay, M to the eazee...
Though, less we forget what a truly EPIC pool looks like, I invite you to reacquaint yourself with the 9021-Awesomeness which was the Beverly Hills SLS pool area. While rich families lie by this pool, the mothers sipping from a seemingly endless stream of white wine deliveries and the kids eating French fries by the box full, the SLS is the kind of place where you would actually expect to run into Paris Hilton and friends.
Keeping with my theory that the more you pay for your room, the more they are going to charge you for Internet usage – something along the lines of, "Sir, you have come here to relax. If you want to work, well, then that is going to cost you!" – the Fairmont charges $14.95 a day for access. However, they sent me this pre-arrival welcome letter that suggested I join their "President's Club" which is complimentary and which provides illustrious members with free Internets. So, you may address me thusly going forward.
On that note, I've gotta go and shower and change for the little reception tonight. Really hoping for some decent food – so far today I've managed only a couple of US Air Lounge bags of chips and salsa; I know…I should do better; according to Kirsten "glasses" my chip consumption should be fully documented as she said it was either heroic or horrifying – and some even more decent drink.
Categories: April 2011
/