Shopping Cart
Your Cart is Empty
There was an error with PayPal
Click here to try again
Thank you for your business!
You should be receiving an order confirmation from Paypal shortly.
Exit Shopping Cart
Features, Reviews and a Blog by John Sciacca
| | |
| --- | --- |
| Posted on May 31, 2011 at 5:30 PM | |
With little shame or guilt, I am able to freely admit that we watch a lot of TV. (OK, I don't exactly prance around wearing a "Fan of Teen Mom 2!" shirt. That's more Dana's guilt to bear.) And one of the shows that we got hooked on was Kitchen Nightmares. A spin off from the BBC show, Ramsay's Kitchen Nightmares, this follows chef Gordon Ramsay around while he tries to help failing restaurants. Usually these restaurants are totally gross; filled with rotting food, disgusting grease and -- if you're especially lucky -- random piles of dead vermin. Gordon goes in, vomits because the initial food is so terrible, argues with the delusional owner, finally comes to some kind of tearful breakthru, does a teardown and redo on the decor, pretties up the menu, recommends firing the entire kitchen staff, does some grassroots guerilla marketing then hustles off to the next town.

Watching the show week after week -- and also Hell's Kitchen -- Dana and I wondered how you could go about getting on the show. You know, breaking down that 4th wall and turning reality TV into actual reality. Getting out there, getting our hands dirty, risking some kind of horrible stomach botulism. You know...living! But what's involved in making this dream happen? Who does one need to know? Do you have to pay for your meal after sitting there with nothing but an empty bread basket and salt shaker for two hours? (Though, admittedly, the perfect opportunity to perfect the salt shaker trick.)
So when I saw that an upcoming episode was from Providence, Rhode Island -- stomping grounds of the girls (and supposedly non-girl, Nick) at Caster Communications -- I wondered, "Hmmm. Wonder if any of them have been to that place...?"
And instead of keeping my wonders to myself, I sent of a message to head Caster, Kim, asking. Turns out someone not only had been there, but WAS there during the Nightmare. None other than friend o' the blog, Amanda "PR Buddha" Nickerson. Here's a picture of Amanda eating a non-Ramsay approved chili dog and Coke.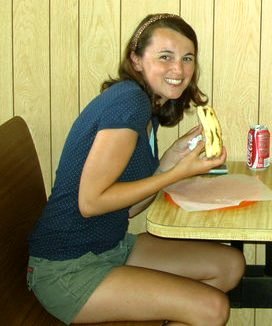 Sweet! So I reached out to Amanda (though she might favor the terms "pestered," "harassed," "tortured," "stalked," etc.) and asked if she would Guest Blog about her experience. And here it is; most everything you'd like to know about being behind the scenes at Kitchen Nightmares!
The restaurant she visited was Down City from Season 4, episode 7, originally airing on March 11, 2011. Here's a description of the ep:
Gordon comes head-to-head with Abby, one of the most stubborn and delusional owners he's ever met. Initially unable to take Gordon's criticism, Abby loses her temper and tells him to leave her restaurant, and Gordon must then decide if it's time to give up or if Abby deserves one last chance.
Here's a screen capture from the episode: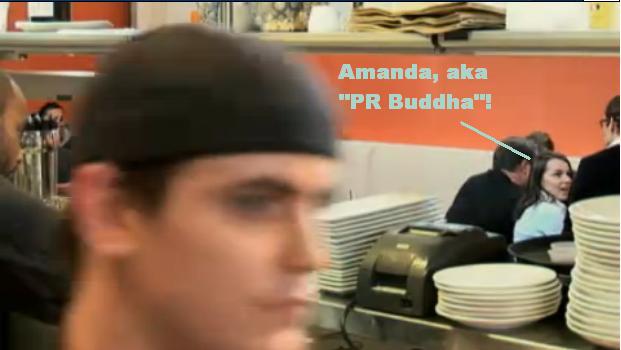 So, when did you eat there?
We ate there the week before Christmas. (Meaning that the show has like a near 3 month production lead time since it aired in mid-March)

And how did you hear about the event? What was the process like to actually be "chosen" to go and eat there?
They sent out emails to local businesses in the area -- the restaurant is in the financial district of downtown Providence, so they were looking for "business people" to go there to have lunch. I don't work in Providence, so I drove over that morning to be part of a professional lunch group. Little did they know we were on a three martini kind of lunch break.  They also took photos of us and had us sign releases upon arrival. We actually had to be there at 12pm and risked not being seated if we weren't there to meet with the production crew ahead of time.
So I'm guessing on the day of the show -- or the days that Ramsay is coming to town -- you couldn't actually just show up at the restaurant and eat? Is there any just walking into a Kitchen Nightmare?
They did actually accept walk-ins, but they let you know what you were walking into and you needed to sign a release in order to get a table.
How much interaction did the film crew have with you? Did you get any prepping when you arrived or was it basically like arriving at a regular restaurant and there being some cameras there? Were you told what to wear?
Zero prepping -- zero interaction. The cameras are mounted all over the walls of the restaurant. They are filming everything all the time. There was one camera man who was walking around once Gordon arrived, but he stayed with him and the owner. Since we were part of a business professional group, dress was business casual. We were told to carry on as normal, so we did.
Did they instruct or "cast" you or anything? Like, "We need to cast a pretty/feisty girl who might jump up and yell, 'What are we all 12 here?!?'"
Hahaha. No. But we did fulfill the loud/roudy, possibly-lunchtime-drunk section.
What did you and your friends order? How was it?
There were 7 of us; we had a few orders of fish 'n chips, I got the grilled chicken Caesar salad -- it was warm and wilted. I ate some of it but complained to the waiter when he cleared our plates that it was not a great salad and when he offered to get me something else, I declined because the food had taken so long to arrive in the first place. A friend who ordered a wrap, sent it back because it was ridiculously salty. She had a few of us try it before complaining and we agreed it was inedible. She did go for another meal because it was just terrible.
Had you or your friend eaten there before? Was it always a crap-hole?
Yes a couple of people in our group had eaten there before because they work right next door. They said that the service is always really slow and the food is just okay. I thought that our lunch was mediocre at best...and that is really giving them a compliment. There is no way that three orders of fish and chips, two salads and a wrap should take almost an hour to arrive after ordering. The waiter knew it was a stupidly long wait and plied us with drinks and friendly banter.
So you sent stuff back? Do you normally do that or this was just over-the-top horrible?
I do send stuff back when I'm out to eat and it isn't what I want. If I'm paying for a meal I expect it to be made the way I ordered it and edible. I didn't send my salad back because after waiting almost an hour, I didn't want to spend another one waiting for an effing salad to arrive.
It looked really cute/quaint/artsy on TV...was it that way in person?
I thought it looked like worn down drag night club...OH wait...That's because IT IS a Drag Club on the weekends. There was this hideous orange fabric wall paper that was worn and had visible stains on it. I thought it was disgusting. And the staff had these hideous orange accents to their black outfits. It was not anyplace I would bring a client if I were having a business lunch in Providence. I laughed  hysterically when I was watching the episode on TV and noticed they pixelated out the photos of the Drag Queens that line the walls. They host a drag queen brunch on the weekends...funny how that isn't mentioned ANYWHERE in the TV program at all...
Did you have to pay for your food or was a free meal part of the deal?
We paid for our meals and beverages.
How did people react when that owner lady was totally flipping out?
She made herself look like the raging bitch that she was in person. She would be flipping out one minute and then crying the next. She was totally as bi-polar in person as she was on TV. She came to our table and bad mouthed Gordon several times. She was an acquaintance of one of my friends but it was still completely unprofessional of her to rant and rave about him the way she did to six other people whom she had just met.
What did you think when you saw him going through the disgusting walk-in? Were you like, "Gross! I can't believe I was eating that!"
As a fan of the show I knew exactly what kind of third world condition the walk in would be in--and was happy to see that he didn't find roaches or dead mice in there. It could have been A LOT WORSE. I was however disgusted by the kitchen area. When they showed shots of what was on the floor, that chapped my ass.
What was your sense of Ramsay in person?
He's just as studly in person as he is on TV. I totally snapped pictures of him over my shoulder...and when he smiled at me I swooned. (Amanda apparently took this picture with her pinhole purse spy cam from a neighboring state.)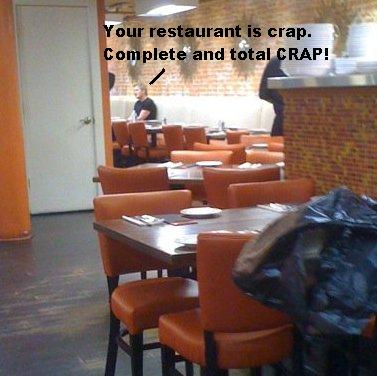 Does the restaurant seem to be doing any better now?
There was a bump in business because of the TV appearance...and (Kitchen Nightmare spoiler!) he's coming back in July for the re-visit. But friends of mine who have dined there since he changed the menu said that they were still doing a meh job...mediocre at best.
Any other anecdotes you want to add?
Overall it was a fun experience. I enjoyed being there for his first walk in of the place, and the best part was when he was talking about how sh---y his room service at the hotel next door was and the owner's face. Not only does she suck at her restaurant, but she was trying to cater at a hotel and was sucking at that too.
Her staff thought she was a giant bitch and I totally agree because she was very vocal about how if customers didn't like the food too bad, don't eat there. She doesn't have to worry, because the food sucked and took way too long and the decor was horrible, so I would not go back. I thought it was incredibly rude and disrespectful of her to flame Gordon at our table; she obviously was in need of professional help and seemed hell bent on destroying her own business with her pissy attitude. I would like to try to eat there again to judge the food for myself, but the reviews from my friends haven't made we want to go there again.
Thanks, PR Amanda! If you want to know any more about Rhode Island, take a look at Amanda's Website, Rhode Island Home & Design.  And if you're going to be in Providence and need a place to hold your Drag brunch -- you know, like say Darryl Wilkinson talked you into hosting an absinthe party -- here are some Yelp! reviews of Down City.


Categories: Guest Blog, TV, June 2011
/