Shopping Cart
Your Cart is Empty
There was an error with PayPal
Click here to try again
Thank you for your business!
You should be receiving an order confirmation from Paypal shortly.
Exit Shopping Cart
Features, Reviews and a Blog by John Sciacca
| | |
| --- | --- |
| Posted on August 1, 2011 at 3:44 PM | |
If you're anything like me, you probably obsess over things. Things like am I getting as many new Twitter followers as fast as that other guy and are people going to think this was witty and clever enough to merit them taking the time to read and even though it looked like it was going to start pouring rain at any moment, why did I leave my windows down anyhow? Additionally, you probably also don't give much thought to your Internet connection.
With high-speed or mostly not LOW speed, or – for the love of God, claw your way out of the cave and into the 21st Century you people still on dial-up! – Internet connections being fairly ubiquitous now, Web page load times and browsing speeds have mainly become a concern of the past. (I am using the "My Parent's Technology Adoption Rate" scale as the meter by which adoption for any new technology is measured. However, I'll admit that it is a flawed system to be sure, as it indicates that the VHS tape is still alive and kicking, flat panel TVs larger than 37-inches are egregious and DVD "just might catch on." Sorry, Blu-ray; as long as Blockbuster rents DVDs, you aren't gonna make it under this cruel, tight-fisted regime! On the plus side, the iPad2 – though gifted – is a huge hit, so it just goes to show that old Jobs-o can thaw even the frostiest of techno-hearts.)
Sure, you might notice a little buffering if you are watching a video or downloading some major file – like say the entire Crestron Programming Toolbox – with full updates! – which seems like it can JUST about be accomplished if you start no later than the :01 minute mark into your eight hour work day – but for the most part, you probably don't think about your connection.
That is, until it goes down. And then it is ALL you think about.
My connection – currently NOT being provided by HTC – at work is DSL. And I must say, it is clearly and noticeably slower than my Time Warner – currently up-and-running as I've not heard any lack-of-ability-to-surf-coupon-blog-sites from Dana – Road Runner cable modem connection at home. But even then, I rarely think about it. You know, until it stops.
So this morning I am browsing along, having open like my 6 crucial Firefox windows, and I go to update something and I get the yellow, yield sign exclamation point of death followed by the muy unpleasant "Server not found, Firefox can't find the server at www.blahblah.com. Try Again" Which, when you really think about it, the "Try Again" WITHOUT a question mark really says a lot, doesn't it? Not, "Would you LIKE to try again?" but rather, "It ain't gonna work. You're gonna HAVE to try again. No promise of working is either intended or implied."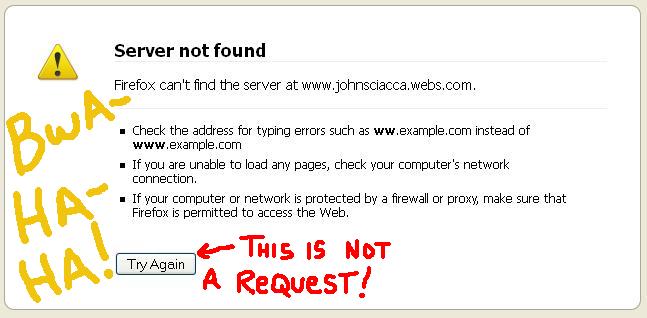 So, try I do, but still nothing. I then proceed with the level of Internet reboots that a born in the 70s, raised in the 80s man-child such as myself has learned. I close Firefox and restart it. Nothing. I close Firefox and try opening Internet Explorer (which in doing apparently risks revealing my low IQ) and nothing. I reboot my computer, wait for it to come back up and try again. I reboot my modem and then my router (dad, it rhymes with "powder," "louder" and "doubter" not "tooter" or "scooter") and notice that the INET light – which I'm ASSUMING signifies Internet connection – is not lighted on my modem.
So I call HTC's repair line. And after being disconnected during transfer – twice! – and then sitting on hold for like 15 minutes, I'm pretty frickin' sure that there is something HTC-ey going on. And yet instead of immediately copping to it, the guy is all, "Well, let's check your settings. Has anyone moved the modem? Have you checked the wiring? Could anyone have disconnected something?" Come on, dude! You know something's up. Just say, "Hey, we've got a problem. We're aware of it. We're working as quickly as we can to resolve it. Now, if you'll excuse me, I'm working on a particularly tough level of Angry Birds and at this point I would seriously settle for just getting a single gold star. Seriously, that's what it has come to." An hour-plus passes and still no Interwebs.  So I call again. And again they say that someone will have to get back to me. They do, however, understand how frustrating it must be to be without my Internet connection, especially since I'm a business. (And I understand that they HR Workshop on handling anger management issues began with the emphatic drilling in of reading this phrase to every customer that calls. It leaves me feeling neither understood nor connected.)
And, what I've come to realize in my Webless morning/afternoon is that I can do practically nothing at work without the Internet. Oh, sure, I could vacuum the showroom and dust stuff, I could file paperwork, and I can answer the phone and take messages but that's pretty much it.
A while ago we switched our accounting and record-keeping software to something Web based at the urging of our accountant. "It'll be safer that way. Backed up off site and totally protected!" Which is great, except without Internet access, I can't get to any of it. Can't look up client addresses or phone numbers. Can't enter any invoices because of the accounting software. Ditto on paying bills. Double-ditto on creating any invoices and billing anyone. Had a person call in and ask if I could check something on their remote's programming. Since it was a Harmony, normally I could, but without the Web, I can't. I could be working on the edit of a story that I e-mailed myself, except, well, I can't get to that story or my e-mail. Also can't do any blogging – though I can prepare THIS for the very second I come back on line! Take that, stifled productivity! – or check my sweet-sweet analytics. I was going to look up how to tweet from Lady Phone to my @SciaccaTweets account, but since I can't access Twitter's help or how to page, I can't do that either. (Which, to be honest, is probably for the best. Something tells me that they way to break in a brand new Twitter account is not by blasting out every single thought that crosses your mind – SQUIRREL! – rather doling them out in well-staged courses, like at an oh-so-decadent Sandy Gross wine dinner.)
Finally risked another call to HTC where a level two tech supporter walked me through the process of determining that somehow our Cisco router had dropped its PPPoE user name and password settings. Re-added, rebooted, and reback on the Webs, baby!
"Gee," I said, "that is really the kind of information that would have totally helped me out like 3.5 hours ago."
"Yeah, well, it probably wouldn't have helped then. We've been having some other problems on our end all morning long."
The truth, while not as satisfying as a working IP, is still pretty darn refreshing. Now, if you'll excuse me, I have a ton of blogging work to catch up on.
Categories: August 2011, CTA, Computers
/